Staying Alive is reader supported. When you buy through our links, we may earn a commission.
Learn More >
The Best Inversion Table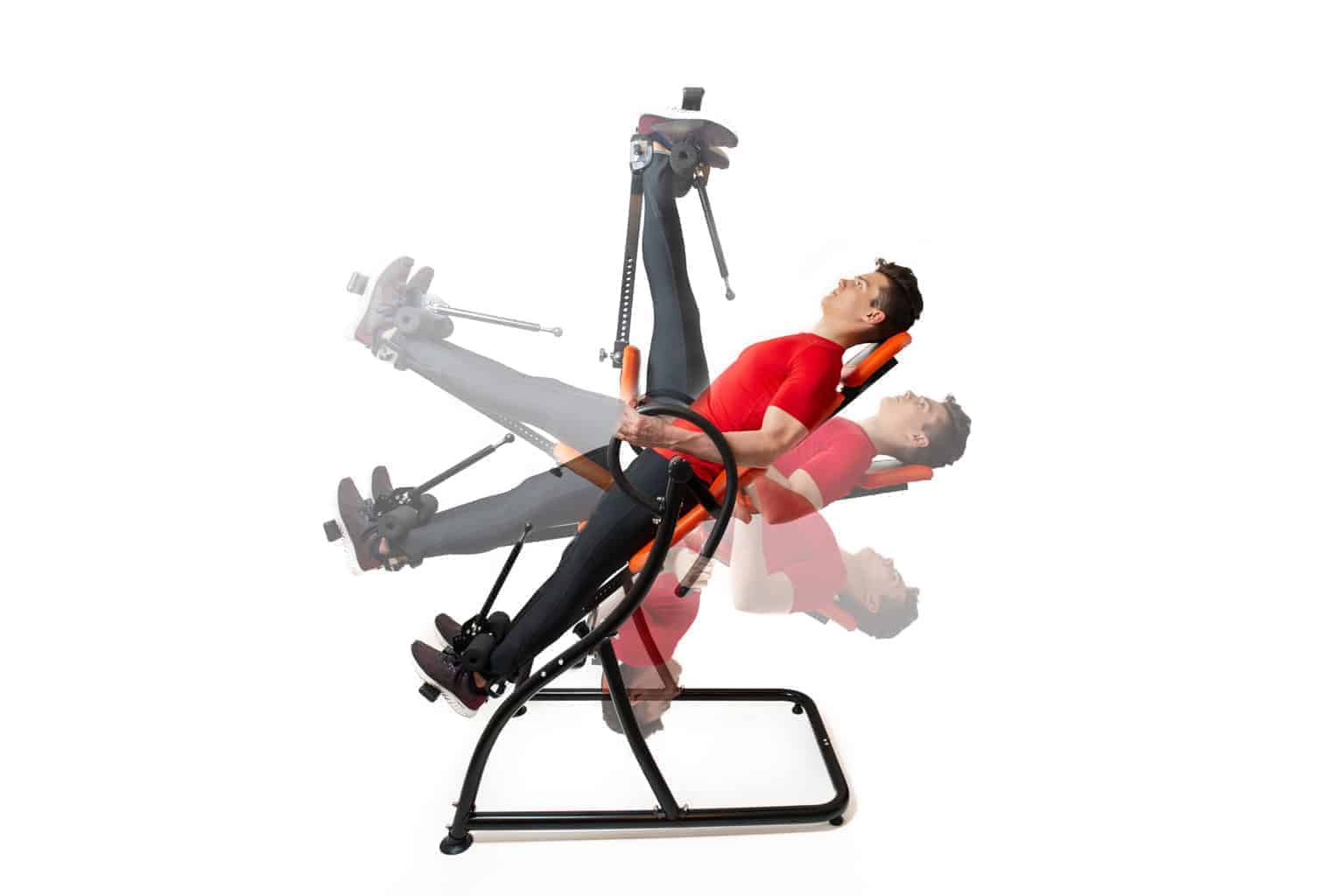 Inversion therapy which involves hanging upside down is excellent for neck pain, spinal traction, and the relief of chronic low back pain.
Whilst moves such as headstands or shoulder stands have been around for years, with a modern invention, you can get inversion therapy via most inversion tables in the comfort of your own home.
Unlike postures such as headstands or shoulder stands, where you reap rejuvenating benefits after maintaining the respective pose for some time, you don't have to put in the same arduous effort with inversion therapy.
An inversion table is an ideal device that allows you to safely decompress the spine, improve your flexibility, reduce stress and muscle spasms, and offer pain relief for the lumbar region.
With so many inversion table features available on the market, it can be confusing to know which one to buy.
We've screened the top inversion tables that bring you back pain relief. All you have to do is hang in an inverted position to reduce pressure from all those trigger points!
Table of Contents
8 Best Inversion Tables in 2023
Inversion Tables Buying Guide
So you're ready to buy an inversion table, but you don't know where to start right?
How do you determine what safety mechanisms to look out for? Or what brand is the best, or what is a reasonable price, or which inversion table will fit your body shape and be best for treating the type of back pain you have?
We've put together a comprehensive buying guide to help you find the right inversion table after you've consulted with your healthcare professional who can provide medical advice to you.
Regulate your blood pressure and happy shopping and happy inverting!
Inversion Therapy and Inversion Tables
Inversion therapy involves being suspended upside down, with your legs above your head to help relieve back pain and stretch your spine.
Being suspended upside down increases the space between vertebrae. Many people are turning to inversion therapy to ease the pressure off their back and get spinal traction.
Inversion therapy has been known to be instrumental for people suffering from poor circulation, scoliosis, sciatica, and chronic back pain, to name just a few health conditions.
An inversion table is one inversion therapy device that allows you to lie in it with your ankles strapped into ankle holders.
Then you invert yourself to your desired angle or 180 degrees so that you are suspended upside down.
You remain suspended like this for a few minutes, allowing you to stretch your spine and ease the pressure off your back.
Benefits of Inversion Therapy and Inversion Tables
Inversion tables can help create more protective fluid around spinal discs, decrease inflammation, remove waste from the spine, and increase blood circulation via surrounding muscles.
For many people, inversion tables can help reduce back pain, improve spinal health, increase flexibility, correct posture and reduce the need for physical therapy or more invasive surgical options, which is painful and costly.
During inversion therapy, when you are inverted, your muscles begin to relax and it improves blood circulation and decreases stress, which ultimately helps to relieve headaches.
Inversion tables also allow your breathing to improve, as you strengthen your diaphragm and enhance your capacity to breathe.
Many people who suffer from back troubles or herniated disc, also get inversion therapy through gravity boots, using regular back stretchers along with inversion tables.
If you suffer from high blood pressure or heart disease, be sure to contact your doctor who can provide medical advice on whether inversion tables are safe for you to use.
Features of Best Inversion Tables
Materials
You want to ensure that the material of the inversion table you buy is sturdy. Many cheaper models are made from plastic. The quality models will be made from high carbon steel making them more durable.
Frame
How much space do you have in your home will dictate whether you select a fixed and stable table that you don't move or whether you select a model that can be folded and stored away when not in use?
The frame will also impact the maximum weight capacity the table frame can support hanging upside down.
Think about whether you want a frame that is ergonomically designed which allows additional stretching and decompression.
Adjustable Clamps
When using an inversion table your ankles will be clamped securely in place.
Feet and ankles vary in size, so you want a table with adjustable clamps to give you a comfortable fit.
Head and Back Pads
Back pads can be thin or thick. The thicker the pads are, the more comfortable they are, the more they permit you to remain inverted or stay upright.
Are the head and back pads adjustable or removable? Most inversion table features offer some degree of adjustability.
Manual vs. Motor Units
Manual inversion tables work quite differently than motor-driven ones.
If you want a model that is easy to use, go for a motor-driven unit. Simply pressing a few buttons will enable you to adjust the whole table angle and position.
On the other hand, manual tables have to be adjusted manually, which can be a nuisance and tiring for users who are not experienced to use an inversion table.
The benefit of a manual inversion table is that they require less maintenance and don't need to be serviced frequently.
Consider the pros and cons of both options before making your final selection.
Adjustable Inversion Degree
Some inversion tables offer multiple inversion angles and a fully inverted angle of 180 degrees.
Other models may offer less flexibility and fewer angles of inversion. You also want an inversion table that provides smooth motion when changing your inclination angle.
What are your needs based on the back troubles you suffer. If you want to fully invert and remain suspended upside to really stretch your back out, but the inversion table only allows an inversion angle of 145 or 160 degrees, this may not address your needs.
On the other hand, if you're new to using an inversion table, you may want to invert gradually.
Auto-Locking Hinges
The inversion table frame can be folded and stored away when not in use.
If it remains static having auto-locking hinges allows the table to be locked with hinges, preventing accidents and mishaps from occurring. This is a good feature to have if you have young children.
Ankle System
Look for an ankle system that is designed to provide maximum comfort and allows you to use the inversion table easily. An extended handle can make bending over to secure your ankles much easier.
Heat and/or Massage
Do you want the added feature of getting a massage and/or heat whilst inverted? Some models offer these as additional features, other models are the classic inversion tables.
Safety
Safety should be high up on your list of considerations. You want to be 100% secure when using an inversion table. So pay attention to the material used for construction by the manufacturer.
The more focus that has been put on safety, form, and function by a particular brand is a strong sign of the quality and safety of the inversion table.
Make sure you read the instruction manual of how to hook yourself and unhook yourself post inversion.
FDA Registered
Does the inversion table provide the benefits it's claiming? What rigorous safety checks as the inversion table go through?
Thus far, the only tables on the market that have been FDA approved are Teeter inversion tables, where the inversion table has been classified as a medical device and has gone through peer-reviewed studies.
Suitable for people suffering from chronic low back pain, sciatica pain, spinal degenerative joint disease, spinal curvature, muscle tension, herniated disc, degenerative disc disease, spinal stenosis, facet syndrome, and muscle spasm.
Third-Party Certification
When the market is full of products, it's always good to have a reliable third-party certification, such as an Underwriters Laboratories (UL) certification for informational purposes.
They are an independent agency with the objective to check quality standards of inversion tables using simulated tests to analyze maximum weight capacity, to ankle closures.
If the UL standards are not met, the certification is removed. You can check if the UL Certification mark is displayed on the product.
Maximum User Weight Capacity
Any inversion table you buy should be able to comfortably support your body weight.
Pay attention to the maximum user weight the inversion table can support. If other members of your family will also be using the inversion table, can it support their weight?
Some tables can support a maximum weight of 250 or 300 pounds. Whilst other tables can support a maximum weight of 350 pounds.
Ease of Use
Having an inversion table that is balanced, will ensure you have complete control while inverting. You want to make sure that you select a table that has been tested for balance and control.
If you are new to using inversion tables, you may also prefer a motor unit, which allows you to control the inversion table with a few buttons.
Ease of Assembly
The majority of inversion tables will require assembly when purchased. However, some tables come partially pre-assembled.
If assembling things is not your forte, look for brands that come partially assembled and only require minimal assembly.
Purpose
What is the purpose of your purchase? Do you suffer from upper body pain or pain in your lower back? If you want to treat pain, you should look for inversion tables that are medical devices.
If your purpose to buy and use an inversion table is simply to relax, improve your body posture and improve your flexibility, the choice is wider for you to find a comfortable and safe inversion table.
What is the maximum user weight of the inversion table? What angles and inverting positions does the table permit? Does the inversion table allow full inversion at 180 degrees?
If you are a newbie you may want to invert gradually, does the table allow 40/60 degrees inversion angles?
What kind of backrest do you want? If you suffer from back pain, the chances are you are going to want a comfortable backrest. Do you also want additional features of heat?
Price
What is your budget? Balance what your needs are, the added features you are looking for, and the highest quality inversion table you can get within your budget.
Warranty
Screen for inversion tables that come with a warranty, money-back guarantee, or entitle you to a full refund within a reasonable period of purchase.
This will give you peace of mind, to try the product out and know that it is protected if it breaks down. The best inversion tables will have a warranty period of at least 5 years.
Inversion Tables FAQ
How do you use an inversion table?
If you have never used an inversion table before, it's understandable that they can be intimidating, but once you get used to them, you'll be hanging upside down with confidence in no time.
It is important that you read all the instructions of the inversion table you purchase fully, including set-up instructions.
If you are not sure if it's safe for you to use an inversion table, make sure you consult your primary physician first. Once you have your doctor's clearance to invert you are good to go.
If you are new to inverting, you might want to have a friend or family member in the room, in case you need any assistance. When you invert you might want to invert at a small angle, like at 40/60 degrees. Start slow, so that you get used to the sensation of inverting.
You step into your inversion table, lie back in it, securely strap yourself with the ankle straps. Then depending on the type of inversion table you have, if it's manual or operated with a motor, you slowly invert yourself to no more than 60 degrees, to begin with.
Then simply remain suspended like that in short spans of 1 or 2 minutes. Once you get comfortable with hanging upside down, you can increase your suspension time to 5 minutes or a duration that feels comfortable to you.
It takes time until you can strap yourself into the inversion table, invert and unmount with ease and confidence. Like with anything, it takes practice.
How long should you use an inversion table?
If you are a beginner, you should limit using an inversion table to a few minutes a day. This allows your body to get used to being suspended at an angle.
The more practice you get, over time you can gradually increase how long you invert for and you can increase your inversion angle over time. Pay attention to how you feel.
Inversion Tables Sources