These days it's quite common to suffer from backache, from extended periods at the computer, having developed poor posture, or due to chronic pain.
It would be ideal to get a personal physical therapist to come to your home to help relieve the pain, however, this is quite costly.
The lion's share of people need to find a solution to help rehabilitate their back on a regular basis, while not breaking the bank.
Whatever the cause of your back pain a portable back stretcher is the perfect device enabling you to stretch your back and relieve pain and decompress your spine.
Back stretchers are inexpensive and can be used in your home or when you are on the go.
We trawled through countless back stretchers to bring you our top picks for back stretchers. Leaving you to lay back, let go and stretch!
The Best
Best Back Stretcher
Relieve chronic back pain and ease away stress with the ergonomically designed self-massager with the Multi-Level Back Stretching Device from Magic Back Support.
Lightweight but sturdy, made of premium quality ABS, and supporting a generous weight capacity of 330 pounds, it's ideal for use at home, at the office chair, at the gym or, in the car.
Perfect for restoring the health of fatigued and tensioned muscles, this multipurpose back stretcher not only stretches the spine, but also offers a back massage, shoulder massage, improves postures when sitting, and more. 
Sporting three levels of adjustment, you can tailor the arc of the stretcher to suit your flexibility. Stretch back and forth, or get a curvature stretch or imitation acupuncture massage.
For beginners or those who are sensitive to massage points, you may want to add a towel or a soft cloth to the waist plate, until you become accustomed to spikes.
Let the Multi-Level Back Stretching Device support your back!
ABS plastic
Comfy cushion foam
3 card slot position - 15, 30, or 45 degrees
3 levels for adjustment (stretch back & forth, curvature stretch, imitation acupuncture massage)
Acupressure massage point
20 magnetic therapy points
Ergonomically designed
Maximum weight capacity: 330 pounds
Brand: Magic Back Support
Model: Multi-Level Back Stretching Device
Specifications: 16 x 10 x 1.8 inches
Multipurpose use: Massages the back muscles, relaxes the back & pulls the lumbar spine
Ideal for people suffering from long-term driving and/or office
Suitable for beginners or those who are sensitive to massage points
Great for stretching the lumbar spine without having to invert
Economical
Enables you to lay & stretch
Not battery operated, fully manual
Ideal for use at home, office chair, at the gym, or in the car
For some beginners, the lumbar plate may feel uncomfortable
Best Back StretchersBuying Guide
If you want to stretch out the tightness in your back without spending an arm and a leg, you might find yourself in the market for a back stretcher.
Back stretches are a great portable device that can be used at home or when you are on the go to stretch your back muscles and help minimize pain.
We've put together a comprehensive buying guide to help you find the right back stretcher. Happy stretching!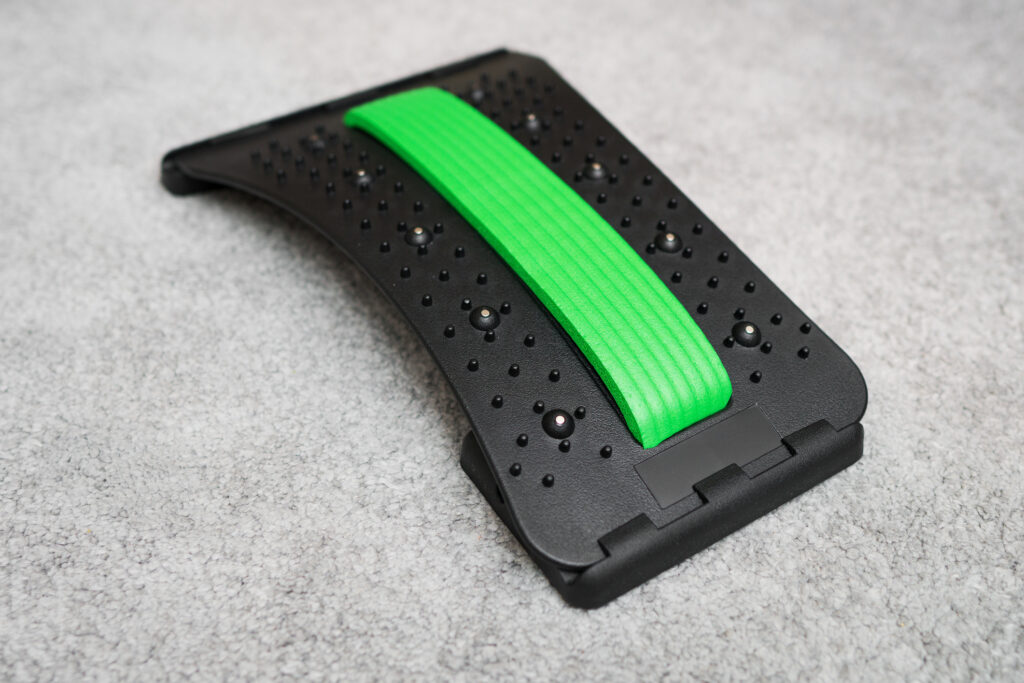 Design – What kind of overall support is provided by the back stretcher? Is it more suitable for the lower back only or does the design cater for the lower and upper back?
A good back stretcher has a design that molds the natural curvature of your spine and allows your back muscles to relax when laying down on it. 
You want the design of the back stretcher to let you feel a stretch, but the stretch should not be too painful or uncomfortable. 
Ideally, the design of the stretcher should have sufficient padding, enabling you to hold a stretch for longer periods while being comfortable.
Do you want to use the back stretcher when laying down or do you want a back stretcher that dually functions as a backrest in the office?
If you want a dually functioning back stretcher, look for designs with a strap that allows fixing to a chair. 
Material – There are primarily two types of stretching surfaces. A smooth surface and a textured surface with acupressure nodes or spikes. 
Smooth surfaces are great for people wanting to improve their posture and treat conditions such as sciatica. 
Back stretchers with acupressure nodes or spikes provide the added benefit of massaging your back muscles, improving blood circulation, and relieving stiff muscles.
For some beginners, back stretchers with acupressure nodes or spikes may be a little uncomfortable initially and you may want to use a soft cloth or towel to cushion the nodes.
Adjustability – With regular stretching over time your back will get more flexible, so it's a good idea to get a back stretcher that allows you to adjust the arc and hence the intensity of the stretcher.
Many back stretcher models allow the arc to be adjusted to a minimum of 3 levels of adjustment, with level 1 being for beginners and offering the least intensity for stretching and level 3 offering a higher level of stretching intensity. 
As you become more flexible you can adjust the intensity level to deepen the stretch to continue reaping the maximum lumbar benefits.
Weight Capacity – It is also worth checking the maximum user weight capacity for the back stretcher. You want to ensure the back stretcher is durable enough to withstand your weight, to ensure complete safety when using it.
Portability & Storage – A typical back stretcher is not too heavy or bulky and can be stored when not in use.
It should be durable to support your weight but lightweight enough to be taken with you if you are on the go, to help stretch and provide pain relief.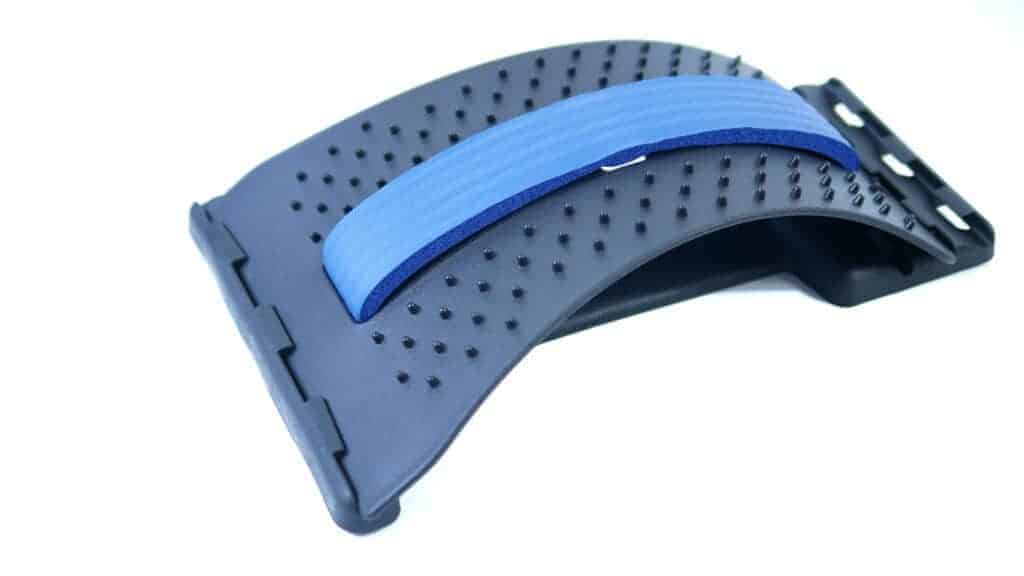 How does a back stretcher work?
Back stretchers follow the natural curve of your spine. Once you have placed the back stretcher in position on the floor and are laying down on it, the back stretcher relaxes and stretches your spine vertically.

Stretching your back enables space to be created between the vertebrae. A back stretcher also helps to elongate the lumbar muscles and helps to relieve various ailments and minimize pain.

If you have back pain and your spine is compressed, a back stretcher is an ideal device that can be used laying down or provide support on a chair to stretch your back and create space in your spine, helping to relieve the pain.
What are the benefits of using a back stretcher?
Using a back stretcher comes with many benefits, from stretching the spine to helping to relax stiff back muscles and improve posture.

A back stretcher helps relieve compression on the spinal discs and pinched nerves and improves flexibility and range of motion and blood circulation.

A back stretcher helps to strengthen the back muscles, helping to heal any injuries and prevents injury in the long run as your back muscles become stronger and more flexible.

Back stretchers are ideal to use at home and are portable enough to be taken with you. A back stretcher is an inexpensive device that provides you with wide-ranging benefits.

For some people decompressing your spine at home through inversion therapy may not be ideal due to health issues. If this applies to you, a back stretcher is an ideal alternative tool for you.
How long should you lay on a back stretcher?
As a general rule, you can use a back stretcher twice a day, with each stretching session lasting around 10 minutes.

If you have specific health issues, it is always advisable that you consult with your physical therapist or medical practitioner before using any back stretching device to ensure full compliance with your medical condition.
Best Back StretchersSOURCES
10 Best Arthritis Gloves (Buying Guide) in 2021
An increasing number of people are being diagnosed with arthritis. Some of the symptoms of this inflaming disease include stiffness, pain, swelling, and a restricted range of motion in your hands and fingers. Many people suffering from arthritis in their hands experience diminished hand function or increased difficulty in accomplishing daily tasks, such as gripping something. Arthritis gloves are designed to alleviate muscle pain and soothe joint pain. Some arthritis gloves apply compression, support and others even offer heat. Arthritis gloves help with finger and hand pain, increase blood flow and promote dexterity in your daily tasks. Whether you opt for arthritis gloves that offer support, compression, or warmth, they are an ideal and economical solution to managing daily arthritis pain. We went through countless arthritis gloves available on the market, to bring you a shortlist of the best picks. Allowing you to get your daily chores done in greater comfort.
7 Best Cold Therapy Machines (Buying Guide) in 2021
A cold therapy machine, also known as an ice therapy machine is a device that provides cold compression therapy whilst providing a cold effect in the comfort of your humble abode. Cold therapy is an excellent treatment for sprains, muscle soreness, inflammation, and people suffering from sports-related injuries and post-operative surgery recovery. The classic cold therapy machine is designed with an ice bucket, a tube that is connected to the ice bucket, and a cold therapy pad. The pads can come in different sizes. A cold therapy machine is a must-have home recovery tool for anyone suffering from muscle soreness, recovering from post-surgery, fitness enthusiasts, or athletes. We've rounded up the best cold therapy machines that will emit ice therapy and kick-start your recovery journey!
6 Best Portable Infrared Saunas (Buying Guide) in 2021
The best portable infrared saunas provide an outstanding home spa experience, like no other. Infrared saunas offer the same benefits as traditional saunas, while at the same time offering a multitude of additional healing benefits, as infrared saunas penetrate more deeply into the skin, hence offering more in-depth cleansing and rejuvenation. We've scoured through the portable infrared sauna best sellers on the market, to bring you our shortlist of the best portable sauna experience.