Staying Alive is reader supported. When you buy through our links, we may earn a commission.
Learn More >
The Best Acupressure Mat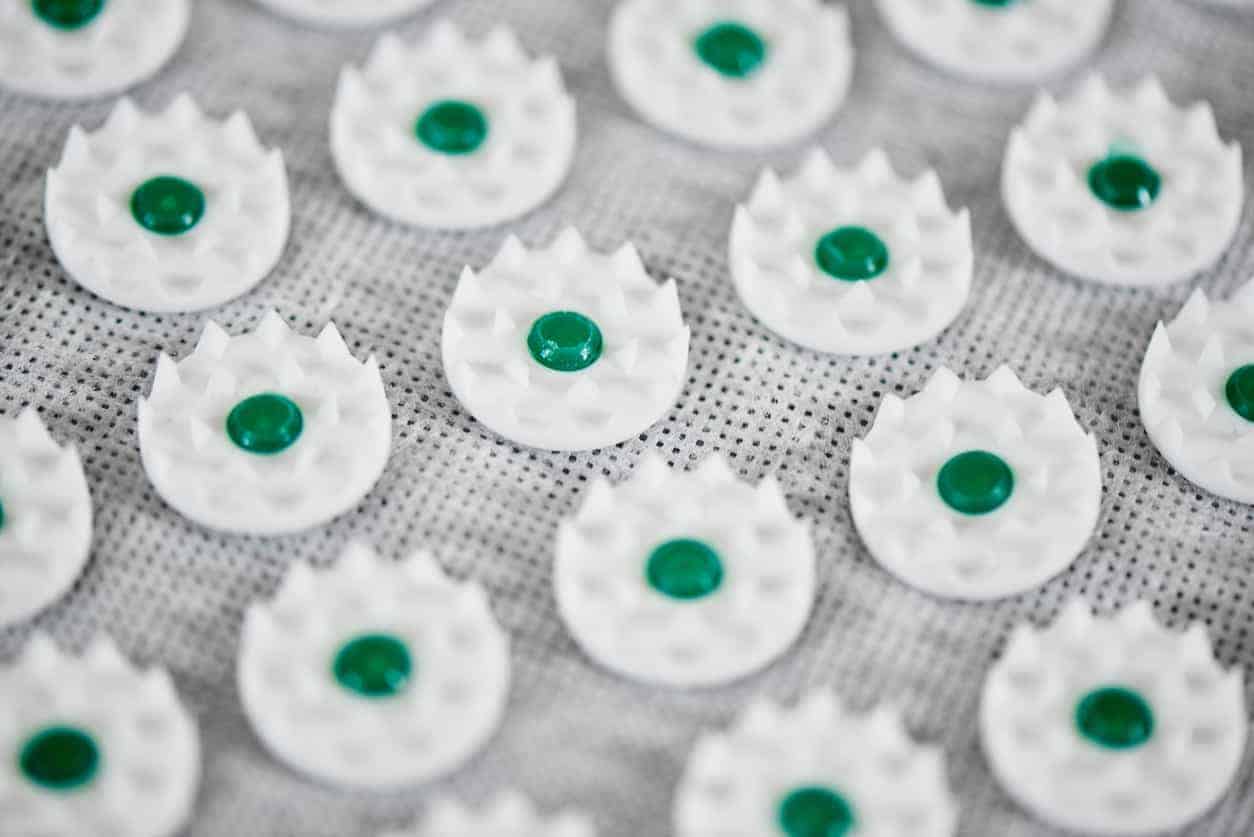 Acupressure is an alternative traditional Chinese medicine that involves applying pressure to targeted points on your body, which helps to relieve pain, improve blood flow, reduce stress, and provide a multitude of other benefits.
In ancient times yogis would lay on a bed of nails, in line with the practices of acupressure. In modern times, the bed of nails has evolved into a mechanical needle stimulation pad in the form of acupressure mats.
Contemporary acupressure therapy is provided via acupressure mats, using your body weight to apply pressure on the mat, hence stimulating pressure points.
Acupressure provides a multitude of therapeutic ailments to release muscle tension, promote blood flow, and relieve neck pain and foot pain, all in the comfort of your home.
With so many acupressure mat manufacturers out there it can be a bit confusing to know which durable mat you should select.
We've scoured through countless mats to bring you the best acupressure mats for a painless recovery. Leaving you to let your acupressure mat work its magic!
Table of Contents
10 Best Acupressure Mats in 2023
Acupressure Mats Buying Guide
We lead stressful and busy lives, it's no surprise that there is an exponential rise in people seeking to manage anxiety and ailments at home.
Contemporary acupressure therapy is one of the methods that people seek help with pain relief, weight management, and even mindfulness.
Acupressure is a form of traditional Chinese medicine which involves manual pressure is used to stimulate specific points on the body, deemed to be energy lines.
Acupressure mats are an inexpensive way of getting acupressure therapy at home or when you are on the go.
To help you select the right acupressure mat, we've outlined all the key features you may want to take on board before taking the plunge to buy one.
Acupressure Mats
Acupressure is an age-old Eastern alternative therapy, involving the application of pressure to parts of the body that are deemed to restore harmony in the body by triggering key pressure points in the body that are blocked.
Acupressure therapy allows these blockages to be removed, alleviating the pain these blockages cause.
An acupressure mat is designed to provide the benefits of acupressure via a mat that contains a layer of hundreds if not more plastic spikes that offer pressure when you lie or stand or sit on the mat.
The mat triggers acupressure points, removing the blockages that are causing the pain.
Acupressure Mat Benefits
There are multiple benefits of using an acupressure mat, ranging from managing anxiety to alleviating pain.
One of the biggest benefits is getting relief from pain without having to pop any pills, in the comfort of your own home.
Acupressure mats help with the relief of sore muscles and give aid from stress and tension.
Since you are in less pain, less stressed, and less anxious, your sleep quality is drastically improved.
Apart from being extremely convenient as you can use your acupressure mat at home, it is an excellent and inexpensive way of getting acupressure therapy which makes you feel energized and pretty awesome.
Features of Best Acupressure Mats
Acupressure Points
Most acupressure mat manufacturers will use the number of acupressure points an acupressure mat has to promote it. This refers to the number of individual spikes or plastic dots a mat has.
The singular goal of an acupressure mat is to stimulate your pressure points. The more spikes a mat has, the more pressure points in the body are triggered.
Not all mats will have the same design and placement of spikes. Some mats will have spikes more concentrated than others. The distribution of spikes can impact the effect you have.
So look for an acupressure mat with a higher number of spikes and more concentration if you want a more deeper effect. 
If you are opting for a full-body mat, aim for a mat that has at least 6,000 spikes.
Alternatively, if you select a smaller mat, designed for specific parts of the body or convenient for travel, aim for a mat with at least 1,000 spikes.
Material
Acupressure mats are made from a wide variety of materials. Most acupressure mats contain a filling of foam which adds welcomed padding to make the mat comfortable.
If you are sensitive to chemical odors or eco-conscious, look for a mat that is made from materials that are eco-friendly.
For the material covering the foam filling, look for breathable materials such as cotton, hemp, or linen.
The spikes on an acupressure mat are mostly made from hard plastic. Stay away from mats where the spikes are constructed with glue. These will not be durable and they gather heat.
Size
Which part of the body do you want to treat? Pick a mat size based on the area of treatment.
If you want to treat specific areas of the body only, such as your feet, or want a mat that is compact for traveling, you may want to select a small acupressure mat.
Alternatively, a big acupressure mat may be ideal if you want to lay your whole body on it, covering your head area to your mid-back.
Extra Features
Some acupressure mats provide a pillow or neck wrap, which is a great feature if you opt for a larger acupressure mat and want to treat pain in the neck and shoulder area.
Carrying Bag
Consider buying an acupressure mat that is easy to store, and perhaps comes with a travel bag, making it easy to transport whilst traveling or when you are on the go to the gym. 
Price
Prices range from smaller acupressure mats starting as low as $20 and can range up to the $100 mark for bigger acupressure mats.
If your budget allows, opt for something mid-range, so that you get something of good quality that is durable and effective. 
Cleaning and Maintenance
It is important that you clean your acupressure mat by disinfecting it and eliminating harmful germs.
Cleaning your mat because even more imperative, if your treatment requires you to use the acupressure mat without clothing.
Look for acupressure mats that have removable covers, making it easy for you to remove the covers and wash the exterior, without having to fiddle about with the filling and fumbling with spikes.
There are plenty of disinfectant sprays that can be used to clean the spikes and surrounding areas.
Acupressure Mats FAQ
How do you use acupressure mats?
When you first start using acupressure mats, they can be quite uncomfortable if not painful. Many people find the spikes sharp and for the initial period, it can be quite painful until your body and your mind warm up.
Ideally aim to use an acupressure mat every other day for at least 15 minutes, so that your body gets used to it and you reap the maximum benefits.
Select the surface you want to put the acupressure mat on. On a carpeted floor? A bed? A spacious sofa?
If you are new to using an acupressure mat, you may want to opt for the bed, to begin with, and over time graduate to the floor.
Some people like to sit and use an acupressure mat. If you are one of these people, you can drape the mat over a chair and sit on it, with your lower back and butt in direct contact with the mat.
Some people may find it more comfortable to use a thin fabric on top of the mat, helping you slowly adjust to the spikes. If you are an experienced user, you can use the mat with bare skin.
You can lie on the mat. Make sure you lay down slowly, distributing your weight evenly on the surface area of the mat. This ensures pressure points are triggered gradually, avoiding sharp pain and injury.
Whether you are seated on the acupressure mat or laying down, try to minimize fidgeting and relax.
Who shouldn't use an acupressure mat?
Acupressure mats can be used by most people out there looking for alternative therapies for pain relief, reducing stress and deeper sleep, and upping their energy.
There are however some people who should not use acupressure mats. If you are pregnant, breastfeeding, suffer from a heart condition, are taking some form of blood pressure medication, or suffer from skin infections, you are advised not to use acupressure mats.
If you are unsure of whether you are permitted to use acupressure mats, consult with a healthcare professional.
Do acupressure mats hurt?
This depends on your individual sensitivity/pain threshold. If you are new to using an acupressure mat, you may find it quite uncomfortable or even a little painful when you first start using your mat.
Most people find the discomfort only lasts for a short time and subsides after the first few minutes of lying on the acupressure mat.
Using your mat regularly for at least 10-15 minutes every other day will allow you to acclimatize in no time. Perseverance is key.
Acupressure Mats Sources