Many of you may do office jobs that require extended periods of time sitting, which can take its toll on your mental and physical well-being.
Massage chair pads are a portable and economical way to get relief from muscle stiffness, poor circulation, and muscle fatigue in the neck and back region along with hips and thighs.
To combat inactive or desk-bound lifestyles a massage chair pad is an excellent solution to avoid stiff neck and back muscles and overall aches and pains from sitting in a stationery position.
There are a variety of different massage chair pads available from those offering different types of massages, to heat therapy and other smart features.
With a range of massage chair pads out there, we did all the hard work to bring you the shortlist. All you have to do is sit back and enjoy your massage!
The Best
Best Massage Chair Pad
The Snailax SL-23 Shiatsu Neck & Back Massager is an outstanding option for a massage chair pad, from Snailax, which specializes in massage chair pads and your recovery. 
It makes an ideal home remedy to treat pain and muscle tension without the large bill of a professional massage therapist or chiropractor. 
The Snailax SL-23 sports 5 types of massages, you get Shiatsu, rolling, spot, heat therapy, and vibration. 
The Shiatsu back massage comes with an optional heat function, which adds gentle warmth to soothe muscle tension.
It features 4 shiatsu massaging nodes that travel up and down relaxing your entire back. 3 massage zones to choose from: full back, upper back, and lower back.
The impressive spot massage function allows you to concentrate the kneading nodes on a specific area to pinpoint relaxation. 
Boasting an adjustable neck massage which comprises 4 unique massage nodes that provide a deep tissue massage to the neck and shoulders to relieve tired muscles.
The massage nodes can be adjusted up and down, to tailor to your height. 
The vibration seat massage comes with 2 adjustable levels of intensity, providing you with a comfortable massage to the hip and thighs. 
The Snailax SL-23 Shiatsu Neck & Back Massager is the perfect massage chair pad on a sofa, recliner, or chair of your choice!
5 types of massage: Shiatsu, rolling, spot, heat therapy & vibration
Shiatsu massage with optional heat function
Vibration seat massage - 2 levels of intensity available
Adjustable massage nodes on the neck
Adjustable rolling massage with adjustable width
Spot massage function - Set 3 massage zones for choices: Full back, upper back, lower back
Integrated strapping system secures pad on chairs
Gel massage nodes
Brand: Snailax
Model : Snailax SL-23 Shiatsu Neck & Back Massager
Specifications: 32.4 x 17.6 x 7.2 inches
2-year warranty
30 days free return/full refund & 90-day money-back guarantee
Washable cover
Versatile usage: on a sofa, couch, recliner, office chair, or dining chair
Flexible & silica gel massage nodes
Provides warmth to full back
Adjustable neck massage - suitable for women/men of different heights
The massage chair pad is a perfect birthday, Christmas gift, or a thoughtful father's or mother's day gift
The dimensions are more suitable for a taller person rather than petite
Shoulder massagers may be too wide for some users
Best Massage Chair PadsBuying Guide
Many of you may do office jobs that require you to sit for prolonged periods of time, which can take its toll on your mental and physical well-being.
It leads to neck, shoulder and back pain and stiffness. Sure you can get expensive massages or you can consider investing in a massage chair pad that you can use in the comfort of your own home.
With so many options available on the market it can be confusing to know which massage chair pad model to buy.
We've compiled a list of the key features you may need to consider when buying a massage chair pad.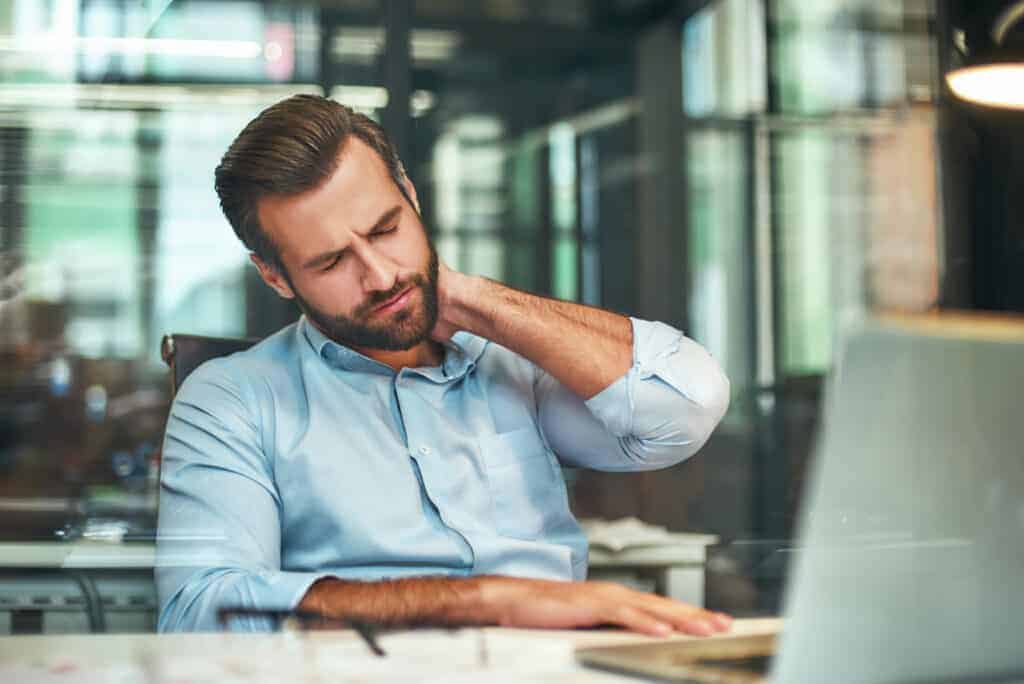 Types of Massage Pads – Massage chair pads are like a cushion-shaped like a seat that you can use on most types of chairs, sofas and some models can even be used in a car.
Vibration Massage Pads – Vibration is a massage technique where tissues are pressed and released in an upwards and downwards movement. This type of massage creates a vibrating and shaking motion onto the muscles.
Vibration massage chair pads help to increase blood circulation, aid flexibility, and mentally get people in the zone for physical activity and enhance performance.
Heated Massage Pads – Many massage chair pads offer the option of heat functionality, which provides a comforting and soothing massage experience.
If you suffer from muscle knots, soreness, painful muscles, or lower back pain, heat therapy can help to dilate the blood vessels and improve blood flow and circulation.
Kneading Massage Pads – As the name suggests this type of massage involves kneading your muscles against your bone structure.
A kneading massage is suitable for the treatment, increasing flexibility, treating tight and stiff muscles, and helping to relieve pain.
Shiatsu Massage Pads – As the name suggests, Shiatsu is a massage technique hailing from Japan. It involves applying pressure to specific points of the body in a rhythmic sequence.
Shiatsu massages are good to treat people with back pain, headaches, anxiety, and neck and shoulder pain.
Rolling Massage Pads – A rolling massage involves the lifting and rolling of skin between fingers and thumb. A rolling massage chair pad mimics that motion via massage nodes, by moving up and down your spine.
Customizable Settings – Many massage chair pads may offer a few types of massages, allowing you to select the massage mode you wish. Others offer optional heating and some allow you to select the intensity level.
If you want the flexibility to switch between settings look for a model that enables customizable settings to tailor to your needs.
Material – Look for a massage chair pad that has soft yet breathable fabric. Polyester is a good option, as it is both comfortable and durable.
Also, look at whether the chair pad is easy to clean.
Size – When buying a massage chair pad, think about what chair you would like to use it with and what specifications would be compatible.
If the massage chair pad can be used in a car, opt for a lightweight model that can be folded and transported with ease.
Adjustable Height – This is an important consideration if you are taller than 6 ft (183 cm) or you are under 5 ft tall (152 cm).
The key area that massage chair pads target is the neck and back. If you are too tall or too short, unfortunately, you will not be able to reap the full benefits the massage chair pad has to offer.
Some models may allow the height to be adjustable, but check whether this is for the back and the neck pads or only for the neck pad.
Noise Level – These days massage chair pads offer a variety of massage intensities. So it's a logical question to ask how noisy is the massage chair pad? Especially if you want to use it whilst watching TV or reading.
The more powerful a massage chair pad is, the more noise it is likely to make. Vibration massage chair pads are likely to be quieter.
Time and Auto-Shut Off – You don't want to be overusing your massage chair pad. That's why many massage chair models may have an auto-shutoff timer built in as a safety mechanism.
If a 15-minute auto shut-down timer is too short for you, look for a model that offers different timers, such as 15, 30, or 60-minute auto-timer shut-downs.
Purpose/Area of Use – It's important to be clear on where you intend to primarily use the massage chair pad. At home? At the office, or in your car?
Not all massage chair pads can be used in a car, so if you want one that you can use in your car, make sure you find one that is portable and comes with a car adapter.
Price – Massage chair pads are not cheap devices. The price of an average massage chair pad can vary from as low as $60 to the top end of $380.
What is your budget and how much are you willing to spend? Balance this against the features you wish to have. 
If you want a model that is more durable and is an investment with more features and all the bells and whistles, be prepared to shell out for a model at the upper end of the spectrum.
Warranty – Check what the policy is around return and refunds and most importantly does the massage chair pad comes with a warranty.
Whilst a massage device will definitely not go on the blinker in the first few months of purchase, you want to have peace of mind, that should the device start displaying a defect you can get the issue resolved. 
The cheaper the massage chair pad is, the shorter the warranty is likely to be.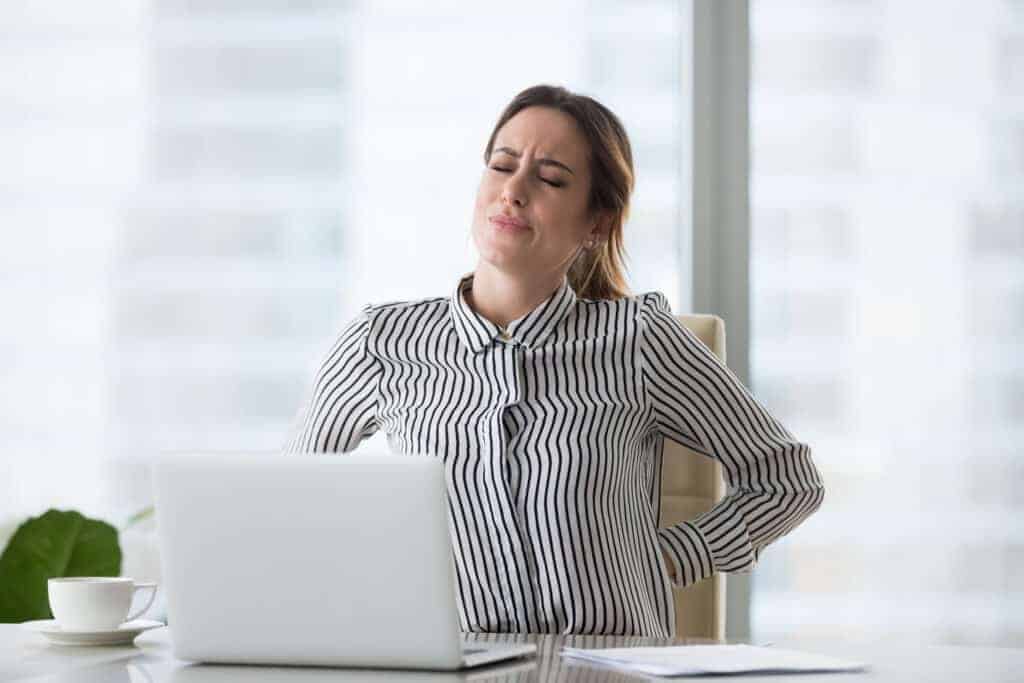 Best Massage Chair PadsFAQ
What is a massage chair pad?
A massage chair pad works similarly to a massage chair, with the exception that it is lighter, small, and portable and can be strapped to most styles of chairs at home and in the office.

From a cost perspective, a massage chair pad is much more economical to buy than to fork out for a massage chair and it is more compact to store when not in use.
How does a massage chair pad work?
This depends on what type of massage the massage chair pad offers. Heat therapy? Vibration settings?

Or massage nodes that mimic different types of massages that help to relieve stiffness and pain and release muscle tension.

Ensure your massage chair pad is kept clean before use, you are seated comfortably on it before starting any massage program. Ideally, you should not use a massage chair pad for longer than 30 minutes.

Store the massage chair pad away safely when not in use.
What are the benefits of a massage chair pad?
Massage chair pads offer a range of benefits from relaxing and releasing muscle tension, relieving lumbar pain, pain in the neck, shoulders and back.

Unlike massage chairs, massage chair pads are cheaper, more compact and can be used at home or at the office.

Instead of expensive massages, a massage chair pad can offer massage therapy in the comfort of your own home and helps to improve blood circulation and improving a person's mood with the endorphins released.

A massage chair pad is an excellent device for people who lead a sedentary lifestyle.
Best Massage Chair PadsSOURCES
12 Best Handheld Electric Back Massagers (Buying Guide) in 2021
From the moment we wake up until we go to sleep, most people are on the go. Is it a surprise that our back muscles are fatigued, stressed, and in pain by the end of the day? Who doesn't love the idea of getting a massage, but you can't keep running to a spa or a professional masseuse every day to get an expensive massage. That's why more and more people are turning to electrical massage devices that they can use at home. Whilst there are many different types of back massage devices out there, the handheld electrical back massager is in a league of its own. It's designed to cover large surface areas of the back, many come with long handles to be able to reach those "hard-to-reach" spots. Many handheld electric back massagers offer a few different massage types, so whether you're a fan of kneading, tapping, heat therapy, or shiatsu-style massages, there is something for everyone. We've compiled a shortlist of the best handheld electric back massagers available, ranging from the more economical models to the pricier ones. Get massaging, we've got your back on this one!
12 Best Leg Massagers (Buying Guide) in 2021
Leg massagers are a great way to get relief from muscle stiffness or pain in your legs and foot area. If you are on the go, constantly on your feet, suffer from cramps, or a fitness bunny suffering from overworked sore muscles, putting your feet up and wrapping your legs in massage sleeves, to get some much-needed air compression therapy is exactly what your body needs. You get to have your legs massaged in the comfort of your own home, without a heavy massage bill. You can even get a snooze in whilst your legs are being massaged or read a magazine, it's your choice. With so many different leg massagers out there, we did all the hard work to sift through the best air compression leg massagers available. All you have to do is pick one and enjoy your well-earned leg massage!
10 Best Vibrating Foam Rollers (Buying Guide) in 2021
Adding a quality foam roller can be a lifesaver for avid fitness bunnies and professional-grade athletes, who may struggle with muscle stiffness and pain. A vibrating foam roller takes the benefits provided by a normal foam roller and kicks it up several notches. Most vibrating foam rollers come with varying levels of vibration intensity settings that cater to all levels. Vibrating foam rollers are ideal for a pre-workout warm-up and post-workout usage to help relieve sore muscles, improving mobility and flexibility, and ultimately aiding recovery for your next workout. As they say, the faster you recover the more successfully you train. Roll out muscle tension with a vibrating foam roller for a more impactful workout!