Adding a quality foam roller can be a lifesaver for avid fitness bunnies and professional-grade athletes, who may struggle with muscle stiffness and pain.
Whether you're constantly suffering from pain and soreness or you simply want something to target all the pressure points to work out tight knots after an intense training session, a foam roller from our shortlist can help alleviate knots and work on those areas of concern.
A foam roller is fast becoming a feather in many fitness enthusiasts' recovery armors.
Using a foam roller pre-workout can help to loosen muscles and improve flexibility.
Post-workout usage of a foam roller can help relieve sore muscles, preventing muscle stiffness, and helping recovery for your next workout. As they say, the faster you recover the more successfully you train.
Whilst many rollers may cause discomfort during usage, with regular usage the discomfort dissipates, so stick with it. Short-term pain for long-term gain!
The TriggerPoint GRID Foam Roller is an impressive addition to our best foam rollers list.
It has a multi-density exterior constructed over a rigid, hollow core that is formulated to withstand repeated use whilst maintaining its shape.
Designed to mimic getting a massage to relieve achy muscles, without the hefty massage bill, the GRID Foam Roller delivers in spades. 
Constructed using closed-cell EVA foam and a reinforced core made of durable PVC, makes it tough and durable.
From a size perspective, the GRID Foam Roller is smaller than some of the foam rollers on the market, the compact design focuses on pressure and is ideal for travel. 
The ace up its sleeve is, it's backed by a one-year warranty, so you can focus on working out those knots. 
EVA foam over hollow core
Density: Firm
Free online instructional video
Maximum user weight: 500 pounds
Patented multi-density design
Durable construction
Brand: Trigger Point Performance
Model: TriggerPoint GRID X Foam Roller
Size: 13 x 5.5 x 5.5 inches
1-year warranty
Free online instructional video library
Ideal for rolling through tight muscles, knots & kinks
Great for muscle stiffness & pain relief
Reasonable mid-range price
Different textures for different trigger points
Maybe too firm for beginners or intermediate users
Foam rolling is a great way to help you recover from all kinds of workouts by loosening uptight and achy muscles, by giving yourself a deep-tissue massage through self-administered myofascial release (SMR). 
The process involves using your own body weight, to stimulate and relax your muscles. 
There are lots of foam rollers available, in different shapes and sizes and some are best for relieving specific knots. How do you know which foam roller to select?
We've summarized all the key considerations you may want to take into account to ensure you choose the most effective foam roller for you.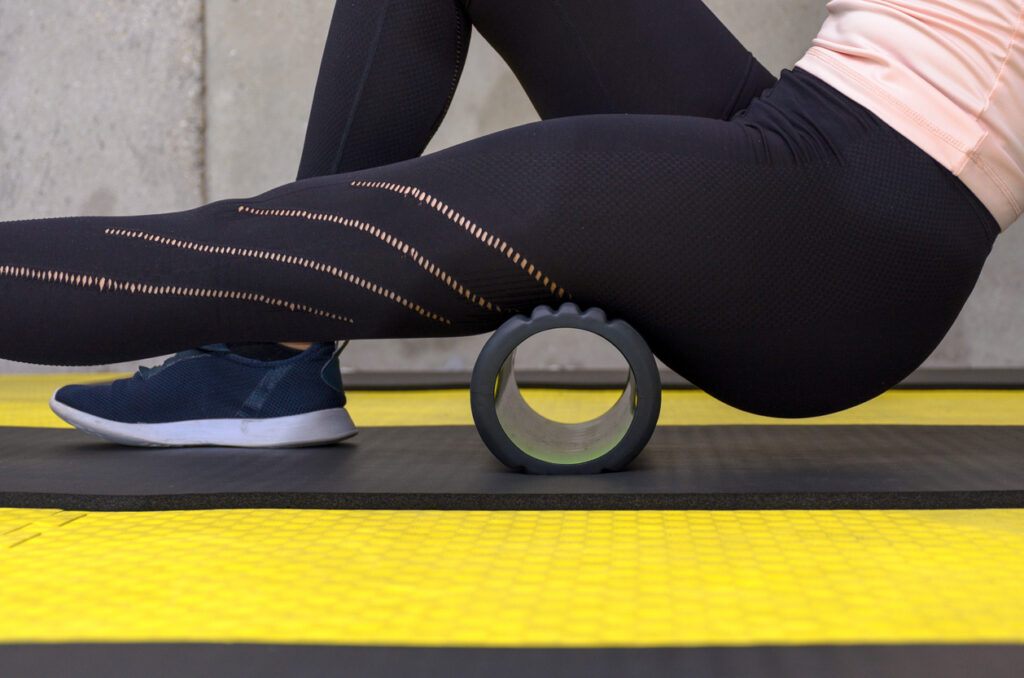 Density – Foam rollers come in different densities, which define how they feel and who they are best suited to. Most rollers are broken down into three categories: soft, standard, or firm.
Foam rollers are often color-coded to reflect their firmness level. 
Soft Density –

Soft density rollers are designed to offer comfort vs. providing a deeper massage that firm rollers provide. Soft foam rollers give a gentler massage to the muscles.

If you are new to using a foam roller, it may be advisable to start with a soft-density one. Most soft rollers are white. 

Standard Density – 

Standard foam rollers have a medium level of firmness and typically they are colorful. Medium-density is ideal if you are looking for a firmer amount of pressure.

Firm Density –

If you are looking for a deeper, more intense massage then opt for a firm density roller, which comes in black. This is as firm as a roller gets. 
Shape and Size – Foam rollers come in a range of sizes. Below are the more common types seen on the market. 
Traditional Full-Size –

The standard full-size roller is 36 inches in length and roughly 6 inches in diameter, making it versatile for a variety of uses. 

Enabling the massage of larger muscle groups, they span your entire back, allow general exercise and physical therapy.

  
Shorter Length –

Shorter foam rollers are great if you are seeking a portable roller for travel or to take with you to the gym.

Shorter foam rollers are 6 inches in diameter, however lengthwise they are either 12 or 18 inches in length. They are a good option, making it easier to target more precise areas.

Smaller Diameter –

These foam rollers typically have a 4-inch diameter, making them lower to the floor. These foam rollers are great for the elderly and, physical therapy patients.

Many people feel comfortable with smaller diameter foam rollers as they perceive more stability and find it easier to control when using the foam roller for a massage. 

Ridges or Bumps –

If you are looking for a more intense or deeper massage then you may want to opt for a foam roller that has protrusions, allowing a more precision massage. 

These foam rollers get into the tightest of knots and compact areas to offer relief. Almost mimicking the hands of a masseuse, and working on relieving all those troubled tight spots.  

Flat Half-Size –

Aesthetically, this type of foam roller looks like it's been cut in half lengthwise. Primarily these foam rollers are used for leg and foot stretches, and to massage the arches of the feet. 
Material – The material used to construct a foam roller can help define how long it will last and what the primary purpose of its usage is.
Open-Cell –

In terms of durability, rollers made with open-cell construction have a tendency to breakdown more than closed-cell rollers. Price-wise they are the cheapest option on the market. 

EPP Foam –

These foam rollers are made from EPP beads and are high quality, yet price-wise they remain quite economical.

In terms of usage, they are quite versatile whether you are a newcomer to using a foam roller or a seasoned user.
EVA Foam –

Foam rollers made from EVA foam are truly durable and are designed to endure heavy, repeated usage, typically expected in professional gyms or pilates and or yoga studios.

Making these a top choice for at-home use too.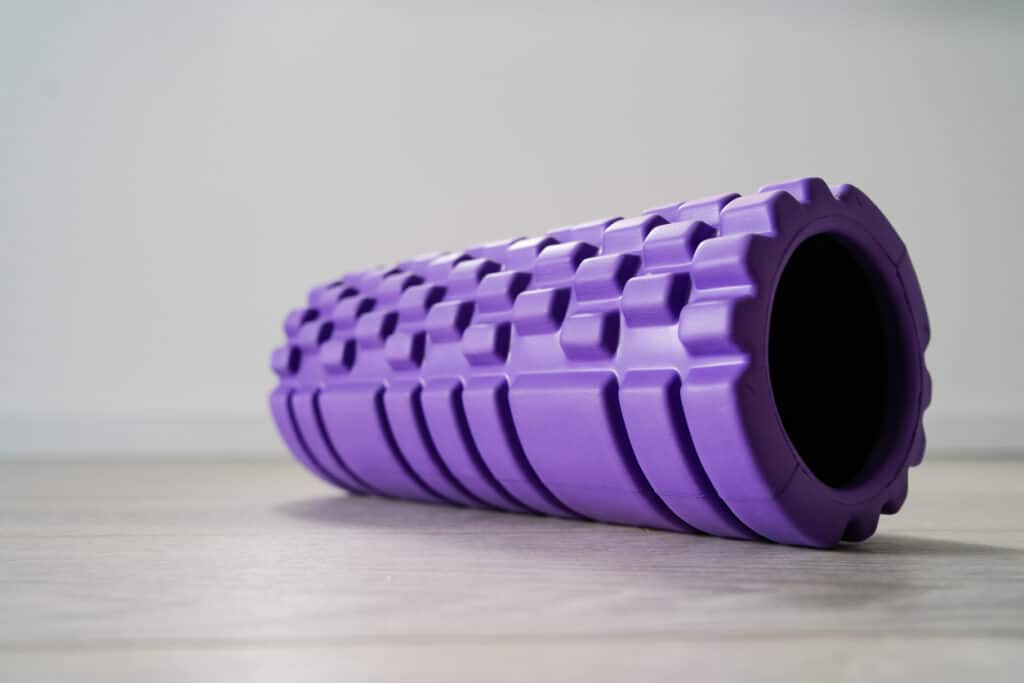 What is a foam roller?
Foam rollers are constructed to help alleviate sore muscles and can be an effective tool to use either pre or post-workout. A foam roller enables you to get a deep tissue massage, administered by yourself at home.

Using a foam roller has become a recovery and performance tool that amateur fitness enthusiasts to professional-grade athletes and fitness coaches are using to stretch sore muscles, release painful knots, and target pressure points.

To use it, you slowly roll an area of your body, like your back, or your calves, back and forth across the top of the foam roller.
What are the benefits of using a foam roller?
Using a foam roller helps to release tension in the muscles, alleviate muscle soreness, and helps to improve range of motion and flexibility, and boost recovery and performance.

Foam rollers help to increase blood flow to various parts of the body and they are effective in helping users to recover from muscle fatigue and stiffness, soreness, and or injuries by acting as a home massage.
How often should you use a foam roller?
There is no hard and fast rule as to how often you should use a foam roller. Consistent usage yields the most effective results.

Many people use a foam roller on a daily basis, or try to be disciplined to use a foam roller at least three or four times a week to target specific muscle groups and aid recovery for their next workout.
Should a foam roller hurt?
If your muscles are sore, stiff or you have a tender spot with an extremely tight knot or knots, using a foam roller may cause a certain level of discomfort. This is very normal and to be expected.

It is up to you to determine how much pressure to exert when focused on a particularly tender spot.

If you can handle it, target tight knots or tight areas for anything from five seconds to thirty seconds. The tenderness should slowly dissipate from the tender spot.
10 Best Posture Correctors (Buying Guide) in 2021
These days it's quite common to suffer from headaches, back, neck, and shoulder pain, from extended periods, hunched over a computer, having developed poor posture, or experiencing chronic pain. In an exemplary world, it would be ideal to get a personal physical therapist to come to your home to help relieve the pain, however, this is quite costly, so the majority of you need to find a solution to help rehabilitate your poor posture without breaking the bank. A highly successful way to rectify bad posture is through a posture corrector, also known as a posture brace. It's a device that's worn underneath or over your clothes and helps to retract your shoulders and align your spine to correct and retrain good posture. Posture correctors can be worn for short to extended periods of time. The more you wear them the more you'll develop a healthy posture. We trawled through countless posture correctors to bring you our top picks leaving you to stand tall and confident!
12 Best Handheld Electric Back Massagers (Buying Guide) in 2021
From the moment we wake up until we go to sleep, most people are on the go. Is it a surprise that our back muscles are fatigued, stressed, and in pain by the end of the day? Who doesn't love the idea of getting a massage, but you can't keep running to a spa or a professional masseuse every day to get an expensive massage. That's why more and more people are turning to electrical massage devices that they can use at home. Whilst there are many different types of back massage devices out there, the handheld electrical back massager is in a league of its own. It's designed to cover large surface areas of the back, many come with long handles to be able to reach those "hard-to-reach" spots. Many handheld electric back massagers offer a few different massage types, so whether you're a fan of kneading, tapping, heat therapy, or shiatsu-style massages, there is something for everyone. We've compiled a shortlist of the best handheld electric back massagers available, ranging from the more economical models to the pricier ones. Get massaging, we've got your back on this one!
9 Best Acupressure Mats (Buying Guide) in 2021
Acupressure is an alternative massage therapy that involves applying pressure to targeted points on your body, which help to relieve pain, reduce stress and provide a multitude of other benefits. In ancient times yogis would lay on a bed of nails, in line with the practices of acupressure. In modern times, the bed of nails has evolved into acupressure mats. Acupressure mats are a great way to get pressure point therapy in an inexpensive way in your home. With so many acupressure mats out there it can be a maze to know which one to select. We've scoured through countless mats to bring you the top picks for acupressure mats. Leaving you to lay back and target those pressure points!