From the moment we wake up until we go to sleep, most people are running around. It's no real surprise then that our feet and calf muscles are fatigued, tense, and in pain by the end of a long day.
It would be great to get a professional massage from a masseuse, but few of us can afford to get an expensive massage on a regular basis.
That's why an increased number of people are acquiring calf massagers that they can use at home.
Calf massagers have the added benefit of also massaging the feet, triggering all the key reflexology points along with massaging your calves.
Many calf massagers offer different types of massages, so whether you like heat therapy, air compression, ball rolling, or shiatsu-style massages, there is something to suit everyone's preferences.
We scoured countless calf massagers, to bring you a shortlist of the best calf massagers available, ranging from the economical models to the premium ones.
Get your calves and feet rejuvenated today!
Get improved circulation, quick recovery for over-stressed feet, and rejuvenate muscles after long periods of standing with the Human Touch Reflex5s Foot and Calf Massager, all rolled into one impressive reflexology massager. 
Sporting Figure-Eight Technology, which circulates blood from the feet toward the core of the body, allowing fresh nutrients to re-enter the calves and feet for greater healing and soothing comfort. 
The powerful underfoot rollers deliver robust under-foot reflexology at the heel and sole.
The east tilt bar unfolds for perfect angle alignment with a favorite chair or sofa. 
Handles on either side allow you to easily transport it from room to room and the sleeve inserts are removable and washable. 
Reinforced with 2 adjustable intensity settings that help you find the perfect massage pressure for your needs. 
The Human Touch Reflex5s Foot and Calf Massager is perfect for unwinding after a stressful day!
Reflexology massager
Figure-Eight and CirQlation Technologies
Under-foot massage rollers
Adjustable tilt
Removable & washable easy sleeves
Adjustable intensity
Carry handles
Brand : Human Touch
Model: Human Touch Reflex5s Foot and Calf Massager
Specifications: 19 x 15 x 18 inches
Great for people with sore feet, ankles, heels & calves
Benefits those with Fibromyalgia, Plantar Fasciitis, circulatory issues, stress & in need of pain relief
Carry handles for easy portability
Sleeve inserts are washable
Reinforced with an adjustable tilt base that allows you to choose from two options for your ideal massage angle
Offers powerful reflexology, targeted relief & improves blood flow
Only 2 massage intensities to choose from
Calf MassagersBuying Guide
After a long tiring day on your feet, you get home and kick off your shoes to rest. Your feet, ankles, and calves are super tired, and you could really do with someone rubbing your feet and calves.
These days you can get an amazing massage at home with foot and calf massagers.
We've put together a comprehensive buying guide to help you find the right calf massager. Allowing you to sit back and enjoy every minute of your massage!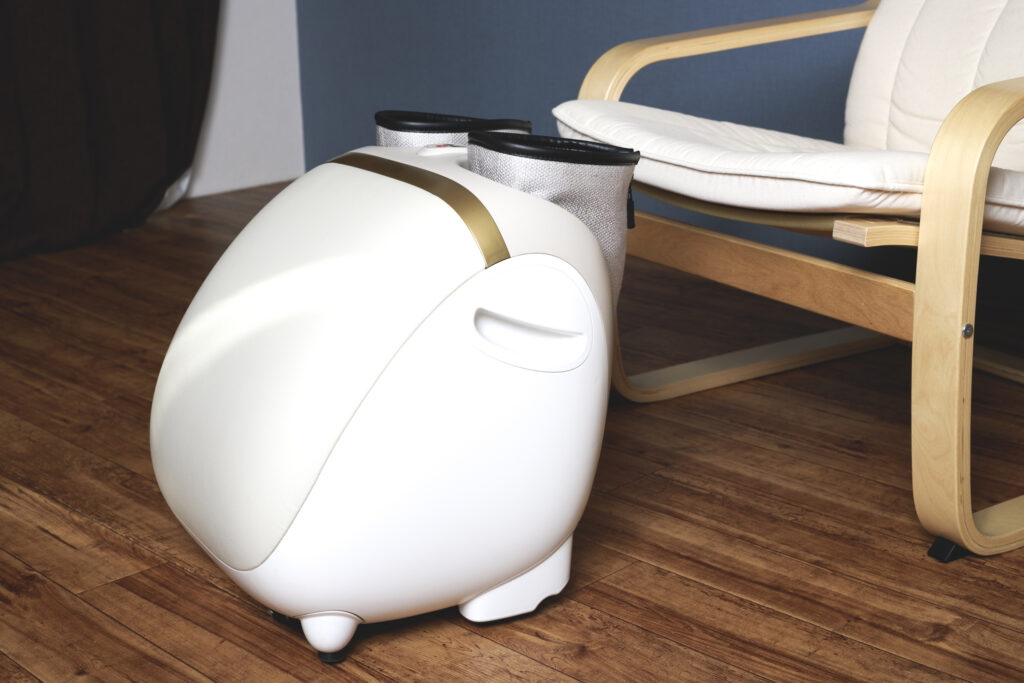 Type of Massage – Different massage techniques provides different benefits. It helps to know the different types of massages calf massagers offer and which type of massage is best to treat your ailment the most. 
If you would like more than one type of massage mode in a step-in calf massager, bear this in mind when making your purchase.
Air Compression –

A calf massager with air compression uses large airbags, which push your muscles against your bone structure. Air compression is a great massage for the legs, increasing flexibility in stiff areas. 

Shiatsu –

As the name suggests, Shiatsu is a massage technique hailing from Japan. It involves applying pressure to specific points of the body in a rhythmic sequence. 
Shiatsu massages are good to treat people with leg pain and anxiety.
Vibration –

Vibration is a massage technique where tissues are pressed and released upwards and downwards. This type of massage creates a vibrating and shaking motion onto the muscles.
Vibration is an effective massage technique that helps to increase blood circulation, aid flexibility, and mentally get people in the zone for physical activity and enhance performance.
The benefit of a vibration-style massage is to relieve tight muscles in the legs.
Heat Therapy –

Many calf massagers offer the option of heat functionality, which provides a comforting and soothing massage experience.
If you suffer from muscle knots, soreness, or painful muscles, heat therapy can help to dilate the blood vessels and improve blood flow and circulation. 
Ball Rolling

– While some users may find the ball rolling uncomfortable or even a little painful, it is an extremely effective massage style that offers a precise and deep massage, getting into all those troubled spots.
Typically ball rolling is a feature for under the feet, so that it works tendons, ligaments, and muscles that can be difficult to get to. 
Auto Shut-Off – A timer can be handy if you want to use the calf massager without having to stress about timekeeping or overstimulating the legs. 
Having an auto-shutdown functionality is a good safety feature preventing the calf massager from overuse, especially when using the heating function. 
Customization – Does the calf massager offer the possibility to adjust the intensity level of the massage, or switch between different types of massages, or increase/decrease the temperature?
Some calf massagers offer the flexibility to adjust the height to accommodate taller users. How much customization does the calf massager offer?
Size – What is the circumference of the leg sleeves? What size calves will fit comfortably in the calf massager?
You want leg sleeves to fit your body with ease. You don't want the leg sleeves to be too tight or too loose, otherwise, you will not feel the intensity of the massage properly. 
Durability – How often do you plan to use the calf massager? On average people plan to use a calf massager 2 to 3 times per week. 
If you intend to use it with the same frequency it's important to think about how durable the calf massager is and how long it will last.
Look at the quality of the massager. The fabric sleeves will be less durable than the massage unit itself. Many models sleeves can be removed and machine washed. 
Look at whether the calf massager comes with a warranty and the duration of the warranty and what is covered under it.
Ease of Use – When you're exhausted or in pain, you don't want to be fiddling around with complicated user manuals to figure out how to use your calf massager. 
Look for calf massager models that are easy to use, after all the whole purpose of a massage is for you to relax.
Price – Calf massagers are not cheap devices. The price of a calf massager can vary from as low as $200 to the top end of $380. What is your budget and how much are you willing to spend? Balance this against the features you wish to have. 
If you want a more durable model with more features and all the bells and whistles, be prepared to shell out for a model at the upper end of the spectrum.
Certification – If you want a calf massager that has been certified as a medical device by the FDA, look for whether it has FDA certification.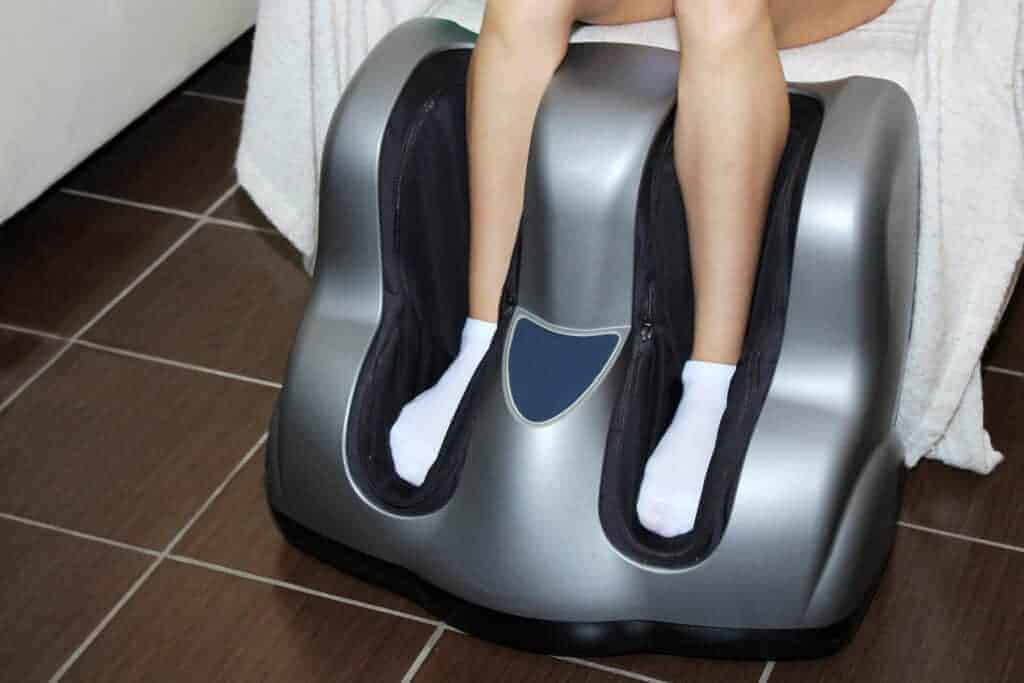 What are the possible causes of calf pain?
There could be several reasons why you have pain in your calves or they feel stiff.

Some of the common causes of calf pain are travel, inflammation, exercise, wearing high heels, standing up for extended periods, stress, varicose veins, poor circulation, obesity, and inactivity.

Your calf pain could be a result of an overactive or inactive lifestyle or due to an underlying medical condition.
What are the benefits of a calf massager?
Calf massagers offer a variety of benefits. They can relieve fatigue and muscle soreness in the legs.

If you suffer from poor blood circulation from sitting too much or wearing too-tight shoes, it can obstruct blood flow. Calf massagers can help improve blood flow circulation and oxygenate the body.

We all lead busy and stressful lives. Foot and calf massagers use trigger point massages to activate all the reflexology points to relax and calm you, reduce anxiety, and uplift your mood.

Stress and pain can cause you to have poor sleep quality. Calf massagers help to reduce stress, promote calm and alleviate pain from conditions such as plantar fasciitis, improving your overall sleep quality.

If you suffer from tight muscles whether post-exercise or daily activities, it can impede your mobility and performance.

A calf massager ensures your tight muscles are loosened and restores your mobility.
How often can you use a calf massager?
You can use it once a day to a few times a week, depending on how often you would like to use it.

If you have medical conditions, make sure that you consult your medical practitioner before buying/using any calf massager.

Many people find it relaxing to use a calf massager after a warm bath or shower, after the heat of the shower or bath has relaxed your muscles, causing you to get maximum relief.
10 Best Shoulder Braces (Buying Guide) in 2021
The best shoulder braces for professional athletes/sports enthusiasts and individuals doing sedentary jobs at a computer are the ones that support their most active muscles, which provide flexibility and durability. Athletes' braces need to be able to cater to injuries like rotator cuff tears, arthritis, tendonitis, bursitis, AC (acromioclavicular) joint injuries, and AC separations. They also help prevent strain on tendons and ligaments, which may have been weakened by shoulder injuries or overuse through strenuous activities. Information contained below outlines the best shoulder braces on the market, aiding your health and recovery journey.
8 Best Inversion Tables (Buying Guide) in 2021
Inversion therapy involves hanging upside down which is good for the spine and body. Whilst moves such as headstands or shoulder stands have been around for years, with modern invention you can get inversion therapy in your home with an inversion table. Unlike postures such as headstands or shoulder stands, where you reap rejuvenating benefits after maintaining the respective pose for some time, you don't have to put in the same arduous effort with inversion therapy. An inversion table is an ideal device that allows you to safely decompress the spine, improve your flexibility, reduce stress, and alleviate chronic back pain. With so many inversion tables on the market, it can be confusing to know which one to buy. We've screened the inversion tables that are the best of the crop. Allowing you to buy with confidence!
10 Best Tennis Elbow Braces (Buying Guide) in 2021
Tennis elbow is also known as lateral epicondylitis, it is a condition in which the outer part of the elbow becomes painful and tender. Often the pain can extend into the back of the forearm and can weaken grip strength. Tennis elbow can occur as a result of overuse during work or a range of sports. Many people use orthotic devices on the arm to improve their function or reduce pain. Sufferers of a tennis elbow can turn to prescribed medication, physiotherapy, and wearing a good quality tennis elbow brace. Choosing the right tennis elbow brace will enable you to pursue your daily activities whilst providing the right support and minimizing pain. We've compiled the top tennis elbow braces on the market, to help athletes and non-athletes with hand and elbow conditions.