These days it's quite common to suffer from headaches, back, neck, and shoulder pain, from extended periods, hunched over a computer, having developed poor posture, or experiencing chronic pain.
In an exemplary world, it would be ideal to get a personal physical therapist to come to your home to help relieve the pain, however, this is quite costly, so the majority of you need to find a solution to help rehabilitate your poor posture without breaking the bank.
A highly successful way to rectify bad posture is through a posture corrector, also known as a posture brace.
It's a device that's worn underneath or over your clothes and helps to retract your shoulders and align your spine to correct and retrain good posture.
Posture correctors can be worn for short to extended periods of time. The more you wear them the more you'll develop a healthy posture.
We trawled through countless posture correctors to bring you our top picks leaving you to stand tall and confident!
The Best
Posture Corrector
Get targeted support and outstanding pain relief so you can stay active with the majestic Copper Compression Posture Corrector.
Whether you are working out at the gym, commuting to work, or just lounging around at home, the Copper Compression Posture Corrector is lightweight and non-intrusive and retains your full range of motion while effectively correcting your posture. 
Using targeted pressure on your back, the copper-infused corrector straightens your spine, gently draws your shoulder back and engages your lower back muscles. 
Fully adjustable for bodies of all shapes and sizes, it can be worn under any type of clothing. 
Built with anti-rub, moisture-wicking material, it stays cools and decreases itching and discomfort.
The breathable design and flexible fabric allow you to wear it with comfort. 
It's perfect for people of all ages and fitness levels. Stand taller, with confidence with the Copper Compression Posture Corrector!
Adjustable
85% Copper-infused nylon, spandex & neoprene
Compression & stability support
Moisture-wicking
Anti-odor
Available in 2 sizes: S/M, L/XL
Brand: Copper Compression
Model: Copper Compression Posture Corrector
Specifications: 9 x 5 x 0.5 inches
Moisture-wicking material dries fast & keeps you cool
Anti-rub material to decrease itching & discomfort
Can be worn under any type of clothing
Fully adjustable for bodies of all shapes & sizes
4-Way stretch construction ensures a tight fit while providing the flexibility to flow freely
Lightweight & breathable design
Perfect for people of all agest & fitness levels
Can use during light workouts
Designed to be worn at home or at work
Posture CorrectorsBuying Guide
A posture corrector can be a lifesaver for those of us working in the modern tech world, where the majority of our day comprises of being crouched over our phones, computers, and other devices.
Posture correctors help to correct bad posture and help to remedy the alignment of your neck, shoulders, and back.
There are a few types of posture correctors and it helps to know what features to screen for to find the right fit for you and your alignment.
We've outlined key characteristics to look for when shopping for a posture corrector.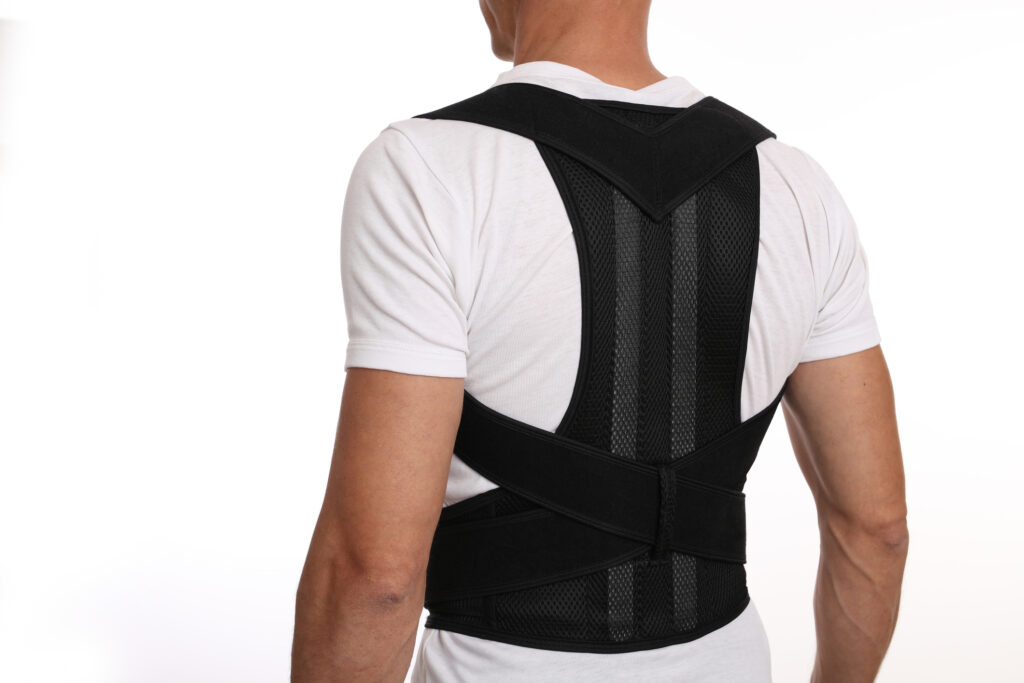 Types of Posture Correctors – The type of posture corrector you opt for will be determined by the type of chronic pain you suffer from, your budget, and the kind of support and corrective measures the posture corrector provides. 
Below are the main types of posture correctors available on the market.
Back Braces –

A back brace is the primary type of posture corrector available. Designed to fit over the shoulders and exerting a push into the mid-region of the spine to straighten the upper back and neck and the hunching of the shoulders is reversed. 
Great for people who tend to hunch their shoulders forward.
Posture Belts –

A posture belt corrects poor posture by supporting the base of the spine. A posture belt is a great style for anyone wanting to remedy bad posture habits, without having specific injury or pain. 
Great for people who sit stationary for prolonged periods of time.
Posture Corrector Bras –

Designed exclusively for women, posture corrector bras are a 2-in-1 undergarment that not only supports your chest but supports and aligns upper body posture. 
Electronic Posture Correctors –

If wearing a posture corrector on top of your clothes or underneath your clothes doesn't sound comfortable for you, perhaps electronic posture correctors are the ideal solution.
They are worn discreetly, can send alerts via vibration or sounds, alerting you when you are slouching, prompting you to adjust your posture at all times, and training muscle memory to adapt good posture over time. 
Whilst pricier than the average posture corrector, Smart posture correctors allows you to track your progress and develop a heightened sense of posture awareness and correction.
Area of Support – One of the first questions to ask is what do you need the posture corrector for? What area of the body do you require support for? 
Your shoulders? Upper back? Mid-back or lower back? 
This will help you determine if you want a posture corrector that offers support to specific regions of the back or offers support for the entire back. 
Ease of Use – You want a posture corrector that is easy to put on and easy to take off, otherwise, it's going to be irritating to use it. 
Will the posture corrector restrict your movement while wearing it? This will impact when you wear it and for how long. 
Ideally, you want a posture corrector that permits you to move around without restricting your movements.  
Size – Some users may favor a posture corrector that offers one size, others may prefer posture correctors that cater to specific sizes and body measurements. 
If you do opt for a one-size model, make sure the material is stretchy.
Material – The majority of posture correctors are made from neoprene, lycra, spandex, latex, rubber, or cotton.
If you want to wear the posture corrector for several hours you may want to opt for a moisture-wicking and breathable material. 
Can you wash the posture corrector? How easy is the material to maintain?
Adjustability – This by far is one of the most important features you should screen for in a posture corrector. 
Having the flexibility to adjust straps will enable you to fit the posture corrector to your body shape and avoid discomfort. 
Price – The majority of posture correctors are competitively priced between $10 to $30. 
If you want a posture corrector with multi-sensors, tracks your progress over time, and provides alerts be prepared to shell out around $100 and above.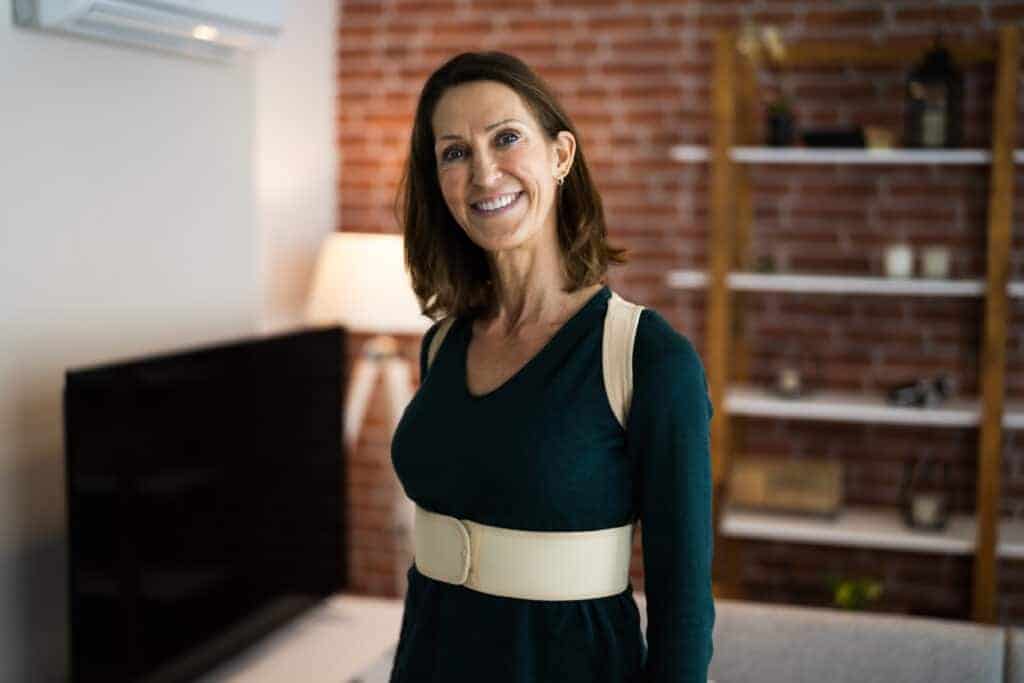 What is a posture corrector?
Posture correctors are also known as posture braces. They are wearable devices that correct poor posture and provide support to align your spine.

The idea is the more you wear a posture corrector, the more it gently corrects short and long-term poor posture habits.

A posture corrector helps to keep the shoulders back and prevents hunching forward, keeps your neck upright and aligned, and raises posture awareness to sit or stand tall.

Posture correctors can be worn for periods of time, and over time the posture corrector trains the muscles in your body to sit or stand with the correct alignment.
Does a posture corrector really work?
The primary objective of a posture corrector is to stop the poor posture habits acquired over time and to re-condition the back muscles and shoulders and neck to maintain correct alignment and posture naturally.

Posture braces help to do this by directing and training the clavicle, shoulder, and back muscles.

When a user first starts wearing a posture corrector, they may experience mild discomfort.

However, once you acclimatize to the posture corrector your clavicle, shoulder, and back muscles will slowly start building strength and start maintaining the natural stance.

Wearing a posture corrector can also alleviate neck pain, headaches, back, and shoulder pain
Can I wear a posture corrector all day?
Headaches, back pain, neck, and shoulder pain are some of the key symptoms that people suffer from as a result of poor posture.

It is advisable to wear a posture corrector for few hours a day, along with doing stretching and specific exercises that help to improve and strengthen posture muscles.
Can you correct years of bad posture?
The short answer is yes. Whether you've acquired problems with your posture over a long period of time or recently, it's never too late to make improvements, to boost your flexibility and alleviate pain.

You can learn to retract your shoulders back, stand tall, and train the muscles in your back so that you don't slouch.

Nothing gives us confidence than when we stand tall and it's never too late to start correcting bad habits.
Posture CorrectorsSOURCES
10 Best Hand Massagers (Buying Guide) in 2021
We do everything with our hands from the moment we wake up until we go to sleep. It's ironic then, that we don't think too much about taking care of our hands with a much-earned massage. Hands and wrists and even forearms can suffer repetitive injuries such as carpal tunnel syndrome. Some people may experience a reduced range of motion in their hands. Like foot reflexology, hands are thought to have reflexology points, which when massaged release tension by hitting trigger points, reinstating balance in the body. It's pretty difficult to give yourself a hand massage. That's why more and more people are turning to hand massagers, to rejuvenate their palms and fingers. We went through countless hand massagers available on the market, to bring you a shortlist of the best picks. All you have to do is sit back and enjoy the ultimate hand massage at home.
10 Best Massage Guns (Buying Guide) in 2021
A massage gun is the ideal recovery device to have in your armor for avid athletes and fitness junkies who suffer from stiff muscles and pain after intense workouts. Personal trainers, physiotherapists, chiropractors are all adopters of using a massage gun to provide massage therapy to fitness enthusiasts after they've conducted demanding exercise. With so many different massage guns available, it can get very confusing to know which massage gun is the best one for your personal recovery routine. We've rounded up the best massage guns available, making it easy for you to plug and massage away!
7 Best Yoga Swings (Buying Guide) in 2021
An aerial yoga swing takes your aerial yoga one step further, by adding in inverted backbends that focus on your core strength, as well as connecting your mind and body. Swings are also known for their ability to increase mobility in the spine, which makes them great for stress relief. Inverted poses are well-known for their ability to increase blood flow and promote detoxification. These poses stimulate the liver, kidneys, spleen, and pancreas which can aid with the removal of toxins from your body. A yoga swing is a great way to challenge yourself and deepen your yoga practice and practice a healthy model life. So what are you waiting for?