Practicing yoga comes with many therapeutic benefits from reducing stress, relieving anxiety, and managing depression to decreasing lower back pain to stimulating brain function.
Whether you are a regular yoga practitioner or a newbie starting out, it's essential to practice yoga safely, with the correct form and instructions.
For some yogi's you may need the assistance of a yoga chair if you suffer from mobility issues or to provide you with extra support and enable you to do the modified versions of those challenging poses.
Whether you want to work on your spinal twist, cat-cow stretches, or a headstand, there is a wide range of yoga chairs that will enable you to do that.
We trawled through countless yoga chairs to bring you a round-up of the best yoga chairs available, allowing you to clear your mind and perfect your best asana move!
Designed in Germany and manufactured sustainably under the highest standards in Europe, the Feet Up Yoga Headstand Stool is an impressive addition to our top list of yoga chairs. 
100% certified wood is used and crafted responsibly with eco-friendly packaging. Soft vegan leather is used to provide padded cushioning on the neck support.
Outstanding for its unique design and shape, devised exclusively to enable safe inversions without risks or pressure on the neck or spine. 
Includes a FeetUp Asanas poster, showing over 100 yoga, fitness, and relaxation exercises for your daily practice along with a first inversion guide. 
Available in 4 color combinations, you get to practice inversions with your mind at peace that your yoga chair is ethical!
Made in Europe
100% certified wood
Soft vegan leather
Comes with a poster outlining 100 yoga, fitness & relaxation exercises
First inversion guide
Available in 4 colors
Brand : FeetUp
Model: Feet Up Yoga Headstand Stool
Specifications: H 15.8 x L 25.2 x W 15.8 inches
Sustainably manufactured
Eco-friendly packaging
Enjoy all the benefits of inversions right away without risks or pressure on your neck or spine
Competitively priced
Ideal for all levels of yoga practitioners
30-day money-back guarantee
Provides great neck & shoulder support
Great for building core strength
Not suitable for users that exceed a bodyweight of 250 pounds
A yoga chair is a prop to help give support to yoga practitioners who have stiff or weak legs, which may be prohibiting practitioners from doing certain yoga poses.
Using a yoga chair to balance on, enables different poses to be done safely.
Yoga chairs come in a few different styles, from backless to balanced ball chairs, to name two styles. The different designs allow you to focus on specific yoga moves.
We've compiled a helpful buying guide, outlining the key features you may need to screen for, to prevent the process of buying a yoga chair from being intimidated.
Leaving you to strike your best yoga pose!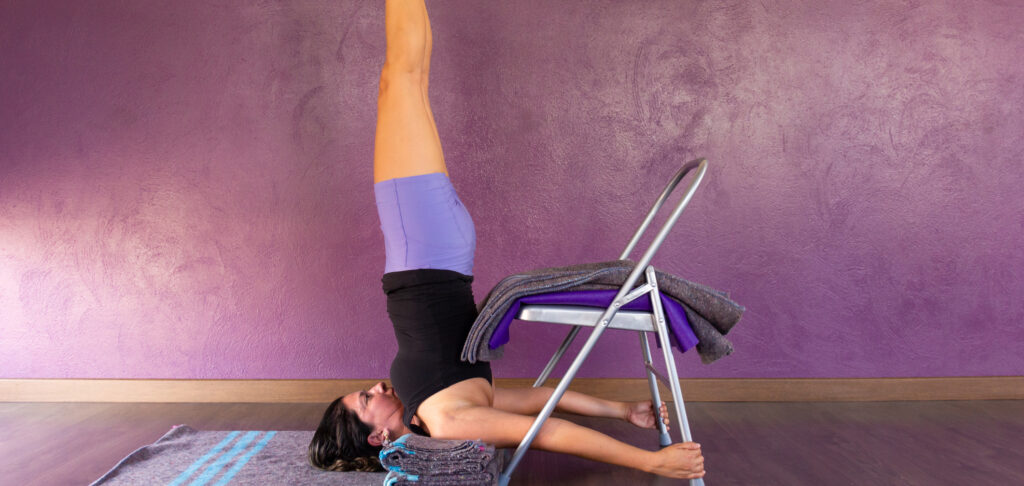 Type of Yoga You Want to Practice – What kind of poses do you wish to do with the yoga chair?
Do you want to recline? Stand? Invert? Twist? Balance? Or a combination of all these moves?
If you want to focus on perfecting inversions, you should look for an inversion yoga chair. 
If on the other hand, you want to use the chair to balance on for support, you may find a standard yoga chair more suitable. 
Types of Yoga Chairs – The style of chair you select will be determined by the kind of yoga poses you wish to practice, and your age and height. 
Standard Seat  –

If you have a standard desk chair or kitchen chair at home, it may work as a yoga chair. 
Whether it's a wooden chair or an average metal foldable chair could work for you to sit on or use as a pillar. However, they may not be the correct height for you or your body type. 
Whilst many desk chairs work as substitute yoga chairs, you need to make sure the desk chair does not have wheels or armrests. 
Backless Yoga Chair –

Backless yoga chairs enable a large range of yoga moves to be accessible to you. There are lots of inexpensive backless yoga chair options on the market.
Typically they are foldable metallic chairs that are sturdy and strong. 
Balance Ball Chair –

Balance ball chairs have become hugely popular as replacements to a standard desk chair.
Balance balls embrace sitting on a ball, activating your core, and consciously working on your back posture. 
Balance balls can also act as an effective yoga chair. If your balance ball has wheels, make sure you lock the wheels in place when using it for yoga practice.
Inversion Yoga Chair –

An inversion yoga chair will safely build core strength and help you practice inversions.
Inversion yoga chairs help relieve neck tension and help resolve issues on how to do headstands and shoulder stands in yoga practice.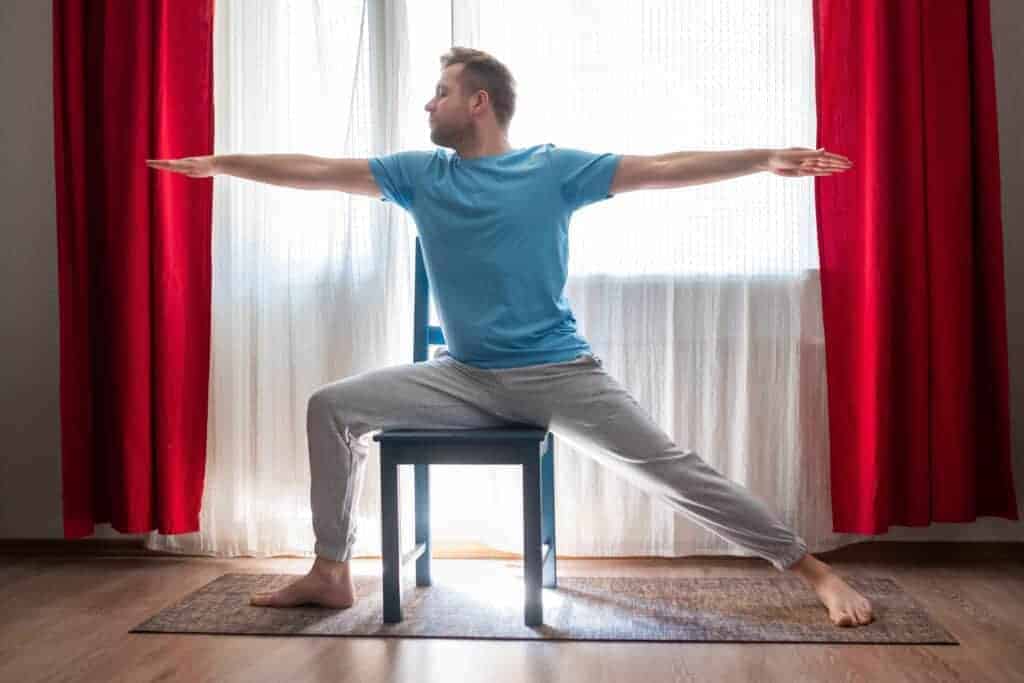 What is a yoga chair used for?
It's no secret that practicing yoga nourishes your mind, body, and soul, and keeps you fit. Anyone whose tried yoga will know it's essential to follow the instructions and have the correct form.

Yoga chairs are a great tool to provide support and help modify moves for people who lack mobility. Leaning or holding onto a chair allows you to extend your legs, while your upper body weight is supported by the chair.

Yoga chairs are also ideal for providing security to practice all those tricky yoga poses requiring balance of steel.

A yoga chair is also invaluable in helping to learn a particular movement that is assisted with the resistance that a yoga chair provides.

With time you'll get better at doing yoga poses with the help of a yoga chair.
What moves can you do using a yoga chair?
Yoga chairs can help with many yoga poses from twists, hip stretches, forward bends, cat-cow stretches, raised hand poses, chair pigeons, and spinal twists.

There are also uniquely designed yoga chairs that help to do headstands and shoulder stands, with the right support and balance.

It may be too difficult for some yoga practitioners to attempt some of these moves correctly without the support of a yoga chair.
Who should use a yoga chair?
Yoga chairs are great for beginner-level yoga practitioners or elderly people who require the support of a yoga chair to maintain their balance and correct posture alignment.

Anyone seeking greater flexibility, increasing mental focus, correcting their body posture, lowering their stress, and anyone who has back injuries would benefit from a yoga chair.

Yoga chairs are a great support mechanism for people with mobility issues, allowing them to modify yoga postures.
How much does a yoga chair cost?
Expect to pay between as little as $45 at the budget end and around $280 at the premium end for a quality yoga chair. If your budget allows, you'll get your money's worth.
10 Best Waist Trimmers (Buying Guide) in 2021
Using waist trimmers alone will not help you lose weight or achieve your fitness goals. If you incorporate waist trimmers into your lifestyle alongside exercise and a healthy diet, you will experience a multitude of benefits. Many waist trimmers have thermionic characteristics, which stimulate sweating, enabling the detoxification of the fat in your stomach. Waist trimmers are also ideal in providing back support, enabling you to conduct delicate poses with the correct form and posture. Waist trimmers are a great tool to help you lose unwanted inches in the midsection and get a trimmer waist. We rounded up the best waist trimmers on the market, leaving you free to focus on working off those inches!
10 Best Elliptical Machines (Buying Guide) in 2021
More and more people are opting for an elliptical trainer to add to their home gym due to the versatility and cardiovascular benefits of an elliptical workout. Ideally, you want a fitness machine that allows you to get a full-body workout to maximize your space at home and assist you in keeping trim, tone your muscles, and for energizer bunnies, enable interval training. An elliptical machine impersonates the motion of running without the harsh impact. Arms get a workout with the upper-body levers and adjustable resistance offers continuously challenging workouts. But working out at home comes with a whole different level of consideration, how big is the equipment, how loud is it? Will it disturb your household or your neighbors? How much does it cost? We've summarized the best elliptical machines to add to your home gym. You're only one workout away from a good mood!
11 Best Treadmills (Buying Guide) in 2021
Treadmills can improve your fitness, burn calories and help you on your weight loss goals. Running elevates the heart rate, helping to improve circulation and strengthening your heart. If you live in a climate that is far from dependable, running outdoors on a regular basis may not always be possible, which is why the prospect of a treadmill in your home can be hugely beneficial. Treadmills can help you mix up your running workouts and provide a consistent indoor workout. Having a treadmill at home gives you the freedom to workout at any time, based on your personal schedule. You don't lose time traveling to commercial gyms or making countless excuses why the snow or rain meant you couldn't get an outdoor run in. No matter what your fitness goals are or what your level is, treadmills are super versatile and offer a wide variety of workouts for everyone. From a brisk uphill trek, a consistent jog, or high interval training (HIIT) to allow you to train for a long-distance marathon. Outlined below are the best treadmills on the market. All you need to do is get your workout gear on, get ready to play your upbeat playlist, and start getting in shape one stride at a time.