We use the muscles in our hands, wrists, and forearms every day to hold and grip items from the minute we wake up to when we lay our head down to sleep.
You may find that the muscles in your wrists, forearms, and hands can tire easily when you're midway through a task. You don't have to accept this lack of strength as the status quo.
Many people are using some form of a hand grip strengthener to increase forearm and hand strength, to aid recovery, or a rehabilitation program.
Like anything strength and endurance improves the more you train a muscle.
These days there are so many types of hand grip strengtheners, some focusing on the whole hand to others focusing on the fingers, some allow the resistance level to be adjusted as your strength improves. It can get pretty confusing to know what to buy.
We rounded up the best hand grip strengtheners on the market, leaving you free to focus on working on your grip!
The Best
Hand Grip Strengthener
The IronMind Captains of Crush Hand Grip Strengthener is one of the best hand grip training tools you can buy. 
Captains of Crush hand grip strengthener changed the world by taking what had been a cheap, imported plaything and turned it into a beautifully crafted training tool for serious strength athletes. 
Made in the USA and known worldwide, nothing else puts the power in the palm of your hand like a Captains of Crush Hand Grip Strengthener. 
Available in 11 different strengths, allowing for progressive training from a beginner to someone who can literally crush a raw potato with their bare hands. 
Whether you are training your grip for Baseball, or for golf, or obstacle course racing, you'll experience a stronger more durable grip. You'll have a solid grip in no time!
Made in the USA
Knurled aircraft-grade aluminum handles
GR8 springs
Accurate, precise, durable
Alloy steel construction
Available in 11 different strengths
Brand: IronMind
Model: IronMind Captains of Crush Hand Grip Strengthener
Specifications: 5 x 4.5 x 0.75 inches
Great training tool for stronger hands, custom fit with progressive strength levels
Top-quality
Affordable
Great for beginners, seniors, rehab patients, if you are active & if you use the strength of your hands in your daily job
Ideal grip training for baseball, golfers, shooter, for obstacle course racers & climbers
Not for people seeking pinch or support grip style hand grip strengtheners
Hand Grip StrengthenersBuying Guide
Whether you engage in strength training with deadlifts or pull-ups or are a musician who plays an instrument.
If you find your forearm muscles or your fingers grip slipping, you will find it immensely useful to train with a handgrip strengthener to strengthen the muscles in your forearm, wrists, and hands.
There is a wide range of hand strengtheners, some exclusively focusing on strengthening fingers, others focus on the overall hand.
What kind of resistance do you want and do you want the ability to adjust the resistance? These are just some of the questions you need to bear in mind before making your final purchase.
We've outlined the key criteria you should consider before you take the plunge to ensure the final hand grip strengthener you buy suits your needs. With all that said getting gripping!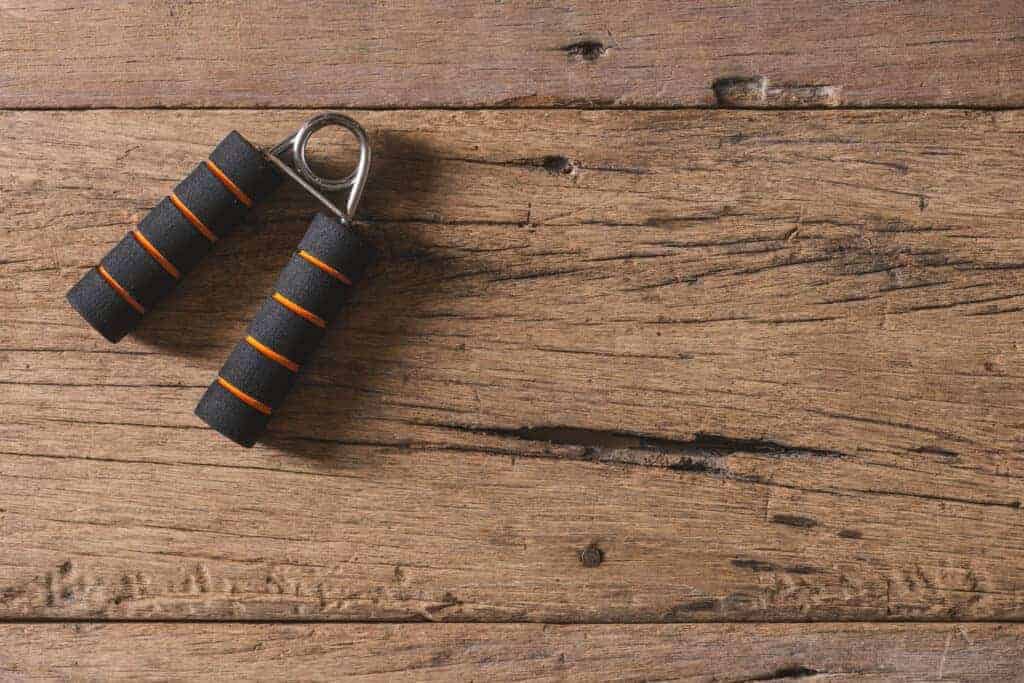 Types of Hand Grip Strengtheners 
The Crush Grip – The crush grip is the typical type of grip, between the palm of your hand and finger. This indicates how much capacity you are able to squeeze by crushing things with your fist. 
The right kind of hand grip strengthener to improve your ability to squeeze/crush things is a device with a coil strengthener. 
The Pinch Grip – A pinch gripper influences the capability of your thumb and fingers to grip things, without using the palm of your hands. 
You want to look for hand grip strengtheners that focus on strengthening the muscles in the fingers.
The Support Grip – The support grip looks at your grip longevity rather than your ability to squeeze. Or put another way,  how long you can hold onto your grip before you have to let go. 
Fixed vs. Adjustable  
Fixed Tension Hand Grip Strengtheners – With fixed hand grip strengtheners you are not able to adjust the level of resistance. 
This means over time if you wish to increase your resistance level, you'll have to keep purchasing additional hand grip strengtheners with higher and more challenging resistance levels.  
Adjustable Hand Grip Strengtheners – Adjustable hand grip strengtheners are flexible. Enabling you to adjust the resistance as your training level improves in one device. 
Whilst this is hugely advantageous, the flip side is, an adjustable hand grip strengthener has more parts to navigate which can raise the question of how durable the device is if it's not made from the highest quality products. 
Other Considerations  
Do you Need to Train Individual Fingers – Do you want to improve the overall strength in your hands? Do you want to work your forearms? Do you want the handgrip strengthener to also train your individual fingers?
Be clear on what you want, so that you can choose the right design hand grip strengthener to suit your needs. 
Anti Corrosive – Aim for quality materials that will remain durable. Ideally look for stainless steel, aluminum, high-grade rubber when selecting a hand grip strengthener.
Resistance Level – Hand grip strengtheners come in a variety of different resistance levels. It's key that you select the right resistance based on what type of grip you want to train.
You want to improve your resistance level incrementally as your hand strength gets better. Broadly speaking if you are a beginner, you will most likely need a resistance level of about 25 to 30 pounds. 
If you are on the advanced end of the spectrum, aim for around 230 pounds resistance. 
Comfort – Look at the type of handle the handgrip strengthener has, is it comfortable? Will you need gloves to use it? Is there a particular size or material you are seeking? Pick what suits you.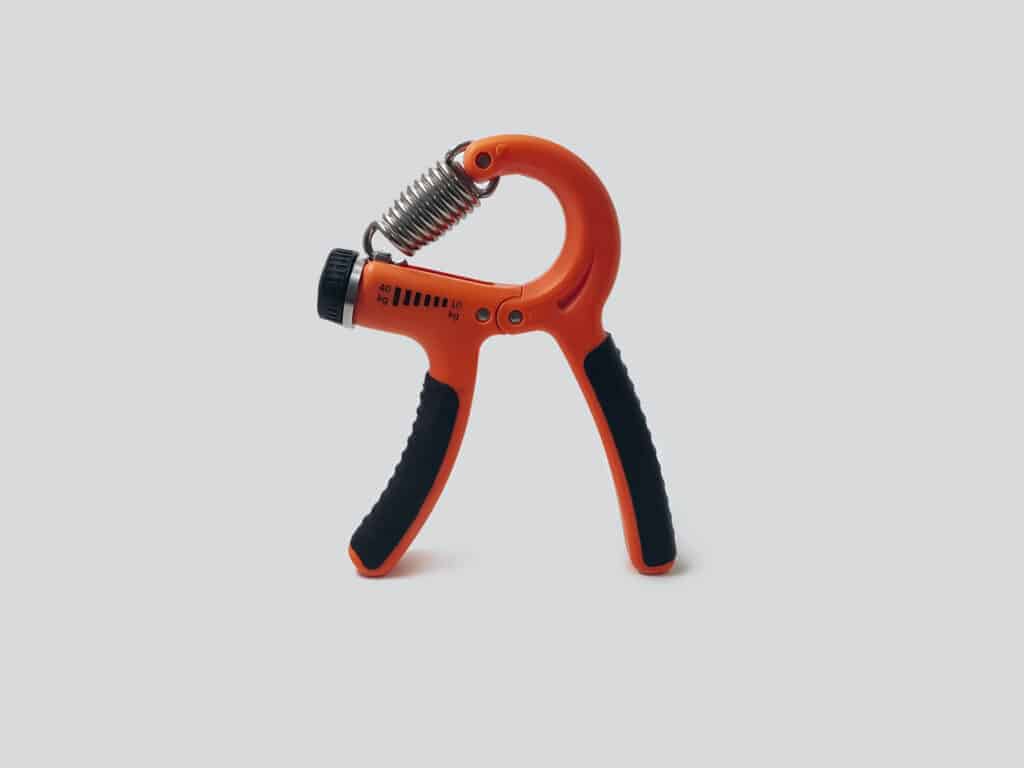 Hand Grip StrengthenersFAQ
What is a hand grip strengthener?
A hand grip strengthener is a workout device that enables you to train and improve grip strength in your forearms, wrists, and whole hand, including fingers.

They are used by a variety of people from athletes performing pull-ups and deadlifts, musicians who play instruments, seniors who may suffer from pain, sufferers of carpal tunnel, and sufferers of tendonitis or inflammation.
What are the benefits of using a hand grip strengthener?
There are multiple benefits of using a hand grip strengthener. It improves the strength of your hands, your grip, and overall strength.

When you are doing strength exercises, such as deadlifts, pull-ups, it improves the hand's endurance to grip things firmly and for longer.

Apart from building strength in your fingers and the palm of your hand, hand grip strengtheners build up your wrist and forearms muscles.

Finally, hand grip strengtheners are great in reinforcing your weaker hand so that it gets stronger and they are also great to relieve stress.
How do I test my grip strength?
You can test your existing grip strength in two main ways.

You can use a digital hand dynamometer that uses a precision gauge sensor to measure your strength.

You squeeze the hand dynamometer with maximum isometric effort for approximately 5 seconds. It will then display the grip value as weak, normal, or strong.

The other way is you can use a pull-up bar and pull yourself up and time how long you can dead-hang.

You can switch it up by using different grip styles to test your endurance and make sure you time each grip style.
What muscles does a hand grip strengthener target?
Handgrip strengtheners help to build the forearm flexors and forearm extensors, which control the opening and closing of your hand.

Handgrip strengtheners focus on building a powerful grip and improve endurance.

How fast will my hand strength improve?
This depends on your existing grip strength, how dedicated you are to training frequently and consistently and the type of handgrip strengthener you use, and the kind of training exercises you are doing.

Like with anything if you stick with it, the results come.
Hand Grip StrengthenersSOURCES
8 Best Slam Balls (Buying Guide) in 2021
Slam balls are an exceptional way of incorporating weighted plyometric moves, such as jumps and other explosive moves into your exercise regime. Explosive moves help increase your muscle strength from your shoulders, your core, right to your toes, giving you a full-body workout. The beauty about slam balls is they are a relatively inexpensive piece of equipment to add to your home gym or your commercial gym. They come in several different weights, ranging from as small as 8 pounds to 30 pounds in weight. There are so many versatile moves you can do with a slam ball from squat throw to sprint, scoop overhead throws, overhead slams, reverse lunge to chest pass, Russian twist, to slam ball sit-ups. We've rounded up the best slam balls available so that you know how to distinguish between a classic slam ball and other types of balls on the market. It's time you got strength and plyometrics into your workout, improving your coordination. What are you waiting for, slam that ball hard!
6 Best Roman Chairs (Buying Guide) in 2021
There is no better equipment than a Roman chair to bolster the back, core, and leg muscles. A Roman chair is a multifaceted piece of equipment that can help enhance flexibility, improve posture and build strength, and relieve lower back pain. No matter what your fitness level is, incorporating the use of a Roman chair in your gym routine will pay immense dividends with a stronger and more defined lower back, spine, and glutes. We've brought you the shortlist of the best Roman chairs available on the market, enabling you to perform hypertension, core, and other lower body exercises!
11 Best Treadmills (Buying Guide) in 2021
Treadmills can improve your fitness, burn calories and help you on your weight loss goals. Running elevates the heart rate, helping to improve circulation and strengthening your heart. If you live in a climate that is far from dependable, running outdoors on a regular basis may not always be possible, which is why the prospect of a treadmill in your home can be hugely beneficial. Treadmills can help you mix up your running workouts and provide a consistent indoor workout. Having a treadmill at home gives you the freedom to workout at any time, based on your personal schedule. You don't lose time traveling to commercial gyms or making countless excuses why the snow or rain meant you couldn't get an outdoor run in. No matter what your fitness goals are or what your level is, treadmills are super versatile and offer a wide variety of workouts for everyone. From a brisk uphill trek, a consistent jog, or high interval training (HIIT) to allow you to train for a long-distance marathon. Outlined below are the best treadmills on the market. All you need to do is get your workout gear on, get ready to play your upbeat playlist, and start getting in shape one stride at a time.