These days it's quite common to look for inexpensive and compact fitness devices that offer wide-ranging resistance training.
Chest expanders are excellent for providing resistance training in your home or when on the go.
You get resistance with tubes made from rubber or other elastic material to help build muscles in the upper body.
Many chest expanders enable the resistance to be adjusted, so the stronger and fitter you become you can adjust the resistance progressively.
Chest expanders are ideal for sculpting and building upper body strength and improving flexibility, and are great for men and women.
We trawled through countless chest expanders to bring you our top picks. Leaving you to stand tall and expand your sculpted chest with pride!
Say goodbye to your old spring power twister chest expander and say hello to the EAST MOUNT Power Twister.
Made of high-density double carbon steel, firm and durable, it's made to withstand wear and tear.
Ergonomically designed PU handles provide you with a comfortable grip and a special anti-slip texture design protects against accidentally falling off. 
The buckle of the handle's bottom is easy to store and convenient to carry. 
Sporting a hydraulic power twister ensures it's safer and more durable due to the patented hydraulic adjustment system principle, which prevents the danger of the spring breaking and it won't rebound and hurt you. 
Boasting adjustable resistance with a simple rotation of the knob allows you to dial up the resistance from 22 to 440 pounds, making this perfect for newbies and veterans.
Build muscle and burn fat with the EAST MOUNT Power Twister!
Adjustable resistance by roatating a knob from 22-440 pounds
Double-layer steel tube design
Stable triangle structure
Professional micro-rebound
Adjustable length: 36.2-48.8 inches
PU soft rubber handle
Available in 3 colors
Brand: EAST MOUNT
Model: EAST MOUNT Power Twister
Durable material
Safe with micro-rebound
Adjustable resistance
The buckle of the bottom of the handle is easy to store & convenient to carry
Great for training arms, chest & back
Excellent mid-range priced chest expander
Available in different colors
If you're seeking a chest expander that enables you to work the core, this is not for you
Chest ExpandersBuying Guide
If you're keen on buying a great resistance training appliance, you'll be eager to snap up a chest expander, which is a portable fitness device that enables you to work multiple muscle groups in your upper body.
We've put together a comprehensive buying guide to help you find the right chest expander. Leaving you to focus on sculpting your upper body!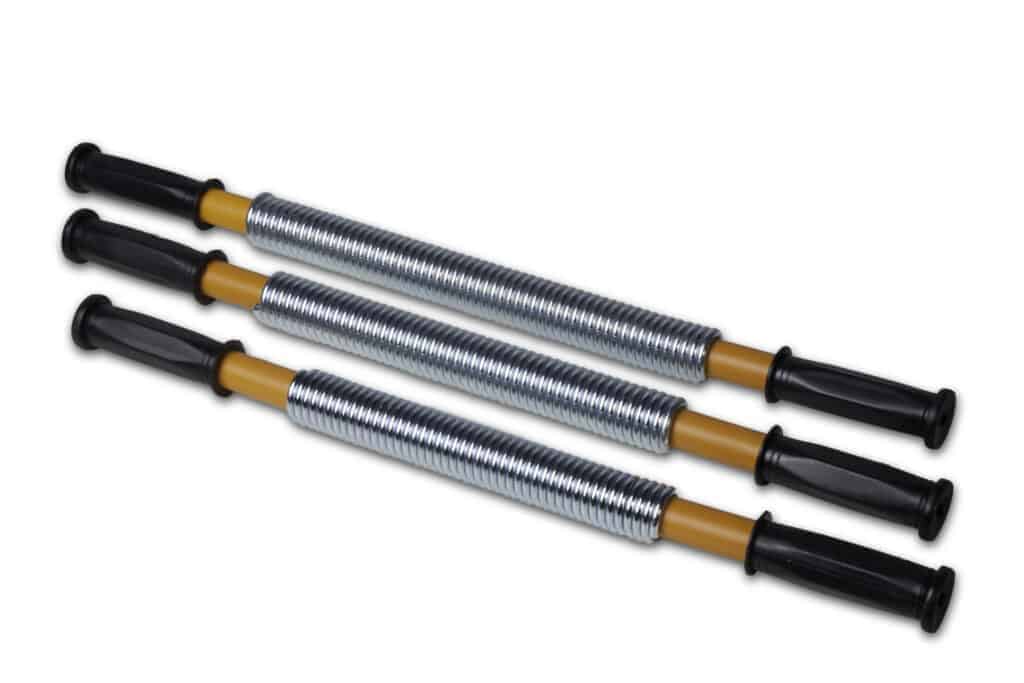 Types of Chest Expander – There are 4 main styles of chest expanders, which are devices for strengthening the chest and other upper body muscles. A chest expander involves stretching steel springs, rubber cables, or latex tubing.
Adjustable Chest Expander –

Adjustable chest expanders allow you to increase or decrease the resistance. This can be done either by removing or adding resistance cables. 
Pay attention to how many springs it has and whether the springs are detachable. When you want to decrease the resistance, you simply detach 1 or 2 of the springs.  
Chest Expander Bar –

Often referred to as a torque stick, or chest spring bar, or twister bar, a chest expander bar offers effective resistance by keeping muscles under constant tension for isometric and isotonic strength and endurance workouts. 
Resistance can be adjusted with the placement of your hands being closer to get increased resistance. 
Power Twister Arm Exerciser

– A power twister arm exerciser is commonly designed with a golden ratio triangular structure and allows you to adjust the resistance by rotating a knob to meet your training needs. 
Material – You want a chest expander that is durable and can handle the pressure applied via resistance. Generally, chest expanders are made of carbon steel, latex, or ABS. 
If the chest expander allows the resistance to be adjusted, how easy is it to adjust the resistance? 
Secure Grip/Handles – You want a chest expander with solid, secure, and ergonomically designed handles to provide a strong and comfortable grip.
What material are the handles made from? Are they anti-slip handles?
Exercise Type – Which part of the upper body do you intend to train? The chest? Arms? Shoulders? All of them? 
Some chest expanders are great in working the chest and arms, but may not work the shoulders. Other chest expanders are versatile and enable you to work the chest, shoulders, traps, and biceps.
This will influence which model of chest expander you select.
Men or Women – Is the chest expander suitable for men only or women too? Most women want to firm and lift their breasts but they don't want to bulk up. Men want to pump up and tone their pecs. 
Is the resistance suitable for both sexes?
Extra Features – Does the chest expander come with extra devices? Additional features to link, handles, resistance bands, etc? 
Additional features can offer versatility in the kind of exercises you can use the chest expander for. 
Price – What is your budget? Balance what your needs are, the features you are looking for, and the highest quality chest expander you can get within your budget.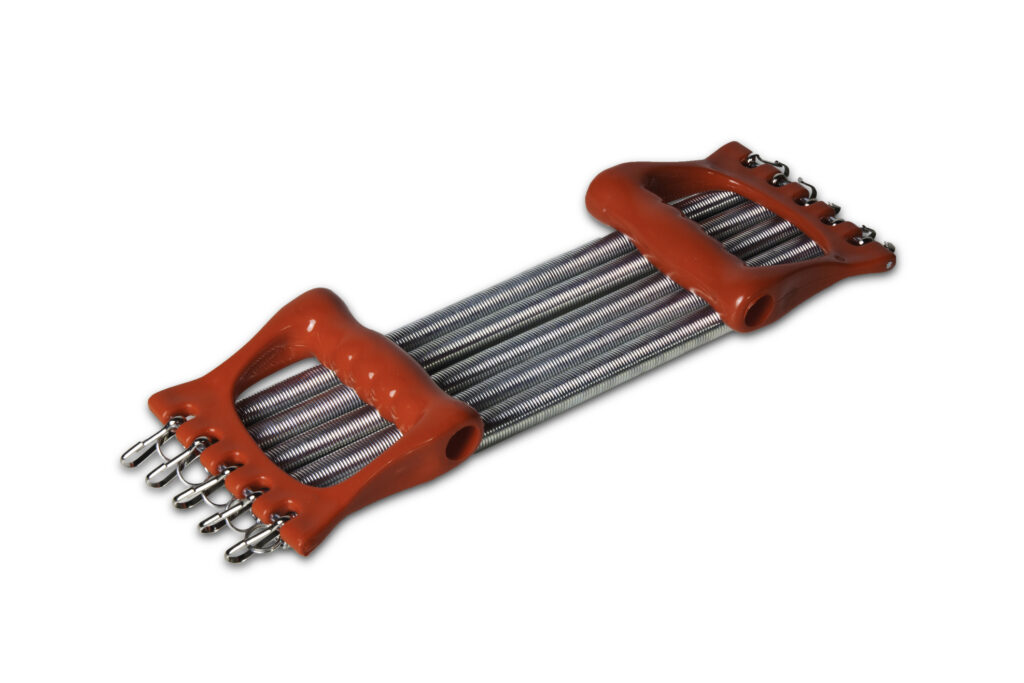 What is a chest expander?
A chest expander is a portable piece of fitness equipment that consists of two handles connected by springs that provide varying degrees of resistance.

A chest expander helps to supplement calisthenic exercises. The basic exercise involves a compound exercise using the chest, back, and shoulder muscles.

Different chest expanders offer the flexibility to adjust the tension, hence making the compound exercise more difficult as you get fitter and stronger.

There are a few different types of chest expanders, adjustable chest expanders, which as the name suggests allow the resistance to be increased/decreased to suit your need.

A chest expander bar resistance is increased based on the positioning of your hands and power twister arm exercisers have a golden ratio triangular structure and typically resistance can be adjusted via a knob dial.
What are the benefits of a chest expander?
A chest expander is an inexpensive simple fitness device, which is not only lightweight but portable, making it convenient to take with you and use pretty much anywhere.

If you are looking for a piece of equipment that offers your upper body a variable resistance workout, then a chest expander delivers in spades. The more you move the handle of a chest expander the greater resistance it emits.

Many chest expanders offer adjustable resistance, making them ideal for beginners or women at the lower end of the resistance spectrum.

Chest expanders are great for building functional strength, promoting ligament and tendon strength, and toning chest muscles.

Chest expanders are low-impact pieces of equipment that offer smooth and stable resistance, making them ideal if you are dealing with injuries.

Chest expanders simulate many of the same upper body exercises that you get when using free weights, however, chest expanders are much cheaper than free weights.

Anyone looking to work their deltoids and pectorals and improve their breathing capacity will benefit from using a chest expander.
9 Best Punching Bags (Buying Guide) in 2021
Incorporating a punching bag into your home gym equipment has become a must, due to the physical and mental benefits that are inherent when training with a punching bag. For any fighting champ regardless if you're a boxer. kickboxing, mixed martial arts or a Muay Thai boxing enthusiast, there is a punching bag right for you. Whether your goal is to enhance your endurance, cardio, strength, hand-eye coordination, reflexes as well as being a healthy outlet for stress, or simply getting you pumped with good old fashion endorphins, a punching bag will be in your corner. It's worth digging deep and familiarizing yourself with the different punching bags on the market, to help you take your fitness and training to the next level. Below are the best punching bags. All you have to do is step into the ring with us, strap on your boxing gloves and get ready to train Rocky Balboa style, hearing the infamous 'Eye of the Tiger' track, striking one punch at a time.
7 Best Sandbags (Buying Guide) in 2021
There is no better way of mixing up your workouts than adding a sandbag, to get a wide range of functional training into your workout. These days sandbags have become a staple fitness tool in CrossFit or WOD style training. Sandbags offer dynamic resistance, requiring you to use your core to provide stability through various movements. You get to strengthen the torso and hips, which enables you to do a range of powerful other lifts. No matter what your current fitness level is or your fitness goals are, sandbags are awesome tools for strength and power training, conditioning, and a multitude of compound movements allowing you to train several muscle groups simultaneously, getting faster results. After rigorous review, we've brought you the shortlist of the best sandbags available on the market, leaving you free to swing and hurl a sandbag to stay fit!
7 Best Agility Ladders (Buying Guide) in 2021
If you're looking to add speed, agility, and coordination training into your fitness armor, why not add the agility ladder to mix up your workouts. Agility ladders are awesome fitness tools, they are inexpensive and allow you to improve your speed, build power, and agility allowing you to move swifter, stop or change your pace and even shift direction. Ideal for athletes playing a multitude of sports from football to basketball. Agility ladder drills offer a great cardio workout, help develop strength, improve footwork and make you fast, and require immense mental and physical coordination, something every elite athlete needs to perform at their best. These days coaches, personal trainers, and even little leagues are leveraging agility drill techniques to make you faster, accelerate and decelerate and change directions and react or switch positions rapidly. We've put together a shortlist of the best agility ladders available, allowing you to focus on training as an elite athlete! Ready, set, go!