Staying Alive is reader supported. When you buy through our links, we may earn a commission.
Learn More >
The Best Sandbag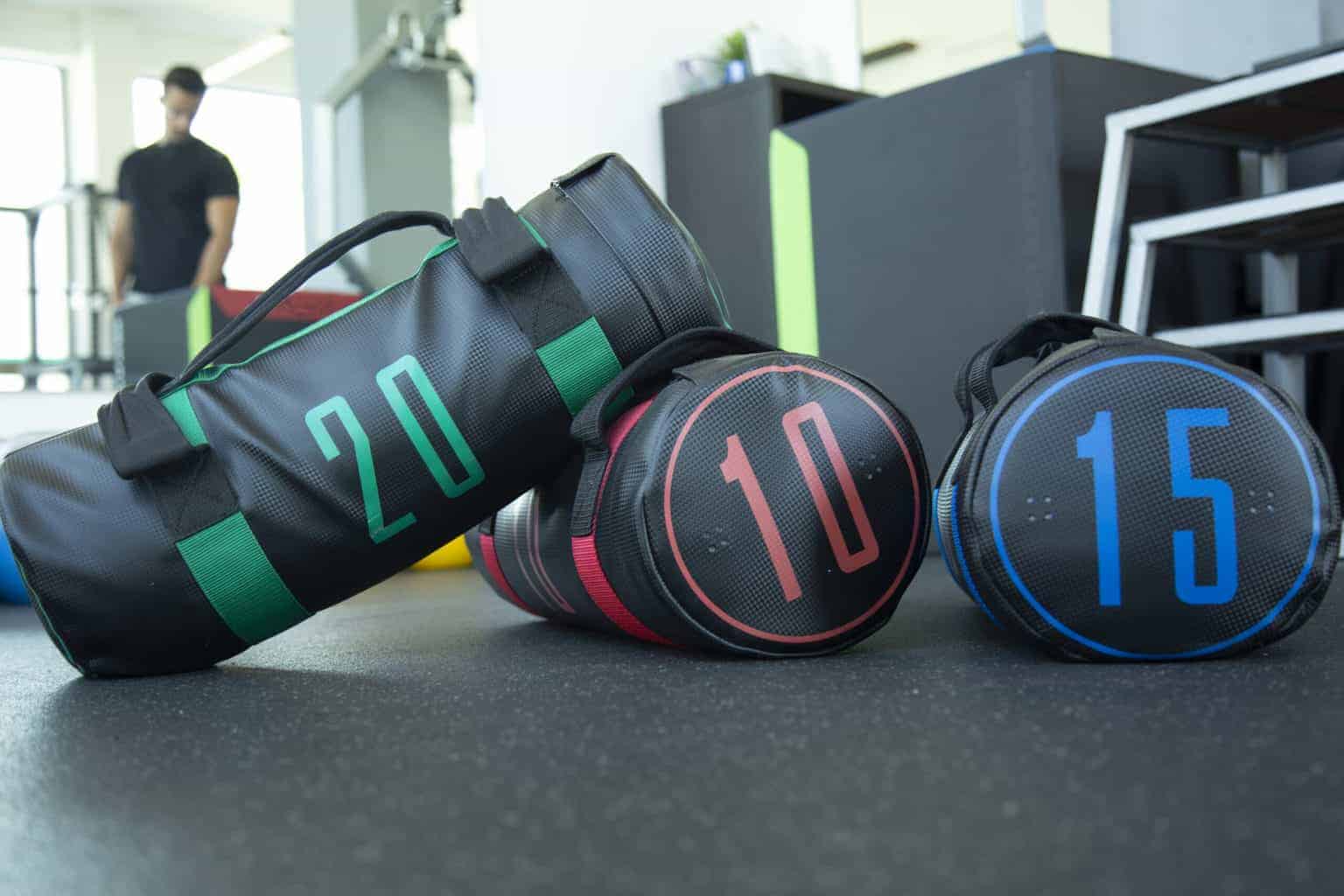 There is no better way of mixing up your workouts than adding filled sandbags, to get a wide range of functional training into your workout.
These days sandbags have become a staple fitness tool in CrossFit or WOD-style sandbag training.
Sandbags offer dynamic resistance, requiring you to use your core to provide stability through various movements.
You get to strengthen the torso and hips, which enables you to do a range of powerful military-style lifts.
No matter what your current exercise level is or your fitness goals are, sandbag training is an excellent way to incorporate strength and power training, conditioning, and a multitude of compound movements allowing you to train several muscle groups simultaneously, getting faster results.
After rigorous review, we've brought you the shortlist of the best sandbags available on the market, leaving you free to swing and hurl a sandbag to stay fit!
Table of Contents
7 Best Sandbags in 2023
Sandbags Buying Guide
Sandbags are fantastic to incorporate versatile functional training into your fitness regime.
They allow you to build up a sweat through a combination of weight training and cardio, so that you'll be under traffic control watch to slow down .
Filled sandbags help you to build muscle and strengthen your body from your core to your back, shoulders and chest, and your legs.
Before you buy a sandbag, you should read our reviews and know what features to screen for to ensure you pick sand bags that answers all your wants and training needs.
Sandbags
Sandbags are simple exercise tools made from material with a filling of sand or other types of filling that can be used to do a wide range of functional training, no matter what your fitness level.
The weight in sandbags shifts, making it difficult for you to get into a workout flow and thus making the workout more challenging to control and leading you to engage your muscles to stabilize each rep over and over again.
Sandbags are hugely popular in CrossFit style workouts and general strength training.
Benefits of Sandbags
Sandbags are great to add to your workout to mix it up and to add a new challenge, with a range of benefits. Sandbags can be used for a wide variety of exercises, from squats to rows and planks.
Sandbags are ideal to help build strength and muscle and for endurance training, for the latter, you want to do 20-30 reps per set.
Sandbags are spectacular in doing cardio training where your heart rate is increased, with moves with jumps and squats to help increase cardiovascular endurance and burn fat.
When doing dynamic exercises with a sandbag you engage your core with all the stabilizing you have to do.
Due to the soft construction of a sandbag, you are able to conduct a large number of fluid movements with low impact.
Features of Best Sandbags
Material
The material of a sandbag must be sturdy and be able to protect it and withstand repeated hits. Many sandbags are made with 1000 Denier solution Dyed Cordura Nylon fabric and strong military grade Velcro.
The textured Nylon provides outstanding resistance to erosion, chafing, and dwindling conditions that occur through repeated use.
Think about whether you intend to use the sandbag for indoor or outdoor training.
If you are intending to use it for an outdoor boot camp or outdoor running, you may also need to consider whether the material is water repellent to withstand flooding conditions, being hit on the ground, whether it drys quickly and whether it can be washed if soiled.
Many sandbags are made of polyurethane leather, which is faux leather, which is a synthetic material and an alternative to real leather.
It is less expensive than real leather and is very sturdy, and can withstand wear and tear.
Weight Limit
What poundage you want for the sandbag depends on your fitness level and your strength.
You want to have a sandbag that is strong and is providing sufficient resistance to give you a workout that is pushing your body. If the load is too light, you are not being pushed to improve.
You want a sandbag that offers sufficient load to challenge you not only now but as you get fitter and stronger, the sandbag remains heavy for you.
Some sandbags have adjustable weight which is great, as you can increase the heaviness limit as your fitness level progresses.
Other options come with a fixed weight and the load cannot be increased or decreased.
Filler Bags
To make it easier for you to increase or decrease the heaviness of your sandbag and to make it easier to ship, many sandbags come with filler bags.
Some sandbags automatically come with filler bags, with other models you have the option of buying filler bags as an addition to the purchase of the sandbag itself.
The benefit of filler bags is it keeps the inside of your sandbag clean and they are easy to adjust the load level for different types of exercises. When you are switching from arms to legs exercises and you may want to increase the load level.
Durability
How durable the bag is will very much depend on the material the bag is made of and how robust and reinforced the stitching of the bag is.
If you want your bag to last and withstand more rugged workouts, look for the military-grade canvas, leather or polyurethane leather, or nylon.
Shape
These days sandbags come in a variety of different shapes. The most common shape is cylindrical or curved. Some may be shaped like a half-crescent moon. You can compare the different shapes and styles available on the market.
Bags that come in these shapes offer excellent weight distribution and functionality, which provides great training without you having to fiddle about with the structure of the sandbag mid-workout, and they are easier to hold.
Handles or No Handles
Depending on the type of sandbag and the kind of exercises you want to use it for, will determine what type of grip you require on the sandbag.
Sandbags with handles, or handles placed in multiple positions offer great comfort and versatility in the type of exercises you can do with a comfortable grip.
For example, if you want to do a squat with the sandbag held at the back of your shoulders, you want handles to hold the sandbag in place whilst your upper body remains upright, allowing you to squat safely and the bag remains firmly in place.
Price
The price of sandbags varies from as little as $25. The more premium quality the sandbag is and the higher the poundage, the greater the price.
A good quality mid-weight sandbag can cost north of $150. Select the highest quality sandbag that your budget permits.
Sandbags FAQ
How much weight should I use for a sandbag training?
How much mass the sandbag that you train with depends on your fitness level and what your goals are for strength, building muscle, or conditioning.
If you are new to using sandbags, it is advisable to start training with a lower load. Once you are comfortable with a sandbag you can incrementally increase the heaviness.
If your goal is to use a sandbag for strength training, you should have a mass that allows you to fatigue between 3-6 reps.
If you want to build muscle, you should be aiming to fatigue your muscles between 8-12 reps.
On the other hand, if your goal is endurance training, you should aim to fatigue your muscles between 20-30 reps.
The beauty about sandbags is you can do exercises that use multiple muscle groups at the same time, allowing you to train efficiently.
What are some workouts I can do using a sandbag?
There are so many moves you can do with the sandbag. Below is a video to get you started on a circuit.
Sandbags Sources