If you're setting up a home gym, it's worth pondering the purchase of an adjustable dumbbell as opposed to the more traditional weights. It can be overwhelming to know what the right home gym plan should be for you.
What you opt for comes down to how much you are willing to pay, how much space you have at home, and your fitness goals along with any other needs you might have.
Adjustable dumbbells are a single pair of dumbbells that allow you to adjust the weight to make the dumbbells heavier or lighter. How you adjust the weight varies from different models and brands.
Adjustable dumbbells are more expensive than a weights set, but you get around 12 to 18 different weight sets in one pair of dumbbells, saving you money and immense space.
So it's worth digging deeper and doing your homework on why so many fitness fans are buying adjustable weights to furnish their home gym.
We've done the heavy lifting for you to bring you the shortlist of the best adjustable dumbbells. Get ready to take your strength training to the next level in the privacy of your home.
The Best
Adjustable Dumbbell
For fitness enthusiasts looking to equip your home gym on a budget, the Bowflex SelectTech 552 Dumbbells are a must for you.
You'll never want to go back to splurging out on a set of fixed weights once you're acquainted with these dumbbells. 
The Bowflex SelectTech 552, replaces 15 sets of weights in one dumbbell pair.
With 15 different weight settings in increments of 2.5 pounds and each dumbbell adjusting from 5 pounds to 52.5 pounds, you'll be able to push your strength training outside your comfort zone.
Adjusting the weights is done via the selection dials. Easily switch from one exercise to the next with the turn of a dial, enabling you to change your resistance and gradually increasing your strength.
So whether you want to do light exercises or lift heavier weights, the Bowflex SelectTech is at your disposal.
With 15 weight settings rolled into one compact dumbbell set, the Bowflex SelectTech 552 allows you to do versatile workouts for your legs, backs, chest, abs, shoulders, and arms. 
Weight plates have durable molding and the handgrips are covered with rubber for premium grip and smooth lift-offs and quieter workouts.
Unlike a set of fixed weights which take a lot of space, the Bowflex SelectTech 552 is compact and requires less storage space.
Once you've worked out with the Bowflex SelectTech 552, you'll be hooked!
Each dumbbell adjusts from 5 to 52.5 pounds (2.27 to 23.8kg) for each dumbbell
Adjusts in 2.5-pound increments up to the first 25 pounds & after that in 5-pound increments
Select the weight you want with a turn of the dial
The equivalent of combining 15 sets of dumbbells into one set
Hand grips covered with rubber for premium grip
Durable molding around the metal plates to reduce noise
Brand: Bowflex
Model: Bowflex SelecTech 552 Dumbbells
Size: 15.75 L x 8 W x 9 H - inches
2-year warranty
100% satisfaction guarantee
Returns permitted within 6 weeks delivery
Standard shipping to the contiguous US free
Affordable & cheaper than buying a fixed set of weights
Easy to use
Saves space
Some users report dials to need be replaced after 1-2 years
Hard plastic not as durable as metal
Don't deliver to P.O. Boxes
Adjustable DumbbellsBuying Guide
Working out at home can be economical and easier for you to fit into your daily schedule, cutting out travel time, to and from a fitness center. 
For those of you who are not big fans of working out at a gym, there is no better place to work out than in the privacy of your home.
Of course, you need to have the right compact equipment that allows you to achieve your fitness goals, whilst being economical. 
Owning a set of adjustable dumbbells allows you to work towards your fitness goals, with multiple weights at your disposal, from light to more heavyweights, on par with a gym.  
It can be daunting to know which adjustable dumbbells to go for as opposed to free weights set. We've broken down the key features you may want to consider before making your final purchase.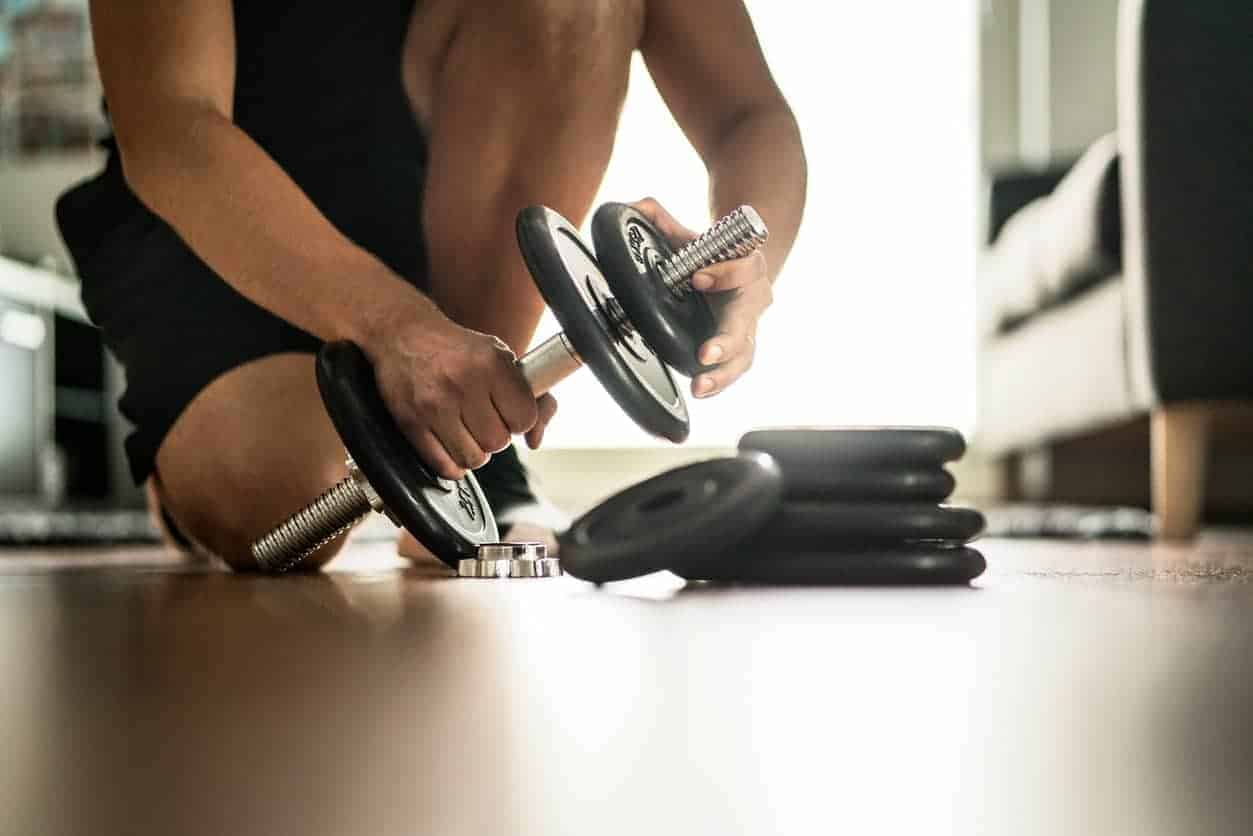 Total Weight Sets – With the purchase of an adjustable dumbbell, you are replacing multiple sets of weights. Saving you money and space. 
Lighter adjustable dumbbells can replace around 12-16 standard weight sets, which is a respectable number of weights.
Adjustable dumbbells that are on the heavier end of the spectrum can replace around 18 sets, giving you a whole gym's worth of weights in two dumbbells. 
Weight Increments – You get multiple weights through the possibility of increasing weight increments. Weight can be incrementally increased via a dial or plate system. 
Depending on the brand weight increments come in 5-pound increments or 2.5 or 1 pound increments. If you are a beginner, it might be too ambitious to opt for 5-pound weight increments.
Depending on the brand, the weight increments, you can increase your resistance from 25 pounds to a ceiling of 100 pounds. The more trailblazing adjustable dumbbells can permit weight of up to 200 pounds. 
Whether you are a novice weight and resistance trainer or a pro, the adjustable dumbbell weight increments allow you to tailor the weight to suit your fitness goals and constantly test you. 
Maximum Weight – Think about the level you are at now vs what your fitness goals are and how strong you would like to become. This can then guide you on what the maximum weight of the adjustable dumbbells should be. 
It doesn't matter what weight you ultimately select, as long as the weights are not too light for you, constantly challenge you and you can slowly increase the weight to push yourself outside your comfort zone and get stronger. 
For some, a max of 50 or 100 pounds should suffice. 
Ease of Adjustment – You want to have adjustable dumbbells, where it's relatively straightforward to increase or decrease the weight, and making adjustments is not too time-intensive.   
If you're on a modest budget, opt for an adjustable dumbbell set with a spinlock, that has screws. Spinlocks are the cheapest adjustable dumbbells.
Comfortable to Use – To enable you to keep training you need dumbbells that are comfortable to train with. 
You don't want adjustable dumbbells that slip when you have sweaty hands or are constructed from a rough material that is creating calluses on your hands.
Consider whether you will be purchasing weight training gloves to train with the adjustable dumbbells.
If you don't intend to splash out on weight training gloves then look for adjustable dumbbells that have thermoplastic rubber handles to provide a sturdy grip. 
Some adjustable dumbbells also have padding on the handles, which provide welcomed protection to the hands and the added benefit of protecting your wrists. 
Material – Adjustable dumbbells are made of plastic, steel, or cast iron. Plastic can break easier and is less durable.
Adjustable dumbbells constructed from steel or cast iron are more sturdy and durable. It's worth paying a little more and getting durable and high-quality adjustable dumbbells. 
Three Varieties of Adjustable Dumbbells
Spin Lock –

Spinlock dumbbells are what comes to most people's minds when you talk about adjustable dumbbells. 

Spinlock adjustable dumbbells use weight plates that are held in place together with a lock, enabling you to add incremental weights to the dumbbells. Finally, you tightly lock the selected weights in place. 

If this sounds like a lot of work, that's because it is, which explains why the spinlock model adjustable dumbbells are more economical. 
Dial A Weight –

Dial a weight adjustable dumbbells that enable you to select the desired weight you want to lift from the dumbbell. The weight you don't want to lift is left in the holster.

Turning the dial to the desired weight is quick and convenient and easy to use. It's no surprise these adjustable dumbbells are on the more expensive end of the spectrum.
Selector Pins –

Selector pins involve removing and adding a magnetic pin.
Weight is selected from a dumbbell weight stack and then you remove the handle from the weight stack leaving the unused weights behind in the dumbbell holder.
These are a good option if you want something more durable than a spinlock but don't want to splurge on a dial a weight adjustable dumbbell model. 
Storage Space – The benefit of adjustable dumbbells is that you are getting multiple sets of weight, in one compact dumbbell set which does not take a lot of storage space in your home. 
Storage is made easier as many adjustable dumbbells come equipped with storage trays or stands where you can put the dumbbells when not used.
What you opt for comes down to your personal preference.
Price – Adjustable dumbbells are a great investment to have several weight sets in one dumbbell set. They are also a great option for personal trainers who travel to clients, due to the ease of portability. 
The average price for a set of adjustable dumbbells is $350, with some being north of this price. How much do you intend to use your adjustable dumbbells?
If you plan to use them at least twice a week or more, the price pays for itself over the year. 
Be clear on what your budget is before you start your shopping.
Warranties and Guarantees – Whether an adjustable dumbbell set comes with a warranty or a  guarantee varies from brand to brand. 
Some brands may offer trial periods ranging from 14 to 30 days, allowing you to test the dumbbells.
Check the fine print of whether you are entitled to exchange the adjustable dumbbells set if they don't hold up to scrutiny. 
On average an adjustable dumbbell set may come with a 1 or 2-year warranty.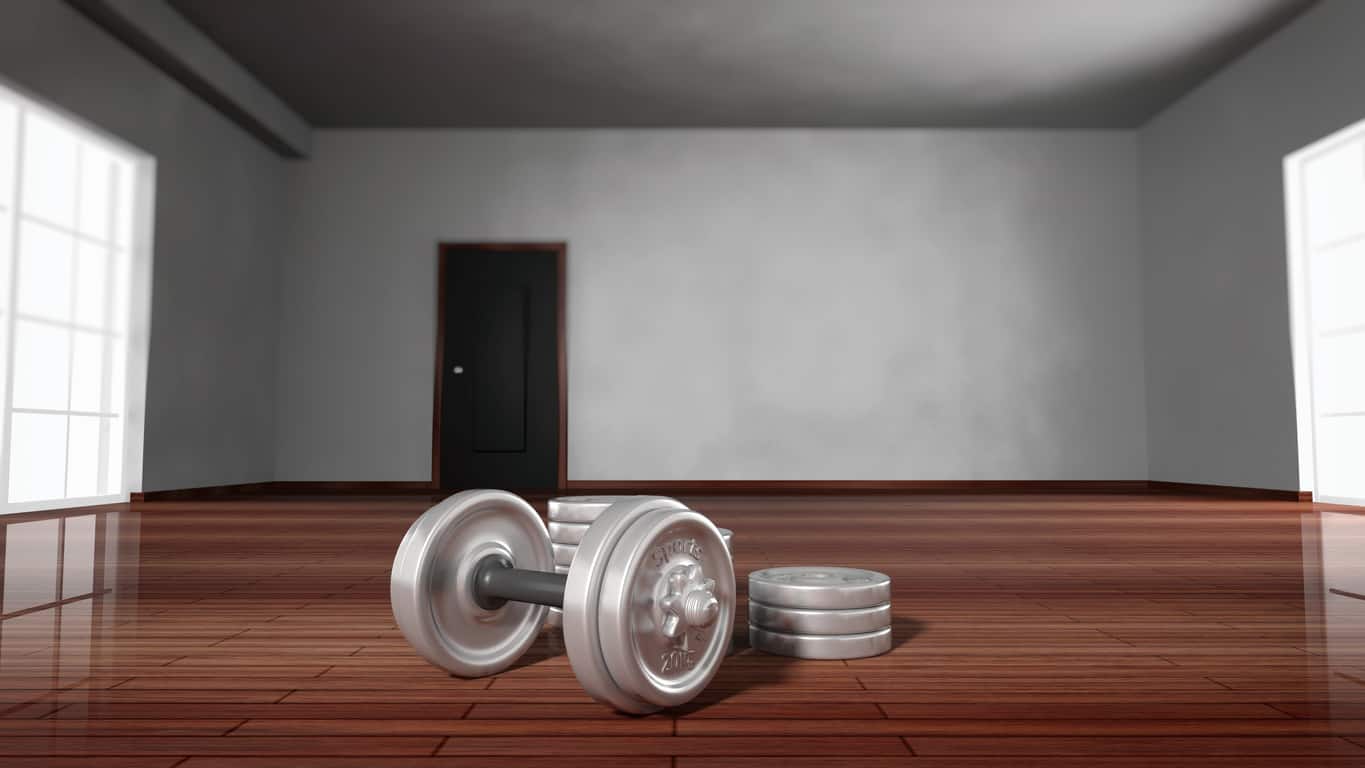 What are adjustable dumbbells?
Adjustable dumbbells are a single pair of dumbbells that allow you to adjust the weight of the dumbbells to make them lighter or heavier.

Adjustable dumbbells save you space and money and enable you to have several if not a full set of gym weights in one compact dumbbell set.
What are the benefits of adjustable dumbbells vs fixed dumbbells?
To ensure a well-rounded workout regime, incorporating effective strength workouts into your fitness with dumbbells is extremely effective.

If you are working out at home, it's not practical to buy and store numerous different dumbbells that you would have access to at a gym.

Adjustable dumbbells allow you access to multiple dumbbell weights in one set of dumbbells and they are portable and compact to store and less expensive than buying a full set of dumbbells.

You can exercise anywhere with adjustable dumbbells. If you are a fitness trainer and you travel to your clients, adjustable dumbbells are easy to travel with.

You can start your strength workouts with a set of light weights and gradually increase the weights as you get fitter and stronger.
Can men and women use adjustable dumbbells?
Yes is the short answer! There are many health benefits for both men and women of all ages, who incorporate strength training into their fitness regime.

Weight lifting can promote muscle mass, bone density, and be incorporated into your cardio routine.

Strength training tones your body and helps to build endurance.

Many women get concerned and associate strength training with bulking up. Lifting lower weights and doing higher repetitions shreds you and keeps you lean and toned.

For the more experienced fitness enthusiast, higher weights are available.
Does the weight on each dumbbell have to be equal?
Most people should focus on mastering the unilateral version of the exercise safely with the correct technique first.

Adjustable dumbbells do offer the possibility of offset weight selection, where the weights on both sides are uneven.

Offset training has benefits as it makes training harder, requiring more control and coordination, and confuses your muscles.

Should you choose to do offset weight training, ensure the difference in weight is not too large.

A weight difference of 4kg/8.8 pounds is good, but anything more than this is too much.
Adjustable DumbbellsSOURCES
10 Best Elliptical Machines (Buying Guide) in 2021
More and more people are opting for an elliptical trainer to add to their home gym due to the versatility and cardiovascular benefits of an elliptical workout. Ideally, you want a fitness machine that allows you to get a full-body workout to maximize your space at home and assist you in keeping trim, tone your muscles, and for energizer bunnies, enable interval training. An elliptical machine impersonates the motion of running without the harsh impact. Arms get a workout with the upper-body levers and adjustable resistance offers continuously challenging workouts. But working out at home comes with a whole different level of consideration, how big is the equipment, how loud is it? Will it disturb your household or your neighbors? How much does it cost? We've summarized the best elliptical machines to add to your home gym. You're only one workout away from a good mood!
10 Best Waist Trimmers (Buying Guide) in 2021
Using waist trimmers alone will not help you lose weight or achieve your fitness goals. If you incorporate waist trimmers into your lifestyle alongside exercise and a healthy diet, you will experience a multitude of benefits. Many waist trimmers have thermionic characteristics, which stimulate sweating, enabling the detoxification of the fat in your stomach. Waist trimmers are also ideal in providing back support, enabling you to conduct delicate poses with the correct form and posture. Waist trimmers are a great tool to help you lose unwanted inches in the midsection and get a trimmer waist. We rounded up the best waist trimmers on the market, leaving you free to focus on working off those inches!
11 Best Hand Grip Strengtheners (Buying Guide) in 2021
We use the muscles in our hands, wrists, and forearms every day to hold and grip items from the minute we wake up to when we lay our head down to sleep. You may find that the muscles in your wrists, forearms, and hands can tire easily when you're midway through a task. You don't have to accept this lack of strength as the status quo. Many people are using some form of a hand grip strengthener to increase forearm and hand strength, to aid recovery, or a rehabilitation program. Like anything strength and endurance improves the more you train a muscle. These days there are so many types of hand grip strengtheners, some focusing on the whole hand to others focusing on the fingers, some allow the resistance level to be adjusted as your strength improves. It can get pretty confusing to know what to buy. We rounded up the best hand grip strengtheners on the market, leaving you free to focus on working on your grip!