A dip bar is the ideal piece of fitness equipment that will allow you to max out your triceps, chest, and shoulders.
Whilst stressing your whole upper body out, a dip bar enables you to perform a huge range of different exercises for the whole body.
A dip bar is ideal to do isolated moves, where you use your body weight as resistance, and if you're a fitness junkie or pro athlete, you can add additional weight to increase the resistance.
With a variety of different dip bars available on the market, we've brought you the round-up of the best dip bars available, allowing you to focus on those isolated moves!
Train your entire upper body and build core strength without weights or bulky equipment with the ProsourceFit Dip Stand Station.
It allows you to sculpt your muscles with your own body as resistance. 
Made of durable iron, the sturdy iron tubes can support up to 400 pounds and are powder-coated to protect from rust developing. 
Padded grips make it comfortable to build muscle without weight by performing dips, L-sits, push-ups, and inverted rows. 
The bar height is adjustable up to 35-inches to accommodate taller users, or to enable a variety of different exercises which require a staggered or parallel bar option.
Available in red, yellow, and black and priced competitively, you'll get a bang for your buck with the ProsourceFit Dip Stand Station!
Made of durable iron
Available in 3 colors
Non-slip rubber feet
Padded grips
Powder-coated finish
Sturdy iron tubes
Can support up to 400 pounds
Portable
Adjustable height to 35 inches
Adjustable height from 31 to 35 inches
Brand: ProsourceFit
Model : ProsourceFit Dip Stand Station
Specifications: 16 x 24 x 31 inches
Available in 3 colors
Adjustable height
Great competitive price
Generous user weight capacity
Ideal for upper body & core workouts
Easy to assemble
Comes with safety connector
Some users may find the safety connector is a bit wobbly
A dip bar is an essential piece of equipment enabling you to do strength exercises, to build power and muscles in the upper body.
With various dip bars available and different exercises you can do with them, it can get confusing to know which style of dip bar is right for you.
Below is a summary of the key features to consider before making your purchase. Allowing you to work that upper body to your heart's content!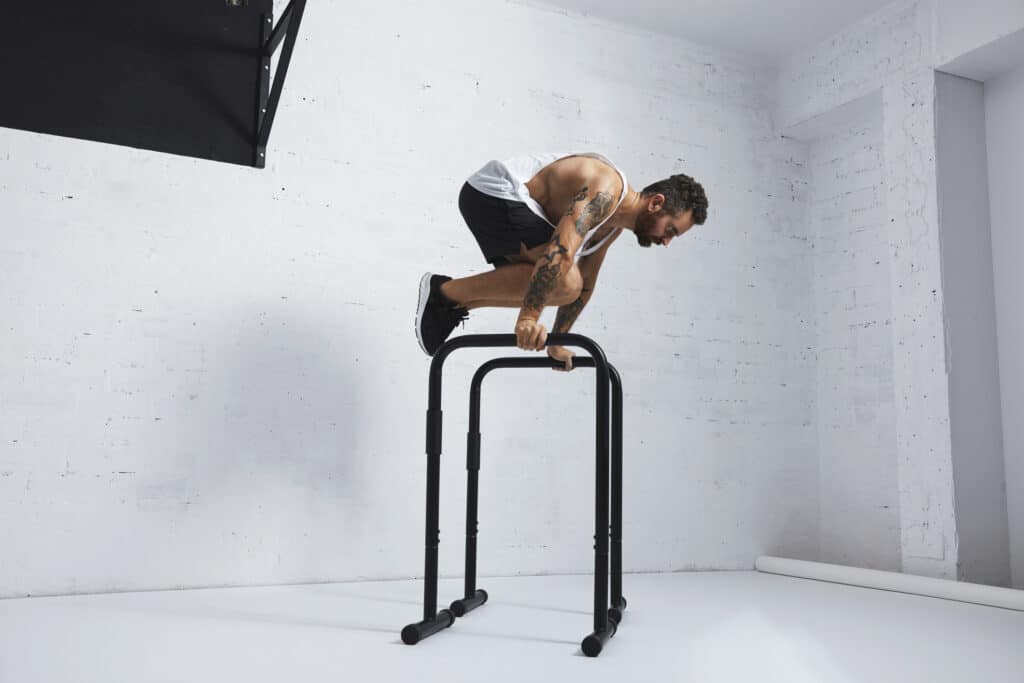 Design – There are two primary styles for dip bars. One style of dip bar has two separate stands, allowing you the choice to do wider dips.
The other style of dip bar is where the entire dip bar is connected, providing a solid platform to use for dips. 
Which style you opt for comes down to your personal preference.
Materials – The best quality dip bars are made of heavy-duty material steel or iron. Steel or iron-made dip bars will be more durable and are sturdier to support more weight whilst remaining stable. 
If you opt for a dip bar with metal, then make sure they are powder coated. Bars that are powder coated prevent rust, which is a huge advantage especially if you intend to use the dip bar outdoors or in humid climates.
Dip Bar Height – What is the height of the dip bar? Can the height be adjusted? This is one of the most important features to consider for users who are tall.
The last thing you want is your knees touching the floor when you are doing dips, or if you want to do different types of exercises on the dip bar. 
The majority of dip bars are designed for users who are 6'6'' (198 cm) tall. Dip bars that are adjustable in height are great for tall users. 
You could also consider a dip bar that is mounted on the wall, which allows you to tailor the wall mount to the height that suits you. 
Dip Bar Weight Limit – How much weight can the dip bar support safely? The sturdier the dip bar is, the more weight it can support. Dip bar frames made of heavy-duty steel usually support a generous weight.
Think about your weight, or if multiple users will use the dip bar, what the average user's weight will be, and build a contingency weight into your calculations to ensure there is no wobbling or rocking. 
Width Between Bars – How comfortable you are during your exercises will be determined by the width between the bars.
If the width between the two bars is on the narrower side, it can impact your form and posture when doing a dip. 
To provide you with full flexibility, look for a dip bar that allows the width between the bars to be adjusted. 
Bar Stability – You want to ensure that the dip bar you buy is stable, and doesn't tip over. On the one hand, you want your dip bar to be lightweight and easy to travel with. 
On the other hand, you should consider the dip bar needs to be on the heavier side so that it is less susceptible to movement and remains stationary. 
Pay attention to what assembly is required to set the dip bar up. How easy/difficult is this. What screws/nuts/bolts connect and secure the bars together?
Does the dip bar come with rubber padding or textured grip at the bottom, to provide anti-slippage or sliding? 
Grip Quality – To prevent slipping of the hands and to provide a secure grip, many dip bars have thick rubber or foam grips to provide adequate support.
Portability and Storage – If you are buying a dip bar for your home or you want to use it at different locations, the size of the dip bar and how portable it is will be a key consideration.
There are many portable dip bars that allow space-saving storage. Many are foldable after use, allowing you to store them compactly in a closet, or under the bed.
If space is a consideration, you may even consider a wall-mounted dip bar, which is easy to install and compact. 
You want a dip bar that is light enough to travel with should you wish, but heavy enough to provide stability and support the weight of users safely.
Extra Attachments – Consider whether you want a dip bar or station that allows you to add extract attachments, such as weighted belts or resistance bands, allowing you to do versatile exercises.
Price – At the budget-friendly end of the spectrum a dip bar can start from $40 and go to $100 and upwards at the more premium end. 
Balance what your needs are, the features you are looking for, and the highest quality dip bar you can get within your budget.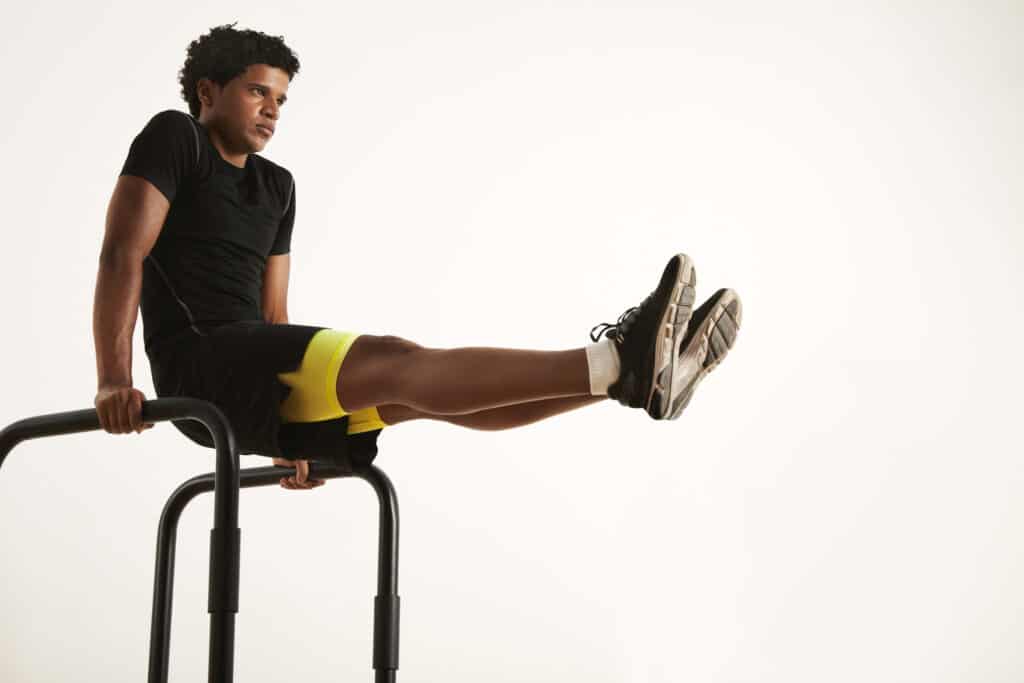 What is a dip bar?
A dip bar is a piece of multifaceted exercise equipment that not only allows you to perform dips but also allows you to get a full-body workout.

What are the benefits of a dip bar?
If performed correctly dips have a lot of benefits. Having a dip bar at home allows you to do dips to build strength in your upper body muscle groups, along with the latissimus dorsi, rhomboids, and levator scapulae.

Dips bars enable you to do compound exercises, which engage multiple muscles at the same time, getting you faster results.

For those of you wanting to develop an envious V-shape, doing dips is the best equipment to help you achieve that physique.

They are quite compactly designed and cost-effective and can be used easily at home, in the garage, or elsewhere.
Is a dip bar the same as a dip station and/or dip stand?
The short answer is yes, a dip bar is sometimes interchangeably referred to as a dip station or dip stand.
What kind of exercises can I do with a dip bar?
There are so many exercises you can do on a dip bar. Below is a video to get you started and start your dip bar progression.


9 Best Adjustable Dumbbells (Buying Guide) in 2021
If you're setting up a home gym, it's worth pondering the purchase of an adjustable dumbbell as opposed to the more traditional weights. It can be overwhelming to know what the right home gym plan should be for you. What you opt for comes down to how much you are willing to pay, how much space you have at home, and your fitness goals along with any other needs you might have. Adjustable dumbbells are a single pair of dumbbells that allow you to adjust the weight to make the dumbbells heavier or lighter. How you adjust the weight varies from different models and brands. Adjustable dumbbells are more expensive than a weights set, but you get around 12 to 18 different weight sets in one pair of dumbbells, saving you money and immense space. So it's worth digging deeper and doing your homework on why so many fitness fans are buying adjustable weights to furnish their home gym. We've done the heavy lifting for you to bring you the shortlist of the best adjustable dumbbells. Get ready to take your strength training to the next level in the privacy of your home.
10 Best Weighted Jump Ropes (Buying Guide) in 2021
A weighted jump rope is a jump rope with added weight. The weight can be incorporated in the handles or the cable rope itself. Weighted jump ropes are a versatile and affordable piece of fitness equipment that you can choose to do indoors or outdoors. Ideal for kicking your heart rate up several notches, weighted jump ropes also help build strength in your biceps, shoulders, triceps, and back. Weighted jump ropes are phenomenal for growing power in the lower body and raising your capacity for anaerobic fitness. Whether you're looking to take a walk down memory lane, when you may have jumped rope as a child or whether you want to pay homage to Rocky-style training, there are a wide variety of weighted jump ropes available to suit your goals and fitness level. We've brought you a round-up of the best-weighted jump ropes available. Leaving you free to focus on jumping rope to the beat of the music and shredding!
11 Best Treadmills (Buying Guide) in 2021
Treadmills can improve your fitness, burn calories and help you on your weight loss goals. Running elevates the heart rate, helping to improve circulation and strengthening your heart. If you live in a climate that is far from dependable, running outdoors on a regular basis may not always be possible, which is why the prospect of a treadmill in your home can be hugely beneficial. Treadmills can help you mix up your running workouts and provide a consistent indoor workout. Having a treadmill at home gives you the freedom to workout at any time, based on your personal schedule. You don't lose time traveling to commercial gyms or making countless excuses why the snow or rain meant you couldn't get an outdoor run in. No matter what your fitness goals are or what your level is, treadmills are super versatile and offer a wide variety of workouts for everyone. From a brisk uphill trek, a consistent jog, or high interval training (HIIT) to allow you to train for a long-distance marathon. Outlined below are the best treadmills on the market. All you need to do is get your workout gear on, get ready to play your upbeat playlist, and start getting in shape one stride at a time.