Incorporating a punching bag into your home gym equipment has become a must, due to the physical and mental benefits that are inherent when training with a punching bag.
For any fighting champ regardless if you're a boxer. kickboxing, mixed martial arts or a Muay Thai boxing enthusiast, there is a punching bag right for you.
Whether your goal is to enhance your endurance, cardio, strength, hand-eye coordination, reflexes as well as being a healthy outlet for stress, or simply getting you pumped with good old fashion endorphins, a punching bag will be in your corner.
It's worth digging deep and familiarizing yourself with the different punching bags on the market, to help you take your fitness and training to the next level.
Below are the best punching bags. All you have to do is step into the ring with us, strap on your boxing gloves and get ready to train Rocky Balboa style, hearing the infamous 'Eye of the Tiger' track, striking one punch at a time.
You'll be hard-pressed to find a more awe-inspiring punching bag than the Dripex Freestanding Heavy Punching Bag, making it a top choice to give as a gift to yourself or a loved one as a stress reliever and strength builder. 
It's a monumental self-supporting punching bag that takes minimal space in any home or gym and due to the rounded ABS base tank.
The base is constructed perfectly to enable easy roll to relocate the punching bag should you desire.
Underneath the base, there are 12 suction cups to prevent the base from moving. Making this Heavy Punching Bag robust enough to handle brute force. 
Boasting a stainless steel tube stand and a PU leather bag cover and having an EPE foam stuffing, along with a solid base means the Dripex Freestanding Heavy Punching Bag can handle blow after blow.  
The cherry on the cake comes in the form of a first-in-class shock-absorbing system and having unique silencing material to significantly reduce the noise.
Making sure you don't disturb your family or neighbors, if you a glutton for punishment and engage in hardcore training at strange hours. 
To ensure greater stability, fill the base with sand to ensure it withstands intensive training.
With the Dripex Freestanding Heavy Punching Bag, no one will judge you if you aim below the belt. 
PU leather layer - durable & comfortable
Fabric buffer layer - provides shock absorption
High-density foam for maximum impact
4x springs & 2x TPR-blocks offers noise absorption
Detachable springs - option to remove springs to minimize vibration
Round ABS base tank, to be filled with sand or water
12 strong suction cups beneath the base to prevent movement
Tear-resistant
Brand: Dripex
Model: Dripex Freestanding Heavy Punching Bag
Weight: 182 pounds
1-year warranty
Ideal for someone looking for a freestanding punching bag at home or at the gym
Suitable for kids & adults as the height is adjustable from 47 inches to 69 inches
Ideal for those seeking a quiet punching bag
Good value for the price point
Not for those wanting to practice low kicks
Punching BagsBuying Guide
A punching bag offers the perfect catharsis to let out stress or pent-up energy and offers a full-body workout all at the same time.
Whether your focus is honing in on boxing or kicking techniques, both use every major muscle group in the body and the workouts have great cardiovascular benefits and energizing.
It's essential the punching bag you select complements your training goals.
Understanding the different styles of punching bags and the kind of training they are good for along with the weight and material of the punching bag is instrumental in helping you achieve your fitness and training objectives.
We've done all the work for you and broken down all the key information you may want to take on board before buying the best punching bag for you.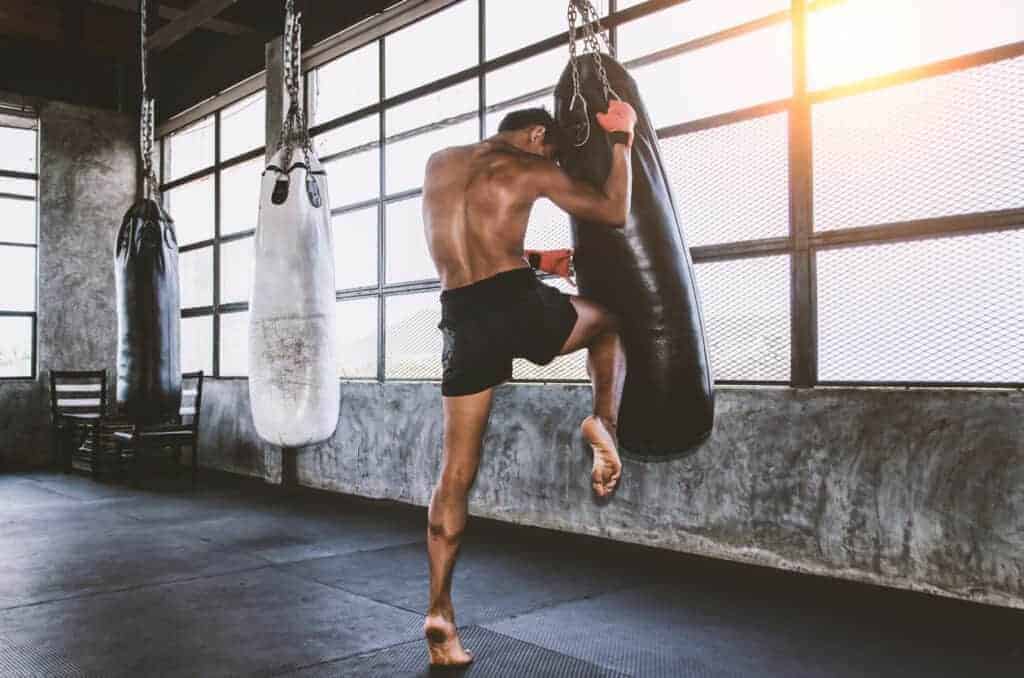 Types of Punching Bags
Based on the sport you're involved in and the training objectives you have there are several different punching bag styles to consider. 
A heavy punching bag which is great for improving overall technique, will not be the right punching bag if your goal is to improve your speed and reaction time.
Similarly, a punching bag good for Muay Thai boxing will not be the right punching bag for someone looking to train for boxing.
Hanging Bag – A hanging punching bag is hung with a chain from the ceiling, by connecting it to a wall mount or using a heavy bag stand. The chain used to hang the punching bag must be strong enough to hold the bag for a long time. 
To hang the bag, you'll need to drill into the ceiling, if you don't have a stand. Just a thought to bear in mind, think carefully about where you want to hang the punching bag. 
Once you've drilled through the ceiling it's not easy to keep moving the location of the bag around. 
Freestanding Bag – Also referred to as a stand-up punching bag has a base upon which the bag sits on. It involves no drilling in the ceiling and no mount or stand is required. In terms of set-up, standing punching bags are easy to set up. 
Due to the freestanding nature of the punching bag, should you wish to move the location of the bag to train, you can do so relatively easily. 
Water or sand is used as a filling for standing bags, to provide stability. An average freestanding punching bag post filling weighs around 240+ pounds.
Muay Thai Bag (Kickboxing) – Muay Thai bags at first glance may look like the standard heavy bag, but they are not the same as a heavy bag. 
In appearance, a Muay Thai bag is longer and thinner and is designed primarily for kicking. It's important you don't get a bag that is heavier than 130 pounds, as these hurt to hit.
Muay Thai bags need to be hung from the ceiling or mounted on a stand for you to train with them. 
Heavy Bag – Many people will opt for the average heavy bag. A heavy punching bag is suspended from the ceiling and is built to withstand high impact. This is the classic punching bag we're all familiar with from Hollywood movies.
Heavy bags are good if you are looking to improve your general punching, kicking, power shots which ultimately help to improve technique, stamina, and power.
Selecting the right size of the heavy bag will ensure you're offered sufficient resistance to train. Take your personal bodyweight and divide this into two. This helps you derive the weight your heavy bag should be. 
There are a few different types of heavy bags to consider:
Round Heavy Bag –

Teardrop bags or spherical heavy bags can be ideal to focus on certain body punches and achieving targeted kicks and punches.
Angle Heavy Bag –

Comprising a top-heavy design with a slimmer trunk and broader on top. This type of punching bag is ideal if you are seeking to throw hooks, uppercuts, and body shots. 
Speed Bag – A speedbag is an ideal option if you are looking to improve your punching speed, strength, timing, and help to improve endurance. 
From a size perspective, a speed bag is much smaller than a traditional heavy bag. They are filled with air and are suspended from a wall or ceiling via a platform. 
Double End Bag – A double end bag is great to improve your timing and reflexes. A great tool to teach you how to counterpunch, honing your reflexes, enhancing your speed, and hand-eye coordination. 
A double end bag will help you to develop rhythm and work on your overall movement. Typically they are mounted from a ceiling or wall. 
Uppercut Bag – Practising and perfecting the uppercut is no easy feat. An uppercut bag is uniquely designed to enable the correct technique and power to execute a powerful punch.
Uppercut bags can also be used for jabs, crosses, and hooks along with a variety of other punches.
Uppercut bags can be suspended from a wall or ceiling. This punching bag is suitable for people who are serious boxing athletes. 
Wall Mounted Bag – Wall-mounted bags are great if you have limited space, as they don't require room to swing. This style of punching bag is ideal if you have high or vaulted ceilings.
A good option if you are looking to engage in a wide range of training, especially straight punches, and looking to improve your fitness and enhance your technique. 
Human Opponent / Grappling Dummy – This type of bag looks most like a human opponent, hence the name. They are generally freestanding bags and are not mounted to a ceiling or wall. 
The punching dummy is suitable if you want to practice all types of punch accuracy, as it allows you to select specific spots on the anatomy of the dummy to target and hit. Moves are commonly used in judo, wrestling, and jiu-jitsu. 
It's also great if you have limited space at home.
Type of Drills/Sports Training – Which punching bag is right for you depends on the kind of sport you are training for and the kind of training drills you need to practice. What is your training goal? Cardio? Building strength? Endurance? Speed? 
It is important to always seek professional advice and guidance for your training. 
Heavy Bag Drills –

Heavy bag drills are a must for anyone wanting to improve on precision, endurance, speed, and cardio. Great for people doing martial arts training and boxing. 

Punching Bag Drills –

Anyone wanting to improve and increase speed, power, endurance, and precision may want to have one or more of the below five punching bag drills in their training repertoire. 

Kicking Drill –

Kicking from your right leg, then switching to your left. Continuing to alternate between the two.

Precision Drill –

An ideal training for anyone practicing mixed martial arts and anyone seeking to improve targeted marks.

Quick Punch Drill –

A basic drill, great for various contact sports, including boxing and mixed martial arts. 

Pyramid Drill –

Fantastic to build endurance for fighting and training and is an effective training technique for people practicing mixed martial arts. 

Triple Skill Drill –

Involves three basic combinations that morph into strikes and fighting techniques. Ideal for beginner-level mixed martial arts trainees.
Size & Weight – It is instrumental that you buy a punching bag that matches your size and power. The recommended weight of a punching bag should be half of your weight. This provides the right amount of resistance.
Firmness – If you are interested solely in fitness then a softer bag is a good option. If however, your goal is to improve your power then you will need a firmer bag that provides you with the right level of resistance and responsiveness. 
Filling Material – You should think about the material the bag is filled with. This affects the firmness, weight, and comfort of the bag along with the price.
How durable are punching bags? If the bag tears or is damaged over time, can you repair it and how easy is it to repair/amend the filling? 
There are four main fillers for punching bags:
Water – A water

bag is comfortable for the joints, reliable, and safer to punch. Water bags usually allow for easy filling. 

Air –

Most often used in speed bags, double-end bags, and quick reflex bags. Air is a cheap and convenient filler. The downside is they start deflating gradually over time and require refilling every week. 

Sand –

A sand filling is used for heavy punching bags. Sand is easy to fill and there's no danger of leaks. 

Sand is a great option if you don't want the bag to swing and the filling is strong. 

Textile –

Many punching bags are filled with bits of textiles. Textile fillings are ideal to reduce muscle strain and are easy on the joints. 

In standard and Muay Thai style heavy bags, a mixture of sand and textile filling is used.
Material – There are four main outer materials for punching bags:
Canvas –

Canvas is a cheap material, so if you are on a modest budget you might opt for a cheaper bag with canvas.

Plastic –

Plastic is only used to make specific punching bags, such as punching bags with water filling. Not a great material for a heavy bag.

Synthetic Leather –

Less expensive than genuine leather, but it looks and feels like leather without the hefty price tag. This is what you should opt for if you are striving for good quality but don't want to pay an arm and a leg. 

Leather –

Leather is the most expensive material, but if your budget allows you to shell out for it you are getting the best material that a punching bag is made of.
Price – There are many cheap and cheerful punching bags around the $50 mark to ranging from the high-end quality models that can cost anywhere up to $500. 
It's worth having a mid-range budget that allows you to buy high enough quality that is durable and meets your training needs. 
Warranty –  Many punching bags are covered by a warranty ranging from 1 to 2 years. Do your homework.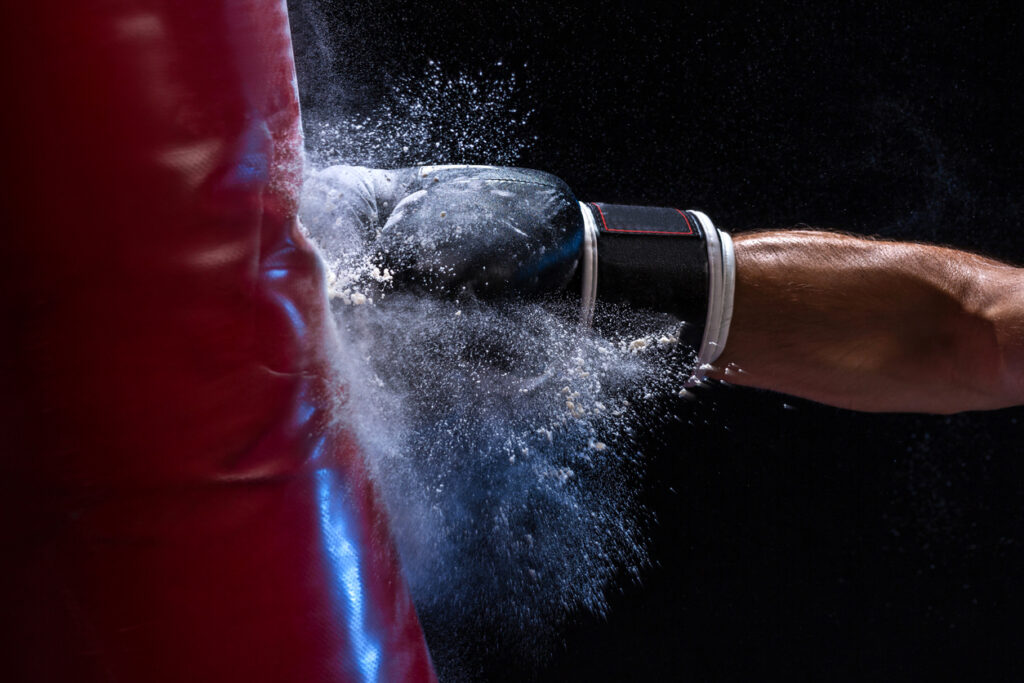 How do I know which punching bag to buy?
Which punching bag is right for you depends on the kind of sport you are training for and what your goals are, in addition to your experience level.

What is your training goal? Cardio? Building strength? Endurance? Speed? Improving your footwork? Your reflexes?

In addition to the above, you'll want to consider the quality, the type of punching bag, the size, and most importantly the price.

Being clear about the above criteria will help you select the correct punching bag.
When should you buy a heavy bag?
The average heavy punching bag weighs up to 200 pounds. They are suspended from the ceiling or a wall. It's best to get a heavy bag installed by a professional.

If you want to install this in your home, you want to think about the kind of ceiling you have, will it be able to support almost 200 pounds.

Heavy bags are great for warehouse-style gyms, or your traditional gym but maybe too much for a normal home modest gym.
When should you use a free-standing punching bag?
The beauty of free-standing bags is they do not require anything to be mounted. They are attached to a sturdy base weighted down with either sand or water.

Free-standing bags are great for home gyms, or if you have limited wall installation space. They are portable, so if you want to move them from a room to the garage, you can do that.

On the flip side, if you pack a powerful punch it can swing a bit, so you need to make sure you get a model that is the right weight and sturdy.

How do you judge the quality of a punching bag?
You want to make sure that the punching bag is constructed from quality material, and offers the right amount of resistance for you, but is not too hard that you may injure yourself.

The whole premise of a punching bag is that you'll be hitting it repeatedly, so you want something that is durable and remains inflated. Over time fillers can get damaged, how easy is it to refill the bag?

You'll get what you pay for. Think of it as a long-term investment.

Should you always wear punching gloves when using a punching bag?
Yes is the short answer. Irrespective of your experience level, safety comes first. It's important that you wear boxing gloves or wraps to prevent injury, cuts, and burns.
7 Best Sandbags (Buying Guide) in 2021
There is no better way of mixing up your workouts than adding a sandbag, to get a wide range of functional training into your workout. These days sandbags have become a staple fitness tool in CrossFit or WOD style training. Sandbags offer dynamic resistance, requiring you to use your core to provide stability through various movements. You get to strengthen the torso and hips, which enables you to do a range of powerful other lifts. No matter what your current fitness level is or your fitness goals are, sandbags are awesome tools for strength and power training, conditioning, and a multitude of compound movements allowing you to train several muscle groups simultaneously, getting faster results. After rigorous review, we've brought you the shortlist of the best sandbags available on the market, leaving you free to swing and hurl a sandbag to stay fit!
7 Best Chest Expanders (Buying Guide) in 2021
These days it's quite common to look for inexpensive and compact fitness devices that offer wide-ranging resistance training. Chest expanders are excellent for providing resistance training in your home or when on the go. You get resistance with tubes made from rubber or other elastic material to help build muscles in the upper body. Many chest expanders enable the resistance to be adjusted, so the stronger and fitter you become you can adjust the resistance progressively. Chest expanders are ideal for sculpting and building upper body strength and improving flexibility, and are great for men and women. We trawled through countless chest expanders to bring you our top picks. Leaving you to stand tall and expand your sculpted chest with pride!
6 Best Roman Chairs (Buying Guide) in 2021
There is no better equipment than a Roman chair to bolster the back, core, and leg muscles. A Roman chair is a multifaceted piece of equipment that can help enhance flexibility, improve posture and build strength, and relieve lower back pain. No matter what your fitness level is, incorporating the use of a Roman chair in your gym routine will pay immense dividends with a stronger and more defined lower back, spine, and glutes. We've brought you the shortlist of the best Roman chairs available on the market, enabling you to perform hypertension, core, and other lower body exercises!