We spend about a third of our life sleeping. That's a lot of time sleeping. Would it surprise you to know most people are either not sleeping enough or the quality of sleep is not good?
The best sleep tracker is a sleep analyzer, enabling you to monitor your sleep cycles and other key data. Allowing you to gauge how much quality and restorative sleep you're getting.
The data you collate from your sleep tracker can be the instigator to have a consultation with your doctor or for you to simply make small steady changes that help improve your sleep.
We trawled through the maze of trackers, to bring you our list of wearable and non-wearable best sleep trackers.
Improving your overall health, and giving you more energy throughout the day.
Another sleep tracker from Withings Sleep makes it into our top sleep trackers list. This time with the snazzy Nokia Steel HR Hybrid Sleep Tracker. 
The Nokia Steel HR is an analog watch that combines all the cutting-edge technology of a smartwatch into an elegant-looking watch. Who says you have to comprise style over health?
Available in 6 different colors, and two-sized face watches, in 36mm or 40mm, and it comes with three styles of the watch face, so you can pick the color, size, and style that suits you.
This is no ordinary watch, it tracks advanced sleep metrics, from sleep cycles, to wake up and bedtimes, sleep interruptions, your heart rate, and issues you with a sleep result.
For exercise enthusiasts, this watch not only collates your sleep data but you can activate the workout mode by choosing from thirty sports, it also tracks calories burned, steps taken and distances covered.
Connected to GPS this watch will make sure you're not left hanging in the wind. With a battery life of 25 days, this gem will keep on going so that you remain fit as a fiddle.
Steel HR clinically tested
Tracks activity, sleep & heart health
25 days of battery life
Waterproof up to 50 meters
Smartphone notifications
Sports monitoring - 30+ sporting activities recognized
Connected to GPS
Compatible with Alexa
Swappable watch straps
Brand: Withings
Model: Nokia Steel HR Hybrid Sleep Tracker
Size: 1.56 x 1.56 x 0.51 inches
Watch face - 30mm or 40 mm
Weight: 0.11 pounds
Available in 6 colors & 3 different styles
Available in 2 different sizes: 36mm or 40mm
1-year warranty
Long battery life for a wearable
Ideal for people wanting a more elegant sleep/exercise tracker
Free Nokia Health Mate app
Great for athletes
An ideal choice for people likely classic look of an analog watch, combined with smart features
Mid-range price
To see certain data, must manually press buttons
Leather watch straps cost extra
Sleep TrackersBuying Guide
There are so many sleep trackers on the market, it can be a near-impossible task to know which sleeping technology to choose and exactly what features you may want to screen for.
Well, we've done all the work for you and summarized the key considerations you may want to take on board before making your purchase. So that you can just enjoy tracking your sleep night after night.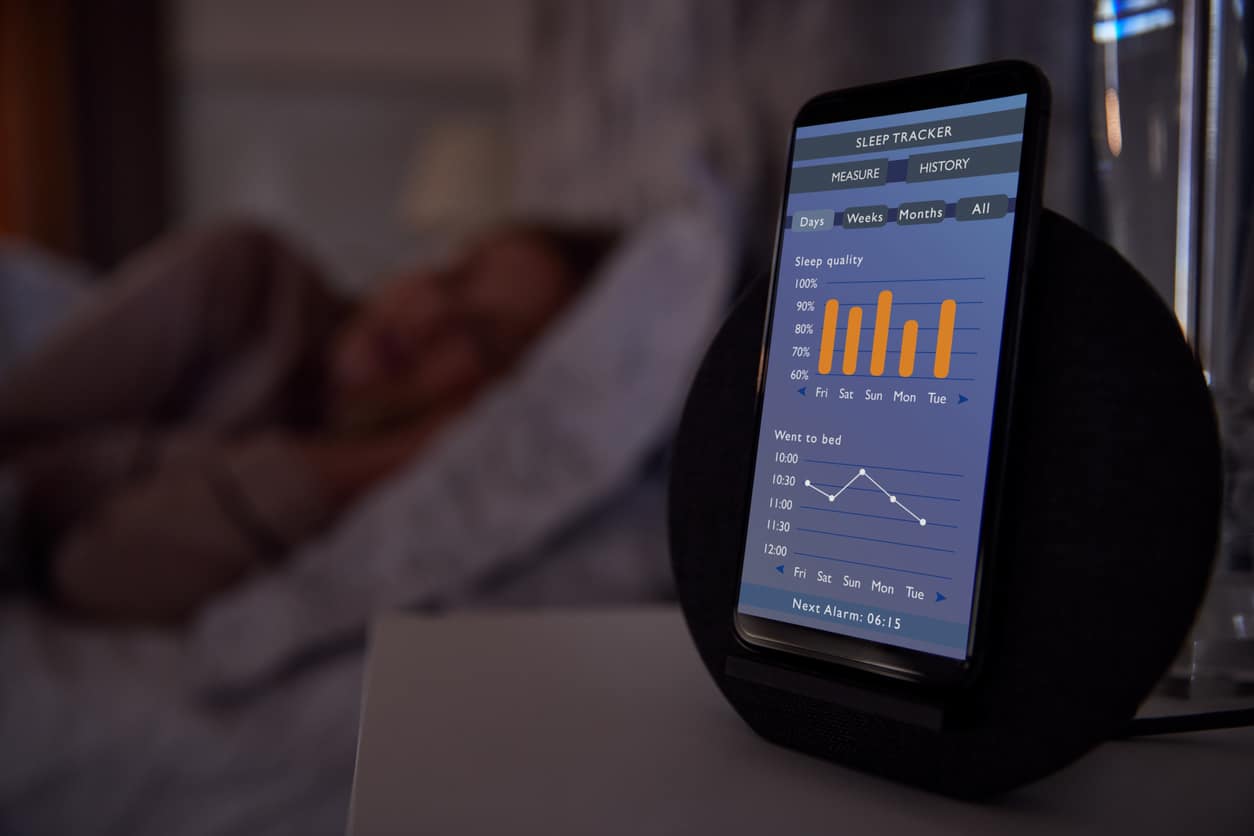 TYPE OF SLEEP TRACKERS
Wearable Sleep Trackers – Wearable sleep devices are also fitness trackers. Most notably wearable devices are worn around the wrist, either as a bracelet or a watch or as a ring. 
Rings –

Subtle and usually designed in zirconia or a metal alloy to look more like a fashion accessory.
Many rings will connect to an app, providing detailed sleep metrics, visual graphics of sleep statistics and some may even provide suggestions to improve your sleep based on the sleep patterns detected.
A sleep tracker ring is a good option if you don't like wearing watches or bracelets as you sleep. 
Bracelets –

Bracelets are lightweight, they can measure the rate of change of velocity and won't restrict your movements even during physical activity.
Most bracelets are constructed from materials that are waterproof, so you don't have to keep removing them when showering every day. 
Watches –

Watches not only make a statement of being a tech adopter, they tell the time, along with monitoring key vitals which they display on the screen, which you don't get with bracelets or rings. Some watches are also waterproof. 
Other Wearables –

Other wearables include sleep headbands that monitor brain activity and detect sleep patterns via algorithms and aid deep sleep and restorative sleep by playing special tones.
You can also find smart-eye masks, which have a detector that examines neural activity and sleep patterns. Both of these devices connect to apps. 
Non-Wearable Sleep Trackers – If you're interested in tracking your fitness or you're not accustomed to wearing rings, watches, or bracelets whilst you sleep then opt for a non-wearable sleep tracker.
As the name suggests, non-wearable sleep trackers are not worn.
Under the Mattress –

You slip the thin sleep tracker under your mattress. Under-mattress sensors which are connected via a mobile app, send recorded data showing sleep details on heart rate, breathing and. sleep cycles. 
Smart Mattresses –

Smart mattresses

not only measure your sleep habits, but they provide enhanced customization allowing you to control the temperature, in many beds the mattresses are adjustable, enabling you to tailor your sleep conditions to your personal preference.
ADVANCED SLEEP METRICS
The most basic sleep trackers perform a single function to measure sleep. The more advanced sleep trackers provide you with so much more tracking information than just your movement during sleep.
Advanced sleep trackers provide you with detailed analytics as though you were conducting a sleep study at home.
Metrics collated include the five stages of sleep, sleep time, and other data. It helps to understand what these metrics are and how they can enable you to have recuperative sleep and enhance the quality of your sleep.
Total Sleep –

Total sleep is the duration from the time you turn your lights off or from your bedtime to the time it takes to fall asleep.
The total amount of sleep also looks at the time spent in any given sleep state. Total sleep time is the total sleep state minus the time awake.
Put simply, the total sleep time is the total of all REM and non-REM sleep in a sleep state. 
Efficiency –

Sleep efficiency measures the quality of sleep and the percentage of time you are asleep from the time you go to bed.
A good sleep efficiency score for adults is around the 85% mark. As you age, the sleep efficiency score may diminish somewhat. 
To get a higher sleep efficiency score, aim to be super tired and ready to fall asleep when you go to bed. 
Sleep Disturbances –

Sleep disturbances are caused by waking up during the night, which can impact sleep quality and impair brain function.
The reason for these sleep disturbances can range from noise, pets, drinking liquids, and needing a bathroom break. In some instances falling asleep again may take some time, which will affect how fresh and rested you feel the next day. 
To reduce sleep disturbances, try keeping a regular sleep schedule, avoiding naps, don't eat large meals before bedtime, get treatment for pain so that it doesn't keep you awake at night.
REM (Rapid Eye Movement) Sleep

– REM is the sleep that takes place during the course of the night, it's marked by rapid eye movements, dreaming, a faster pulse, breathing, and bodily movements.
REM sleep is important to your sleep standard as it revitalizes your neuro functions, which are critical in memory retention and learning.
Deep Sleep –

Deep sleep is the sleep that is most remedial and invigorating and the sleep you need to feel bright-eyed and bushy-tailed in the morning.
In this stage of sleep your cerebrum slows down, your blood pressure drops and your body is at its most relaxed. 
Sleep Latency –

Sleep latency is the amount of time it takes you to fall asleep. A healthy sleep latency time is around 15 to 20 minutes.
If you hit the pillow and you're fast asleep, this can be indicative that you're getting insufficient sleep for your needs. 
Sleep Timing –

Sleep timing is all about the halfway point of your sleep falling within a window from midnight and 3 am. 
Resting Heart Rate (RHR) –

RHR is the number of times your heart beats when you are in a state of rest.
It is a good measurement of the quality of sleep and recovery you are getting. A normal RHR falls between 60 and 100 1beats per minute.
Heart Rate Variability (HRV) –

RHR is the number of times your heart beats when you are in a state of rest.
It is a good measurement of the quality of sleep and recovery you are getting. A normal RHR falls between 60 and 100 beats per minute.
Resting Heart Rate (RHR) – HRV measures specified changes or variability between consecutive heartbeats.
The time between each heartbeat is measured in milliseconds. Understanding your HRV can help you understand your preparedness.
Respiratory Rate – Respiratory rate is the number of breaths you take per minute. On average a normal adult respiratory rate is around 13 to 20 breaths per minute while in a state of rest.
Recovery Index –The recovery index looks at the time it takes for your resting heart rate to stabilize.
Movement –

How much movement occurs during sleep. The general rule of thumb is the more still you are, the more likely you are to be in a restful sleep state.
The more movement you have is associated with being awake and being active. 
Environmental Characteristics – Many cutting-edge sleep trackers identify and monitor the temperature in your bedroom, how much light there is, and how noisy or quiet it is.
All these metrics can influence the overall quality of your sleep.  
SmartPhone App – The lion's share of sleep trackers are supported by a smart device app. Reviewing your sleep score report on your phone or an iPad or computer allows you to examine the data more comprehensively.
Most sleep trackers come with wireless or Bluetooth functionality. 
Material Design – Pick something that is comfortable, especially if you opt for a wearable sleep tracker. If it's a sleep and fitness tracker rolled in one, you'll be wearing the sleep tracker day and night.
These days sleep tracker rings, bracelets and watches come in a multitude of colors, offering a variety of choices to match what fits your professional wardrobe and your casual style. 
Non-wearable trackers are often made with thin fabric pads that either lie on your mattress or slip under your mattress. 
Battery Life – Wearable sleep trackers can last several days with battery life. With a need for you to take the wearable sleep tracker off to recharge it every five to seven days.
Non-wearable sleep trackers must remain plugged into the wall the entire time in order for them to operate. 
Budget – Single function sleep trackers are relatively inexpensive, as they only perform the singular function of monitoring your sleep.
The more sophisticated features a sleep tracker has, the higher the price tag. The price of these high-end sleep trackers can vary from $70 to $500.
Be clear on what you're prepared to spend and what features you want as a basic standard in your sleep tracker.
Some sleep trackers require you to sign up for a monthly subscription service to have access to certain features, so make sure you read the fine print. 
Warranty – Most sleep trackers, both wearable and non-wearable are covered by warranties ranging from 1 to 3 years.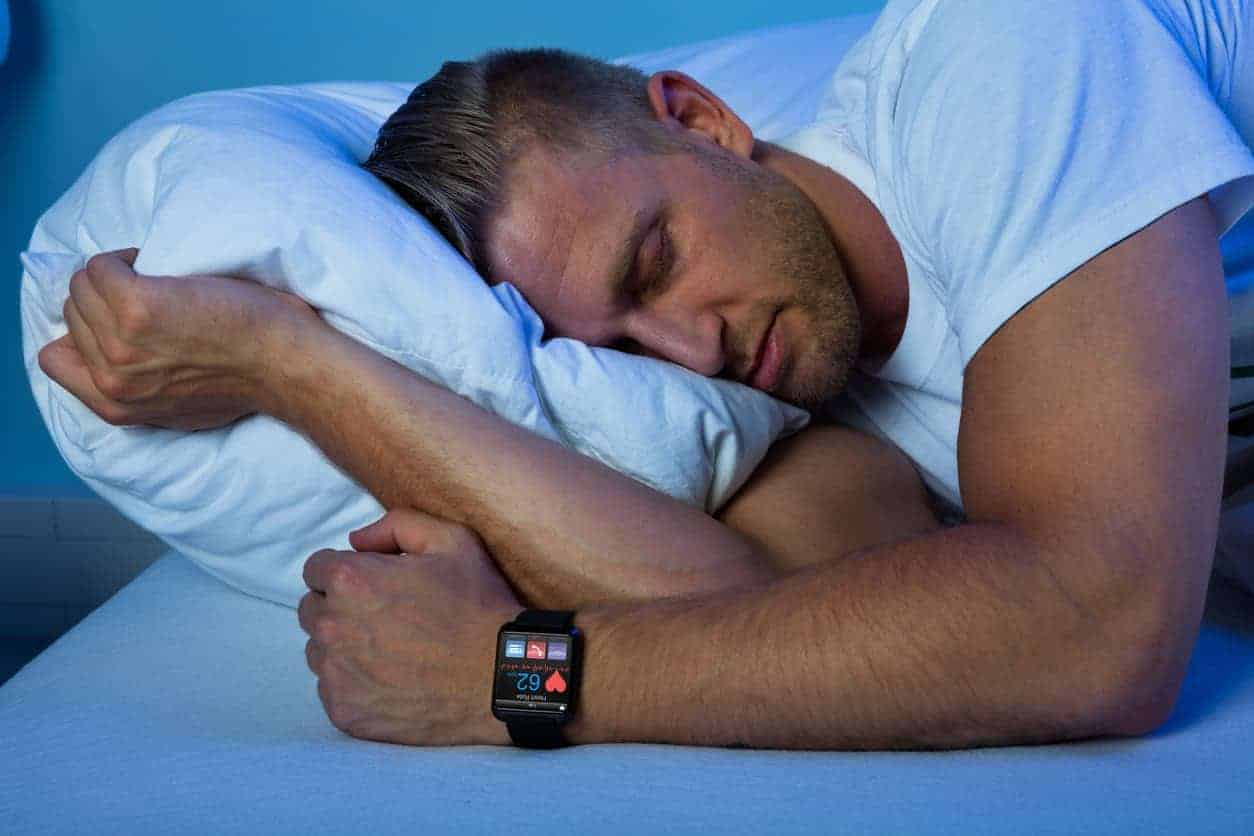 What is a sleep tracker?
A sleep tracker is a device that monitors your sleep patterns. Depending on the sophistication of the sleep tracker it can monitor a wide range of sleep details, from the duration of your sleep, your sleep latency, your REM sleep, and non-REM sleep to name a few metrics.

The best sleep trackers can also dual function as fitness trackers. So you get to monitor your fitness activity and your sleep.

The best sleep trackers help you to identify underlying sleep issues such as sleep apnea, or other conditions.

They empower you to make modifications in your home sleeping habits to get better and curative sleep.
How do sleep trackers work?
Sleep trackers are wearable trackers or non-wearable trackers. Wearable sleep trackers are designed as a ring, a bracelet, or a watch. It's a small device worn on your body, that records the activity of your body via sensors, measuring your periods of activity and inactivity and quantifying the quality of sleep from this.

Many cutting-edge sleep trackers monitor advanced data sources in addition to motion, such as HRV, RHR, respiratory rate, and recovery index to name a few sources.
What are the stages of sleep?
There are 5 stages of sleep. The first 3 stages are non-REM sleep. Stage 1 is the change of state from being awake to falling asleep.

In this stage, you are in light sleep. Stage 2 is the period of light sleep prior to entering deeper sleep. Most people spend time repeatedly in stage 2 vs. the other stages of sleep.

Stage 3 is the period of deep sleep, which allows you to awaken refreshed and active to seize the day. It is hardest to awaken you during stage 3.

Stage 4 and 5 are REM sleep. This can occur about an hour or more after falling asleep. Synonymous with rapid eye movement.

The greatest portion of dreaming occurs in the REM stage. As you grow older, the time slept in the REM stage declines slightly.
What is a daily sleep score or sleep readiness score?
The daily sleep score is an aggregate of your overall sleep statistics collected from various data parameters monitored and sleep patterns.

Scores typically range from 0 to 100 and indicate how well you slept the night before.

Your sleep data is then compared against sleep averages of your age and gender from published studies. This information is then fed into an algorithm, which generates your sleep score.

Readiness score on the other hand provides an overall measurement of your recuperation and indicates your level of performance capability cognitively and physically based on how well you slept the previous night.
How accurate are sleep trackers?
Some sleep trackers monitor the sole figures around movement during sleep, whilst other sleep trackers measure advanced sleep metrics.

Accuracy can vary from one device to another.

Sleep trackers that measure a range of statistics in addition to movement alone, such as body temperature, HRV, resting heart rate, as well as duration of sleep amongst other measurements are more likely to provide a more balanced picture of your sleeping habits.
Who should have a sleep tracker?
People interested in gaining greater insight into their sleep quality, sleep habits, and health aficionados out there would benefit from a sleep tracker.
4 Best Smart Mattresses (Buying Guide) in 2021
When you think of the fact that we spend one-third of our life sleeping, it's a sobering thought, not only do you want to be sleeping on a quality mattress, but you want to know how well you're sleeping, don't you? We take it as a given, that when we workout, we should know what our heart rate variability is. In order to burn fat, we need to work at a certain level to achieve our fitness goals. Well a smart bed, helps you do something similar for your sleep. It helps you monitor all the key metrics from the time you go to bed, tracking when you fall asleep, the time it takes to fall asleep, sleep disruptions, percentage of time spent in deep sleep, sleeping positions to when you wake up. You can then review those metrics and start making changes to your sleeping habits, sleep environment to help you get a better night's sleep. A smart bed allows you to do all of that and provide a comfortable sleeping experience. What's more, many smart beds offer customizable options from temperature setting to adjusting the mattress or having an adjustable mattress base. Allowing a completely tailored sleep experience for you. Mattresses should be considered as a long-term investment so whilst the price tag for a smart mattress is nothing to balk at, think about the comfort and insight you're getting for a mattress you sleep on every night for at least the next decade. We've put together our list of the best smart mattresses to help you adapt to a sleep environment guided by smart technology. Get ready to be in the driver's seat of your sleep!
12 Best Down Comforters (Buying Guide) in 2021
Whether it's the cooler months of spring and fall or the coldest of winter nights, you want to be wrapped up with a comfortable warmth level when the temperature drops. Yes many of us like dialing up the thermostat, but that's not the only way you can get insulated and toasty. Having a high-quality season down comforter is instrumental in having a blissful night's sleep. You can't do better than splurging on a down comforter with a minimum 650 fill power that could last you years to come. Whilst down comforters can set you back a serious penny or two, there are huge options on the market from super pricey comforters to more economical options. Down comforters are renowned for providing insulation, are ultra-soft, come in lightweight to heavier weight options, and are fluffy. For those of you who want to be wrapped up in a soft ethereal cloud and stay snug, down comforters are most certainly a must-have for you. That being said, not all down comforters are made equal. How do you know what type of down, fabric, filler weight, and warmth you should get? Well, we did all the screening to give you peace of mind on the best down comforters out there. Allowing you to get into bed and drift off to sleep in a jiffy.
11 Best CBD Oils (Buying Guide) in 2021
Countless people suffer from pain, exercise-induced inflammation, blood pressure, and sleep ailments around the world. So it's not really a surprise that an increasing number of people are taking CBD oil products (Cannabidiol) to aid their sleep problems. With so many CBD oils available in an unregulated market, and the CBD legal status in flux, how do you know which CBD products to choose from? Not all CBD oil products are made equal, and fewer still stand up to the scrutiny of high-quality CBD oil production, rigorous testing, strict sourcing guidelines, sharing their Certificate of Analysis and extraction process with consumers. We scoured through the complex maze of Cannabidiol extracts sold online to bring you the informative guide to buying the best CBD oils. So whether you're seeking solace from neuropathic pain, or treat epilepsy, or seeking some calm from anxiety, or simply look to have a better night's sleep, relief is here for you via nonprescription CBD products.