Staying Alive is reader supported. When you buy through our links, we may earn a commission.
Learn More >
The Best Smart Mattress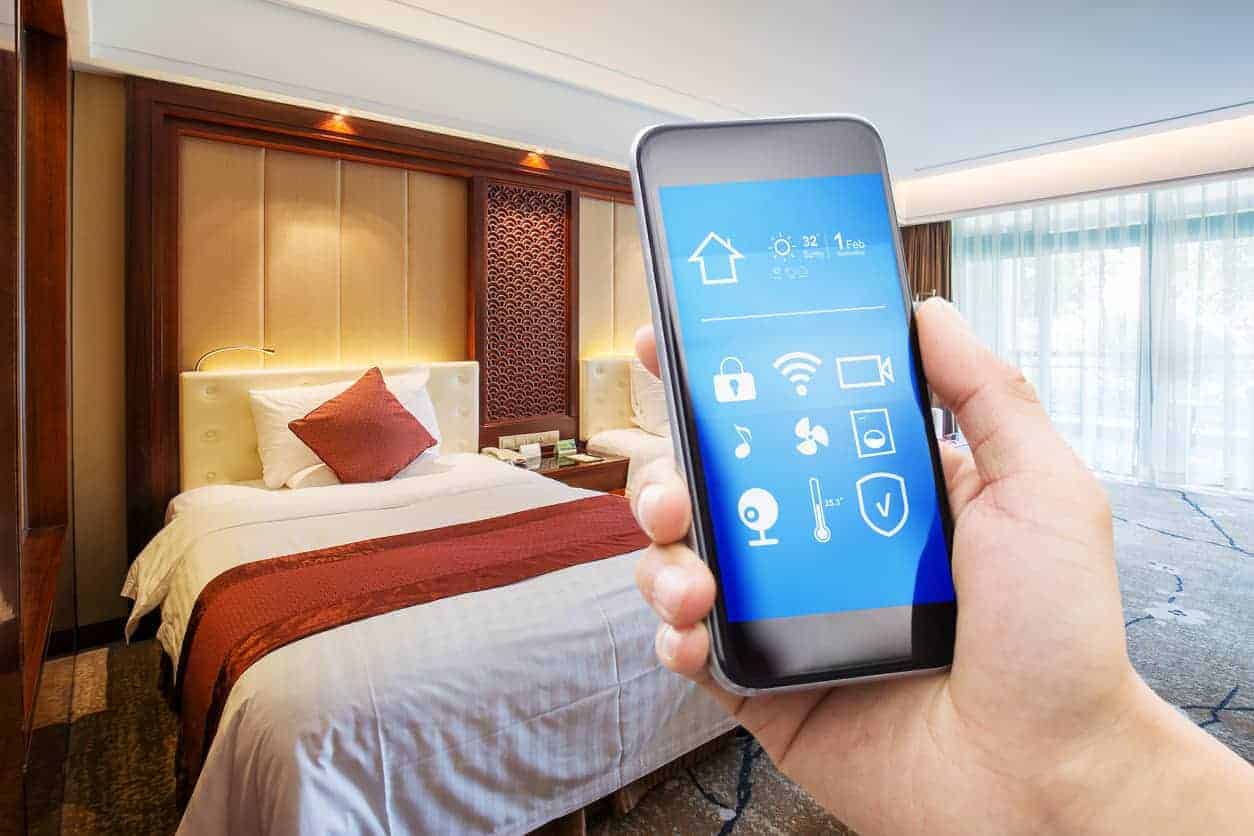 We spend one-third of our life sleeping. Considering the amount of time we spend sleeping in a bed, it's imperative we get a comfortable night's sleep.
Sleep quality is essential to feeling refreshed and cognitively being productive during the day. So how do you know how well you're sleeping and what your sleep health is like?
We take it as a given that when we work out, we should know what our heart rate variability is. In order to burn fat, we need to work at a certain level to achieve our fitness goals and track other workout metrics.
Smart mattress technology helps you do something similar for your sleep. It helps you monitor all the key metrics from the time you go to bed, sleep patterns, sleep stages, percentage of time spent in deep sleep, sleep disruptions, sleep position, to your overall sleep quality.
You can then review your sleep data and start making changes to your sleep habits, the environment you sleep in to improve your sleep health.
A smart bed allows you to do all of that and provide a comfortable sleeping experience.
What's more, many smart mattresses offer customizable options from special temperature control features to automatically adjust the mattress. Allowing a completely tailored sleep experience for you.
Smart mattresses should be considered a long-term investment so whilst the price tag for a smart bed is nothing to balk at, think about the comfort and in-depth sleep data you're getting with a smart bed every night, for at least the next decade.
We've put together our list of the best smart mattresses to compliment your sleeping positions and provide insight into your sleep patterns via advanced sleep tracking.
You'll eliminate trouble sleeping and be in the driver's seat of your overall sleep quality!
Table of Contents
5 Best Smart Mattresses in 2023
Smart Mattresses Buying Guide
We live such busy lives, that getting a good night's sleep can be elusive due to stress or the fast-paced tempo of the lives we live. How can you keep an eye on how well or how bad you're sleeping?
Smart mattresses have sleep trackers built-in, enabling them to monitor the environment you sleep in.
Smart beds allow sleepers to control their sleep settings, collate data, and amalgamate it with their smart devices allowing them to have complete oversight over their sleep experience.
How to choose a smart mattress can be overwhelming. We've put together a comprehensive smart mattress guide, allowing you to be in the driver's seat of tracking and customizing your sleep experience.
Smart Mattresses
A smart mattress is a mattress that uses sensors and other cutting-edge technology to gather data on how you are sleeping.
The information gathered can be reported to your smart devices, allowing you to monitor, and improve your sleeping conditions.
Smart beds are quite expensive compared to regular mattresses due to all the smart technological features they possess from monitoring your breathing, your heart rate to your body temperature.
Benefits of a Smart Mattress
A smart mattress is for anyone who is interested in getting further insight into their sleep quality, sleep environment, and sleeping habits.
Smart mattresses are also good for sleepers who have health problems or suffer from pains or excessively snore, or hot sleepers who are looking to modulate their temperature to a comfortable level.
Features of a Best Smart Mattress
Sleep Tracking
Smart mattresses use smart sensors that are placed throughout the cover of the mattress, to calculate your advanced sleep metrics.
From the time you went to bed, the time you took to fall asleep, sleep disruptions, percentage of time spent in deep sleep, sleeping positions, and your wake-up time.
All of these sleep metrics let you know the quality of your sleep.
Body and Environmental Monitoring
The same sensors that track your sleep, record metrics such as your heart rate, your body temperature, the temperature of the bed surface, your breathing as you sleep, the temperature in your bedroom, and how illuminated your bedroom is with light.
Some smart beds can control the temperature of the bed, which you can adjust based on the data you collate.
Sleep Score
Many smart mattresses consolidate the data from sleep tracking and body and environmental monitoring to give a sleep score of how well you are sleeping based on the duration and the quality of your sleep.
If you're not happy with your score, you can take action to improve your sleep quality, how long it takes for you to fall asleep, thus improving your number.
Mattress Adjustment
Many smart beds sell bed frames that allow sleepers to customize settings either on the spot or automatically adjust settings during the night. You can increase or decrease the firmness level of the mattress, making it firmer or softer.
You can tailor the temperature controls to cooler or warmer settings, some beds even permit different temperature settings for either side of the bed so that each partner has their own customized setting.
Smart beds may be able to connect to the base of the bed, allowing you the flexibility to adjust the head, foot, or even midsection of the bed.
This is particularly useful if you suffer from pain and want to elevate your legs, or if you're a snorer keeping your head slightly elevated to minimize those snores.
Audio and Connectivity Functions
Some smart beds come with customizable audio settings via alarms, soothing sounds, and meditation programs.
The lion's share of smart beds connect to WiFi and hence can merge with other apps in your home, whether these are Amazon Alexa or fitness trackers that monitor your sleep amongst other metrics.
Sleeping Position
Which sleeping position best describes you will heavily influence which smart mattress is best suited to your needs and will enhance your sleep smart experience.
Are you a back, side, stomach, or combination sleeper?
Back Sleepers - Back sleepers seek a mattress that provides support for the spine and helps to preserve the natural curve of the back whilst sleeping. Look for a mattress that is highly responsive and maintains the natural S-curve of the back and maintains the head and neck alignment.
Side Sleepers - Require a mattress that provides more support in the neck, shoulder, and hip area and promotes spinal alignment, to avoid issues with neck and back pain. Look for a mattress with a responsive comfort layer.
Stomach Sleepers - Support is crucial for stomach sleepers to keep their spine aligned. Contouring relieves pressure points in areas such as the hips for stomach sleepers. Memory foam and latex mattresses are best for contouring.
Combination Sleepers - A mattress that has a high level of responsiveness is ideal for combination sleepers. Look for a responsive mattress that adjusts in proportion to weight and pressure and will mold to the body in various different positions.
Mattress Type
So what are the 5 main mattress materials you should consider in a smart mattress?
Foam
Pure polyfoam compresses under pressure
Or a combination of high-density polyfoam, as the supportive base combined with a memory foam layer that molds a sleeper's body.
Memory foam mattresses are used predominantly to make smart mattresses.
Latex
Natural - This comes in either Dunlop form, where the latex is dense, sturdy, and heavy latex or Talalay form producing latex that is softer and bouncier. It's expensive but eco-friendly.
Synthetic - Created by mixing natural tree sap with synthetic polymers is a cheaper option but less environmentally friendly.
Innerspring
Steel coils support a comfortable layer of polyfoam. Innerspring mattresses provide cooling, edge support, and durability.
You could consider a hybrid mattress, which combines coils with other types of materials, such as foam or latex.
Hybrid
A mattress where two or more materials have been combined. An example would be a mattress with pocketed coils for support, and a few inches of latex or foam memory for comfort.
Airbed
Airbeds are inflated to reach the desired level of firmness, to provide a robust substructure.
Firmness Level
Ever notice how a mattress feels when you lie on it? Well, that's the test of how firm it is. Go for a firmer mattress if you want the mattress to not 'give' and offer resistance, or push-back when depressed.
On the other hand, a softer and less firm mattress will provide more 'give' and allow the body to sink down slightly.
How firm or soft you go is a personal choice. There is no wrong or right answer here.
Pressure Relief
There are some mattresses that mold themselves closely to the body of a sleeper, ensuring closer alignment to the spine and prohibiting pressure points from forming.
The test of whether a mattress molds itself to a sleeper is correlated with the layer of comfort or the top layers of a mattress.
Mattresses that offer the best molding of your body are latex and/or foam memory.
Body Contouring
This is all about how a mattress complements the silhouette of your body while you sleep. If you suffer from pressure points or pain in general, you may want to consider a mattress that has high contouring.
Temperature
Different materials have different heat retention properties. On the hotter end of the temperature gauge, you have the traditional foam mattresses.
If you prefer to sleep at a cooler temperature then you need to opt for gel, latex, or hybrid or innerspring mattresses, which offer greater air circulation and an overall much cooler sleeping experience.
You can adjust the temperature setting on some smart mattresses to provide you with the optimum sleeping temperature.
Other Features
Many mattresses will have distinctive features in addition to smart features. You may also want to think about the density of the mattress, this is all about how thick the mattress is.
If you're a stickler for sitting on the edge of the bed or want to utilize maximum sleeping space then you may want to pay attention to how much edge support is provided by a mattress.
Another thing to consider is pairing smart pillows with your smart mattress. Having a smart pillow can take your sleep monitoring experience to the next level. Look for a smart pillow model that compliments your smart mattress.
Finally, if you're a light sleeper or sleep with a partner, you want to ensure that if your partner moves, your sleep isn't disturbed, here good motion isolation is key.
Size
These days smart mattresses come in a variety of sizes from Twin XL right up to a California King mattress.
Price
Make sure you have a budget in mind before you start shopping. Smart beds elevate your sleep experience to a different level, allowing you insight into the quality of your sleep. That is priceless!
However, there's no beating around the bush that smart beds come with a hefty price tag, ranging from $800 to $6,000. Be clear on how much you are comfortable spending.
Do you have a particular smart mattress brand in mind such as the Rest Bed? Be sure you compare the features you're getting with Sleep Number vs the Rest Bed, to name a few brands.
Shipping & Delivery
Be aware of where the smart mattress can be shipped and how long the delivery will take, based on your location.
Some firms offer free shipping within the US, others, however, charge a delivery fee. Be clear on what is included in the delivery fee.
In the event, you are interested in home delivery with in-home assembly and the option to remove your old mattress (known as white glove delivery), check if this is offered.
Some mattress companies only deliver to the front door of your building, coming into your home, or delivering the mattress right into your bedroom and assembling it may not be included. The devil is in the detail.
Trial & Returns
One of the challenges of buying a smart mattress online is, you're buying without having tested the mattress. That's why it's essential you pick a brand that offers a generous sleep trial.
Countless online retailers out there offer 'sleep trials', allowing you to test the mattress for a defined period of time, and during this time should the mattress not live up to your satisfaction you are entitled to return the mattress and get a refund.
The exact sleep-trial period varies from an average of 90 days to 365 days. It's customary that once you've bought a mattress, typically you can't initiate the return or refund process, before a minimum break-in period of the mattress has passed.
Also read the fine print, whether the return of the mattress is free and whether you are entitled to an exchange.
Warranty
Smart mattresses come with a product warranty. Whilst this can vary from product to product, the average warranty period is in the range of 10-years, some products however may have a warranty for a much shorter period of time.
It's important that you're aware of the exact product or manufacturing defects that are covered in the warranty. No warranty covers standard wear and tear or any physical damage that occurred once the mattress was in the possession of a buyer.
It's key to read the usage instructions of the mattress and ensure the mattress is used as it is intended to be used. Many mattresses may come with a limited warranty.
This means that the original owner is covered by the warranty, only if the mattress was purchased from the manufacturer or by an approved brand retailer.
Additionally, if you exchange a mattress, check if the exchange is covered by the sleep trial period and/or warranty.
Smart Mattresses FAQ
Do smart beds need a special foundation?
Most smart beds can be placed on contemporary mattress foundations. However, if the bed comprises an adjustable layer of air, you may not be able to pair a smart mattress with this type of adjustable bed frame.
Do smart beds need special bed sheets?
The simple answer is no. Standard bed sheets will fit smart mattresses without interrupting the sensor technology they have.
Smart Mattresses Sources