Staying Alive is reader supported. When you buy through our links, we may earn a commission.
Learn More >
The Best Floor Mattress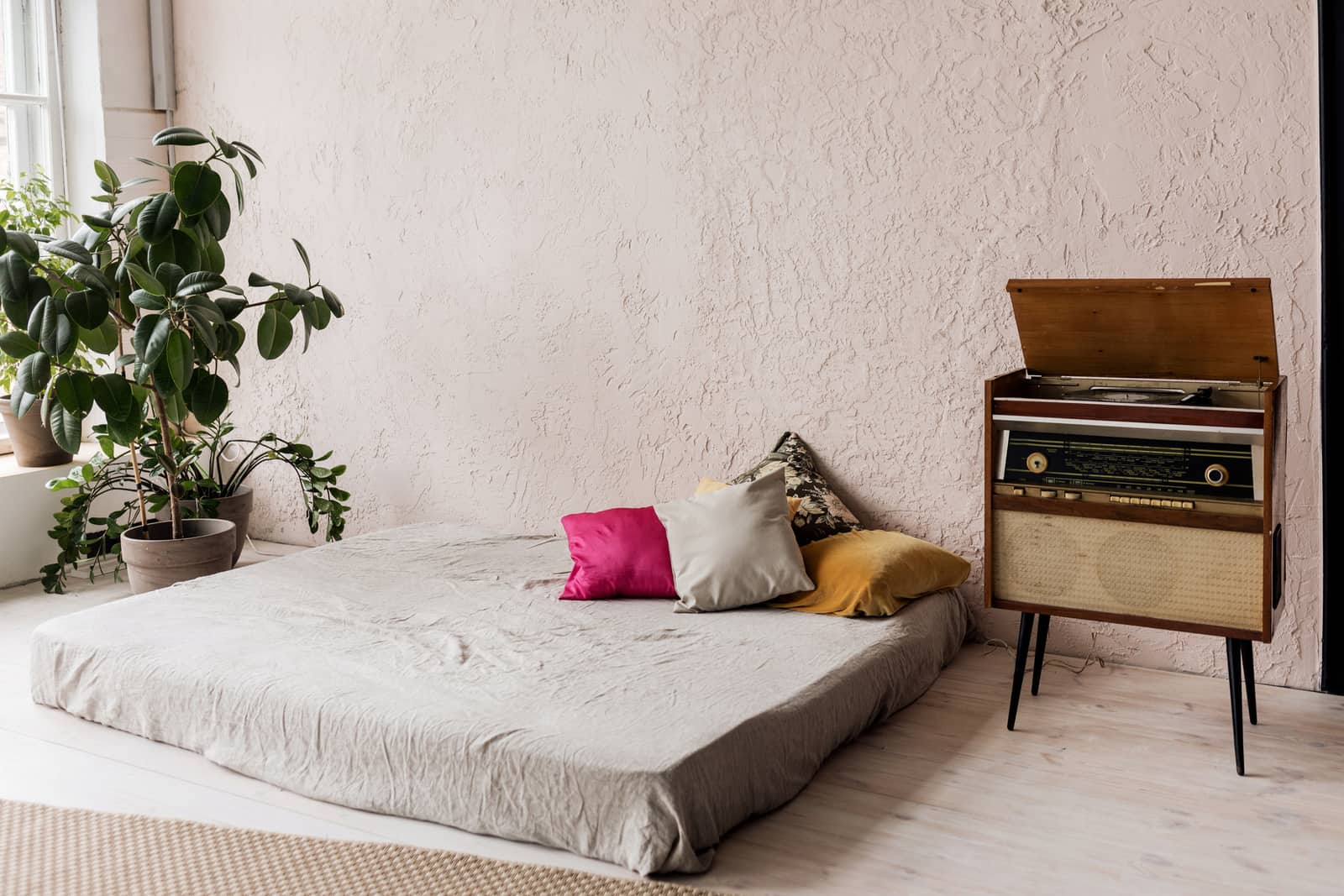 Floor mattresses can be used for a variety of reasons including providing extra sleeping space when there is little room in a house or apartment, or as an economical way to have a floor bed to sleep on indoors or outdoors.
Floor mattresses come in a variety of styles such as foldable floor mattresses, which have been around for centuries, and futons or Japanese floor mattresses.
A traditional mattress consists of padding for comfort, a mattress covering, and springs. Which make for a comfy bed but can be expensive, especially when paired with high-quality bed frames.
Floor mattresses are made of the same materials as regular bedding but they have their own specialties.
A typical floor bed consists of memory foam or other similar material that provides pressure relief from sleeping directly on the floor. This allows the sleeper to have a more comfortable sleep throughout the night.
Most floor mattresses are also made to be portable, so they can easily be moved out of the way when necessary.
Luckily, we have put together a list of hypoallergenic mattresses that will match any budget and comfort preference!
Table of Contents
6 Best Floor Mattresses in 2023
Floor Mattresses Buying Guide
When sleeping on the floor, you need a mattress that will give your back and body support. The best type of floor mattresses for floor sleeping are rollable mattresses, foldable mattresses, and floor futon mattresses.
These mattresses are not only comfortable to lie down on but are space-saving, and easy to manage for quick storage when you are not using them.
Whatever type of floor mattress you choose, make sure that it is smooth and firm and offers support for your back and neck.
We've outlined all the key features you need in a great mattress for a comfortable floor sleeping experience for you and your guests.
Floor Mattress
Floor mattresses are also known as floor beds, floor futon mattresses, foldable mattresses, Japanese futon mattresses such as a tatami mat, or a floor futon mattress for floor sleeping.
Most floor mattresses can be used for a variety of reasons including providing extra sleeping space when there is little room in a house or apartment. or as an economical way to have a bed for guests.
The best floor mattresses are designed to be laid on the floor with no traditional bed frame as a supporting base, which makes them more portable than traditional mattresses.
The best floor mattress can be a respectable substitute for a regular bed and accommodate guests.
Benefits of Floor Mattresses
Sleeping on the floor might not seem particularly comfortable but floor mattresses are filled with high-quality material that makes them perfect for sleeping or even lounging on.
They're extremely low to the ground, meaning they're unlikely to be bumped into accidentally; this can avoid unpleasant accidents in the middle of the night.
Floor mattresses provide an affordable and efficient alternative to traditional beds and can prove exceptionally comfortable for sleeping on the floor.
Environmentally friendly floor mattresses often use hypoallergenic materials, which makes them great at regulating the temperature of their surroundings.
Whether it's too hot or too cold, a floor mattress will make sure your hot sleepers stay at a comfortable temperature, with plenty of air circulation.
Whatever space restrictions you are working with, or whichever guests you are trying to accommodate, from younger guests to adult sleepers, floor mattresses come in a range of different sizes to cater to your needs.
Floor mattresses offer the option of having a bed without needing to take up floor space or a dedicated floor room within bedrooms or living spaces.
Floor mattresses can be removed or retracted when not in use and they fold up for easy storage.
A floor mattress is the ideal economical space-saving sleeping surface.
Features of Best Floor Mattresses
Types of Floor Mattresses
When it comes to floor mattresses, rollable and foldable mattresses have become a popular choice for many people. Futon mattresses may also be used on the floor, but there are some important things to consider when choosing a rollable, foldable, or futon mattress.
Rollable Floor Mattresses
Rollable floor mattresses offer a unique design that allows for an easy roll-up in seconds because of the rollable material.
Not only is a rollable floor mattress great because it can roll up and be hidden, but rollable floor mattresses also use high-density foam material which makes the rollable mattress comfortable and gives great support to sleepers.
A roll-up mattress can be used on the floor or even on two beds (one rolls over each) that are pushed together.
Some rollable floor mattresses are also great for use in dorm rooms or small bed areas where space can be very limited.
Foldable Floor Mattresses
When you need an extra bed for visiting guests, family members, or even your children, foldable floor mattresses are a great solution.
Both tri-fold mattresses and foldable mattresses usually fold into a thin package that can easily slide under a bed or in a closet for storage when not being used.
There are 2 main types of foldable floor mattresses. Each type provides comfort and convenience when needed.
Tri-fold mattress - A tri-fold mattress is usually made up of heavy-duty steel or aluminum that can be folded into the base. It's usually made up of memory foam layers and the top may have a softer or quilted layer. The tri-fold mattress has three pieces that fold out next to each other to create the bed.
Foldable mattress - Foldable mattresses also fold, but are generally lighter than the tri-fold mattresses due to the materials used. A foldable mattress is made up of plush memory foam and the top may be quilted or smooth.
Futon Mattresses
One floor mattress option is a floor futon mattress or floor bed. A floor futon has many benefits when compared to the standard mattress types.
In Japan, floor futons are often placed on a floor rather than a bed frame and are a form of a Japanese floor mattress.
The floor is the natural sleeping surface of humans and floor futons reduce the number of materials used, hence their appeal to eco-conscious customers.
Japanese floor futons are typically placed on floor tatami, which is a flooring material made from compressed and woven rice straw. Tatami floor mats usually come in either black-dyed or natural straw colors.
Natural straw floor mats absorb moisture well and don't retain odors as synthetic floor mat materials do. Floor futons can also be used on floorboards, carpeted flooring, or even on the floor of a recreational vehicle.
Japanese Futon Mattresses or floor futon mattresses may be used as temporary beds for guests or for children's daybeds.
Floor futons are available in different sizes and firmness levels and for many flooring surfaces.
Materials
The most important thing to consider is the mattress you choose should not trap heat and cause sweat while sleeping. It also should resist dust mites, be hypoallergenic, easy to clean and be made with materials that are Certipur US certified.
Synthetic Materials
Synthetic materials such as vinyl. Vinyl is not very breathable, so could lead to sleeping hot or sweaty because of trapped heat.
Vinyl, however, can be easily cleaned. Sleepers who are allergic to synthetic materials like the ones described above would not do well with this type of floor mattress.
Foam
Latex foam or memory foam. These tend to breathe very well and provide an excellent temperature regulation system which could attract dust mites in certain climates or conditions.
Latex foam is a very popular material because it provides excellent support and durability. You can wash the cover of a latex mattress, making it more hygienic for everyday use.
High-quality memory foam provides exceptional comfort and pain relief as you sleep, making it ideal for those with chronic pain or those who suffer from an injury that affects their sleep.
A foam floor mattress would tend to hold the dust mites within, rather than allowing for easy cleaning. If the mattress comes with a removable cover that is washable, it would allow for regular maintenance.
Wool
Wool is naturally antibacterial and resistant to most allergens, making it a high-quality mattress. It provides a plush surface that could last for years without sagging or having an indentation where one sleeps.
Natural Rubber Latex
These are Certipur US certified, which means they should not give off any harmful chemicals or irritants (such as VOCs).
They do tend to retain heat somewhat but overall breathe well. Like a wool mattress, a natural rubber latex floor mattress would be a good choice for those who are allergic to synthetic materials.
Bamboo Rayon
This type of floor mattress will breathe well and won't retain heat but could cost more than other types since it is a comparatively new material in this application.
It should also resist dust mites and other allergens without the use of chemicals, so is a good choice for the best floor mattress for most people and users.
Dimensions
Regardless of what kind of floor mattress you're looking for, it's useful to know the size and thickness that you need. This way, you can get the best floor mattress for your needs.
You can use Twin-size floor mattresses on their own or Twin XL, which are longer and wider to accommodate taller people.
Twin - 36 inches wide x 75 inches long
Twin XL - 38 inches wide x 80 inches long
Queen - 60 inches wide x 80 inches long
California King - 72 inches wide x 84 inches long
Mattress Topper
A washable cover or mattress topper is a must for a good floor mattress. You should look for a floor mattress topper, with a breathable bamboo cover or organic cotton, rather than a mattress cover made from polyester or another fabric that will trap moisture.
Mattress Thickness
The right thickness for a floor mattress depends on three things: personal preference, weight, and your mattress's intended use.
If your goal is to have an additional bed during sleepovers, then 9-10 inches thick would suffice.
However, if you are looking for something that will provide enough support to sleep on the floor for long periods of time, then you should look into getting a thicker mattress that is 12-inches thick.
If you're a back sleeper, choose a thick mattress that's 4 inches, 5 inches for side sleepers and stomach sleepers, and 6 inches or thicker for those who plan to use their floor mattress as furniture.
You may experiment to find what thickness works best for your sleeping style. Try out different thicknesses until you've found an option that feels comfortable.
Sleeping Style
Which sleeping position do you sleep in? Whether you are a side sleeper, back sleeper, stomach sleeper, or a combination sleeper, can determine what kind of mattress you need.
Side Sleepers
Side sleeping is the most common position for sleepers. Their spine is in a vertical line with their head and upper back slightly curved to take pressure off the neck/joints.
A side sleeper needs a soft firmness to keep the spine properly aligned. The side sleeper benefits from good support through the shoulders, hips, and knees.
For side sleepers, the best floor mattress is a memory foam floor mattress. It's dense enough to provide warmth/contour for pressure relief but still malleable enough to improve spinal alignment when side sleeping.
Back Sleepers
A back sleeper has their head and upper back straightened so their neck doesn't bend at all.
A back sleeper needs firm support and high resilience, springiness, and conforms to the body. The back sleeper benefits from how well the mattress supports its spine and allows airflow between the sleeper and the mattress.
Stomach Sleepers
Stomach sleepers have their spine in an S curve from lying face down on their stomach. Their head is turned to one side or the other with their arms usually bent near the pillow underneath the head.
The best floor mattress for a stomach sleeper is one that has a soft firmness to keep their spine in a neutral position.
Combination Sleepers
The combination sleeper needs the soft firmness of a side sleeper and the support of a back sleeper. This type of mattress is best for combination sleepers.
Firmness
Firmness is a crucial factor in sleeping on the floor. A mattress with the wrong firmness level is either too difficult to get comfortable on or too soft and causes back pain.
The best floor mattress for you depends mostly on your body type, weight, and age.
Opt for a mattress that is on the thicker end of the spectrum for most floor mattresses, and provides support for the body curves with a medium-firm feel, and the mattress is free from spring coils that can dig into some sensitive areas.
Temperature
Floor mattresses are very similar to a traditional mattress, but they have a thin covering that prevents the heat from transferring between your body and the floor. This makes it easy for hot sleepers to stay cool at night and to keep their body heat regulated.
If you tend to sleep hot, a floor mattress can be an ideal solution. It keeps your body at the optimum temperature and helps you get a good night's sleep without worrying about overheating in bed.
Portability
Floor mattresses are often used when sleeping at friends or family's homes, to accommodate guests or to save space when you have small apartments/homes.
Floor mattresses are designed to be laid on the floor with no additional support, which makes them more portable than traditional mattresses. This quality means they can be used anywhere sleeping is required.
Anti-Slip Bottom
Floor mattresses are usually anti-slip so that they do not slide away when you move in your sleep.
To provide anti-slip protection, most manufacturers line the mattress bottom with soft materials, such as cork or soft plastic. Many are also made of waterproof materials to keep them safe from damage due to moisture or spills, including both water and oil.
Most floor mattresses have a supportive base covered with anti-slip material, which helps prevent them from moving around when someone sleeps on them.
If you need anti-slip protection that is not visible, or if you want something with anti-bacterial properties to keep it free of germs and other harmful substances, anti-slip floor mattress covers may be the best option.
Maintenance and Storage
A floor mattress can be a great alternative to a traditional bed, but it will need maintenance and storage. It's large and firm enough to sleep on and usually has a removable cover for easy washing.
Unlike a regular mattress, regularly rotate your floor mattress so it wears evenly over time. A simple way to do this is to turn it from head to foot every two months or so, or whenever you rotate your own pillows.
Floor mattresses usually come with a removable and washable cover for easy washing and drying, and this is great for keeping them clean. Remove the cover every time you fold it up for storage.
A floor mattress is a great choice for your current lifestyle. It's easy to maintain and store when not being used, so it's perfect for homes with limited storage or living space.
Roll it up, fold it in half or three times for storage, or lean it against the wall until you need to use it next time. The best floor mattresses come with a storage bag for protection.
Trials, Returns, and Warranty
Buying a mattress online may be tough because you are purchasing something without having tested it. That is why it's important to go for a brand with a long warranty.
The length of time a sleep trial lasts varies considerably, ranging from 90 days to 365 days. It's typical for you to be unable to start the return or refund procedure until the mattress has had at least 90 days to break in after purchasing one.
Mattresses are covered by a guarantee, but the length of time for which it is valid varies from brand to brand.
Price
A regular mattress can cost anywhere from $200 to $1500 and above. Floor mattresses, on the other hand, come at a very affordable price, of around $75 - $300.
However, floor mattresses don't have a box spring and may not be as comfortable as regular ones.
A floor mattress made of memory foam is affordable but is more expensive than other more affordable types of floor mattresses ($400-$700).
When shopping for the best price mattress it's best to not only consider the price but also how comfortable it is and what features it has.
Floor Mattresses FAQ
What kind of mattress is best for the floor?
You want a floor mattress that can be used with any floor surface. It should also have firm support so you don't sink into it too much.
This will provide enough cushioning for your body, but make sure you've got flooring that's even and safe enough for floor sleeping.
The flooring shouldn't be too soft, because this will make it uncomfortable to sleep on the floor.
The floor mattress should also be thick, so it doesn't move around during floor sleeping.
Finally, it should be easy to assemble and easy to put away for storage when not in use.
Are floor mattresses safe?
There are some key things to think about when considering buying a floor mattress, and most of those considerations are not linked to safety.
For the majority of you, a floor mattress is not a long-term sleeping solution every night, but rather to accommodate visiting family and friends with a mattress or floor mat, short trips, and space-saving solutions for small homes/apartments in your guest room when you have sleepovers.
Look to buy the best price mattress for sleeping on the floor in your budget, and ensure the materials are of good quality and the mattress provides adequate support, giving you a great night's rest.
Floor Mattresses Sources