If you want to drown out at-home disturbances that may prevent you from sleeping, or if you need to sleep during the day as you work at night, or to help you sleep on your next plane heading to a different time zone, good quality eye masks can help you get a good night's sleep.
Sleep masks are an excellent, inexpensive, and helpful way to block out bright lights, enabling your brain to produce melatonin and hence, enhancing the quality of your sleep, improving your health.
Not all eye masks are the same and it can be challenging trying to find the right sleep mask that is smooth, is compatible with your pillow and sleep position, and blocks out light effectively, fitting you like a glove.
We've done all the work to review countless sleep masks, to identify the best eye masks on the market, allowing you to drift off to sleep like a baby!
If you are looking for a weighted blanket for your eyes, look no further than the Nodpod Weighted Sleep Mask, which applies gentle pressure giving a calming effect, like a hug. 
Nodpod's patented design lays softly across your head to apply gentle, evenly distributed pressure for a comforting fit and soothing experience.
The pull-through design is adjustable and elastic-free so it works with all sleep positions, whether you are a side, back, stomach sleeper.
With a 100% blackout design that contours to your face, it provides a complete light-blocking experience to help you relax, find relief, and fall asleep faster.
The ace-up Nodpod's sleeve is a dual material design that is cooling on one side, warm on the other. If you want to cool it further, you can pop it in the freezer!
Ideal for sleeping, travel, meditation, yoga, and more, let the Nodpod Weighted Sleep Mask give your eyes a hug!
The pull-through strap design is adjustable & elastic-free
Light blocking fit
Dual comfort material design - one side jersey cotton, the other side warm microfiber
Microbead fill
Hollow ends
Scalloped edge
Available in 6 colors
Brand: Nodpod
Model: Nodpod Weighted Sleep Mask
Specifications: 6.3 x 4.2 x 3.5 inches
The pull-through strap design is adjustable & elastic free so it works in all sleep positions
100% blackout design contours to your face for complete light blocking experience
Dual material design is cooling on one side, warm on the other side
Competitive price
Perfect for sleeping, travel, meditation, yoga and so much more
The perfect gift idea & travel accessory
It may not be the best sleep mask for stomach sleepers
If you're one of those people who needs a helping hand to fall asleep or are disturbed by bright lights, sleep masks are a great and inexpensive sleep aid to help you sleep and help the quality of your sleep.
There's so much choice for sleep masks, from masks offering deep pressure stimulation, convex eyecups to the snazzy smart masks peppering the market.
It can become a confusing maze to know what type of sleep mask is right for you.
That's why we've summarized the key features you may want to consider before purchasing a sleep mask. Allowing you to fall asleep at the drop of a hat!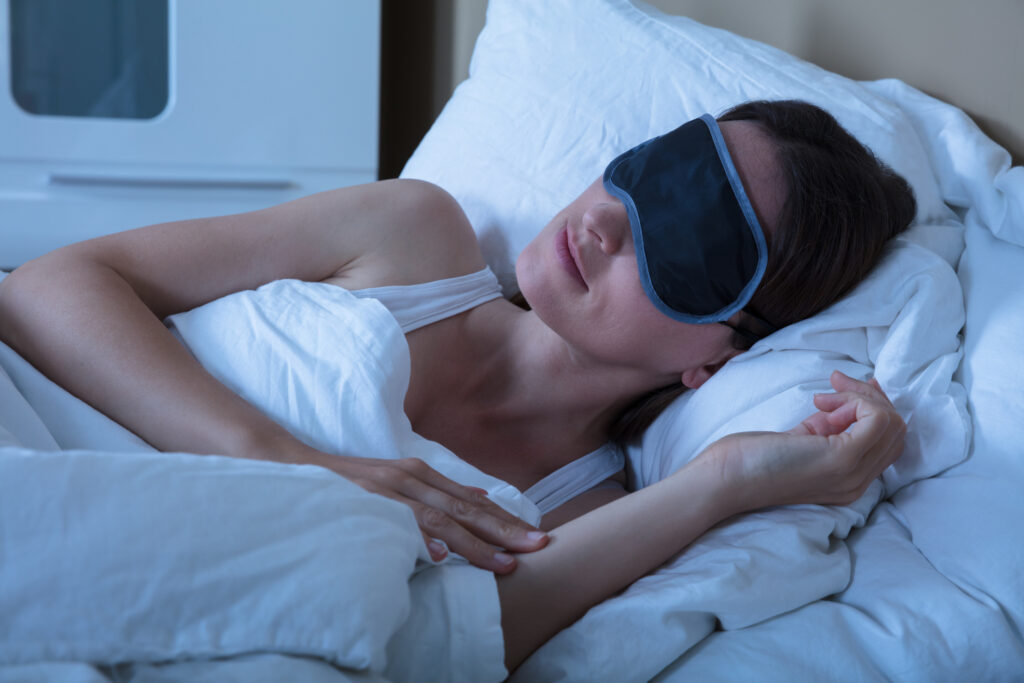 Design and Comfort – Ideally you want a sleep mask that is not too loose and not too tight. You don't want the straps to be digging in, or uncomfortable around your ear area, giving you a headache.
You want a sleep mask that sits comfortably on your face snugly and preferably a design that does not put pressure on your eyes or causes breakage or hair damage.
These days there are a few different designs available on the market. 
Weighted Sleep Masks –

Like weighted blankets, weighted sleep masks offer deep pressure stimulation.
Weighted sleep masks are heavier than traditional sleep masks and have a filler consisting of microbeads, flax seeds, or lavender buds.
A weighted sleep mask is a great option to reduce anxiety, restlessness, and insomnia, nervous travelers, and people who suffer from headaches.
Cold Compression –

Many sleep masks work well by putting them in the freezer, to get them nice and cold and provide the benefits of a cold compress. 
Sleep masks that offer a cold compress are ideal for tired, stressed, and puffy eyes, or people suffering headaches, who are wanting some cold relief.
Convex or Flat Eye Cups –

Do you want the eyecups to be flat or convex? If you don't want an eyecup that restricts blinking or smudging eye make-up or eyelash extensions, a convex eye cup might be preferable.
On the other hand, if you are a side or stomach sleeper, a convex design sleep mask may not suit your sleeping style and you may prefer a flat sleep mask.  
Smart Sleep Masks –

If you want some extra comfort and additional features to help you fall into blissful slumber, you may decide to opt for a smart sleep mask. 
In addition to blocking out light, many models offer the ability to mute sounds, massaging the temples, and many more features. Smart sleep masks can make a dent in your budget. 
Material – What kind of fabric do you prefer against your skin? Sleep masks can be made from different fabrics and each one has different merits. Which fabric you prefer comes down to your personal preference.
Cotton –

For those of you who are devoted fans of cotton bedsheets, you won't need to be sold on how comfortable and soft sleep masks made from a soft and breathable cotton material are.
Silk –

If you like a smooth and polished texture, that is often found in luxury pillows, then you will be a fan of sleep masks made of 100% silk. They can help to prevent wrinkles around the eyes and look youthful and refreshed. 
Polyester –

Sleep masks made of polyester are lightweight, replicate the feeling of a silk mask however, it's cheaper on your wallet than an actual sleep mask made of silk.
Foam –

Sleep masks made of foam are great for retaining their shape, allowing you to open your eyes and blink, don't smudge eye makeup, or disturb eyelash extensions.

Beads –

Weighted sleep masks are filled with beads, to provide deep pressure simulation. Some models offer heating or cooling effects in addition to the added pressure. 
Adjustable Strap – You want a sleep mask that fits snugly, is not too tight, or is too loose. Look for a sleep mask that has an adjustable strap, offering customization whatever your head size.
What kind of strap does the sleep mask have? There are two main types of straps. An elastic strap secures the mask in place or a pull-through style strap that you pull through and secure in the back. 
The type of strap suitable for you will also depend on the style of sleeper you are. If you are a back sleeper, the pull-through style which is fastened at the back will not be suitable for you. 
Light Blockage – Whether you plan to wear the sleep mask at home or when traveling or when in brightly lit areas, there is no better way of signaling to your body that it's time to sleep than by making it dark.
Look for sleep masks that fully block light out, allowing you to get to sleep and stay asleep deeply.
Sleeping Position – Which sleeping position best describes you will heavily influence the type of sleep mask that is best suited to your needs and will enhance your sleep experience. 
Are you a back, side, stomach, or combination sleeper? 
The general rule of thumb is that you will want to avoid bulky-style sleep masks if you are a side sleeper. 
If you are a back sleeper, you want to ensure the sleep mask blocks light from all angles and if you are a stomach sleeper you want to opt for flat style masks. 
Lightweight – If you are a jet setter, chances are you take your sleep mask with you on your merry travels. You want something light and easy to pack.
Durability and Machine Washable – You want something that you can repeatedly use and is made of good quality material that is comfortable to allow you to sleep peacefully. 
Whether you plan to wear the sleep mask occasionally or every day, you want to be able to clean the sleep mask to maintain hygiene. Look for sleep masks that are washable.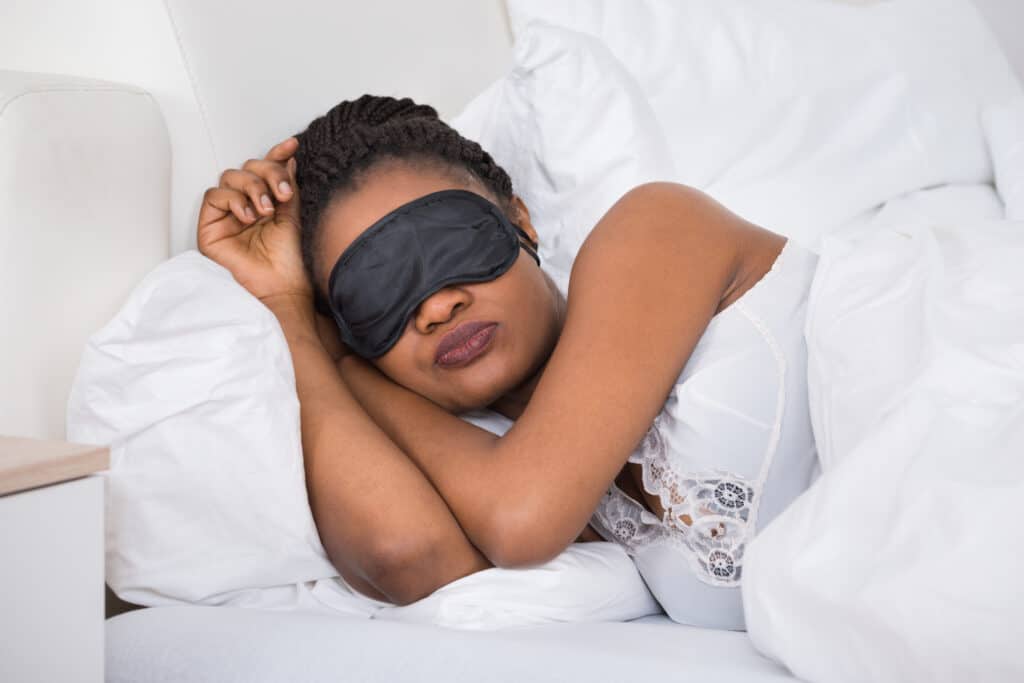 What are the benefits of a sleep mask?
Sleep masks are designed to help you sleep quicker, get deeper and longer sleep. By blocking 100% light from your eyes, your brain starts to produce melatonin. This is the pivotal hormone in the brain that is required for the REM deep sleep process.

Being exposed to light, even dim lighting will negatively impact the levels of your melatonin by lowering them. Leading to you getting lighter, or interrupted, or less restful sleep.

Wearing a sleep mask can block light, allowing your brain to produce healthy levels of melatonin and aid in restful sleep.

Sleep masks are an inexpensive aid to promote sleep, whether you are at home, traveling, or doing shift work or someone who suffers from insomnia or other sleep disorders.

Sleep masks can help acclimatize to a new time zone, and help you feel rejuvenated and rested in the morning.
Why would I need a sleep mask?
You might be someone who suffers from a sleeping disorder such as insomnia, or you are trying to sleep in the middle of the day and work at night.

Or you're traveling and want to get some shut-eye amongst the hustle and bustle of travel and changing time zones.
Will sleep masks irritate my skin?
If you ensure you follow the care instructions for your sleep mask and clean it regularly it should not cause any irritation to the delicate skin around your face and eyes.

If you have sensitive skin opt for a sleep mask that is made from 100% natural, breathable materials like cotton or silk and wash it with a mild scent-free detergent.
11 Best CBD Oils (Buying Guide) in 2021
Countless people suffer from pain, exercise-induced inflammation, blood pressure, and sleep ailments around the world. So it's not really a surprise that an increasing number of people are taking CBD oil products (Cannabidiol) to aid their sleep problems. With so many CBD oils available in an unregulated market, and the CBD legal status in flux, how do you know which CBD products to choose from? Not all CBD oil products are made equal, and fewer still stand up to the scrutiny of high-quality CBD oil production, rigorous testing, strict sourcing guidelines, sharing their Certificate of Analysis and extraction process with consumers. We scoured through the complex maze of Cannabidiol extracts sold online to bring you the informative guide to buying the best CBD oils. So whether you're seeking solace from neuropathic pain, or treat epilepsy, or seeking some calm from anxiety, or simply look to have a better night's sleep, relief is here for you via nonprescription CBD products.
9 Best Mattresses (Buying Guide) in 2021
Most people will probably consider buying a new mattress around once a decade. Having decided that you are in the market to buy a mattress, you may quickly find yourself facing a conundrum. Getting a good night's slumber is so important and with so many mattress options out there, it can be overwhelming knowing what to look for in terms of material, size, price, and quality. After scouring countless mattresses, it can get difficult to identify the differences between them, as they all begin to look the same, don't they? Or so it seems. Fortunately for you, we trawled through every nook and crack of the top online mattresses to bring you the shortlist of the best mattresses available. In order for you to handpick one for purchase, we've outlined a few simple questions and the key criteria you need to screen for when selecting one. Once you've done that, you're all set to go forth and conquer your new purchase.
10 Best Cooling Pillows (Buying Guide) in 2021
It's so frustrating when you're tired to the bone and trying to get a good night's rest, but due to feeling overheated, sleeping becomes uncomfortable. You might be a hot sleeper, or it might be a scorching summer and you don't have air conditioning, or you're going through hormonal changes, which means you're getting night sweats. Any of these reasons may be the culprit of why sleep continues to be elusive. It's important to have a sleep environment where your body temperature is at a moderately cool temperature. Temperature regulating bedding is important, and so is having a cooling pillow to get a good night's sleep. Unlike regular pillows, a cooling pillow has materials like a cooling gel layer that prevent heat from trapping. While at the same time they are not cool to the touch, which makes them comfortable to rest your head and get some much-needed shut-eye. We've rounded up the cooling pillow best suited to offering you temperature moderation and keeps night sweats at bay.