Treadmills can improve your fitness, burn calories and help you on your weight loss goals. Running elevates the heart rate, helping to improve circulation and strengthening your heart.
If you live in a climate that is far from dependable, running outdoors on a regular basis may not always be possible, which is why the prospect of a treadmill in your home can be hugely beneficial.
Treadmills can help you mix up your running workouts and provide a consistent indoor workout.
Having a treadmill at home gives you the freedom to workout at any time, based on your personal schedule.
You don't lose time traveling to commercial gyms or making countless excuses why the snow or rain meant you couldn't get an outdoor run in.
No matter what your fitness goals are or what your level is, treadmills are super versatile and offer a wide variety of workouts for everyone.
From a brisk uphill trek, a consistent jog, or high interval training (HIIT) to allow you to train for a long-distance marathon.
Outlined below are the best treadmills on the market. All you need to do is get your workout gear on, get ready to play your upbeat playlist, and start getting in shape one stride at a time.
Working out can be a chore and demand a level of solo motivation that escapes even the most devoted fitness enthusiast.
That's why the Pro-Form SMART Pro 2000 Treadmill is an outstanding treadmill that takes the sting out of working out alone by bringing you in-home trainer-led studio sessions with a full 1-year family iFit membership from the comfort of your home.
For those not wishing to renew the iFit membership once the free 1-year membership runs its course, you'll be thrilled to know the Pro 2000 has 50 preloaded onboard workout programs.
The Pro 2000 comes with a strong motor, with a horsepower of 3.25, robust enough to support daily running.
You're put through your paces with a declining range of -3% to an incline range of up to 15%. Leaving no time for you to get into cruise control and complacency.
Sporting a spacious tread belt of 22 inches in width and 60 inches in length allows ample room to walk briskly or run with galloping strides.
The deck also comes with Pro-Form's patented ProShox cushioning, allowing welcoming cushioning on joints.
The Pro 2000 has a decline setting, allowing it to fold it for compact storage. In addition, it benefits from EasyLift assist, which makes it super easy to lift and store the treadmill deck.
The deck is locked in a folded state with a hydraulic arm. The hydraulic system makes it easy to lower the deck hands-free.
So the only heavy lifting you need to do is lace up those running sneakers.
The console soundbar has two 3-inch speakers built-in, allowing you to plug headphones into the audio jack.
It also permits connectivity of your mobile device to the console via Bluetooth, so that you can listen to your playlists through the console speakers.
Obviously, you want to sweat and burn off unwanted calories, but you want to work out in comfort.
The Pro 2000 has two fans built-in that offer comfort and temperature regulation so that you can work out for longer.
Whilst it's great to have a Smart HD Touchscreen, it's even better to have the additional option to watch something on your tablet or phone to pass the time quicker.
Which is why it's a silver lining that the Pro 2000 has a secure tablet holder, allowing you to catch up on your favorite shows whilst you pound the tread belt.
iFit 1-year family membership included
Display - 10 inch Smart HD Touchscreen
Motor - 3.25 Horsepower
Tread belt - 20 x 60 inches
Speed 0 - 12 MPH - QuickSpeed button control
-3% decline to 12% incline
ReBound Pro Cushioning
Folding deck - SpaceSaver Design with EasyLift Assist
CoolAire fan
Bluetooth audio capabilities with dual 2-inch speakers
Weight capacity of 300 pounds
Brand: Pro-Form
Model: Pro-Form SMART Pro 2000
Size: 35.3 x 77.3 x 59.6 - inches
10-year frame warranty
2-year parts & 1-year labor warranty
30-day money-back guarantee
Great quality yet affordable treadmill
1-year free iFit membership included
Strong treadmill motor for this price point
Foldable, space saver
$199 threshold delivery
ProShox Cushioning is good, but not as quiet as other treadmills models
Returns charge a $250 return shipping fee plus a 10% restocking fee
There are so many different treadmills from manual to foldable, ones that offer inclines to other hi-tech features. It helps to know what to look for before making your purchase. 
Buying a treadmill should be viewed with a long-term view and as an investment. You want the treadmill to last.
We've outlined how to choose the most suitable treadmill for you based on your fitness goals, features you may want to screen for, and your budget. 
All you have to do is get ready to run like Forrest Gump once you've made your purchase.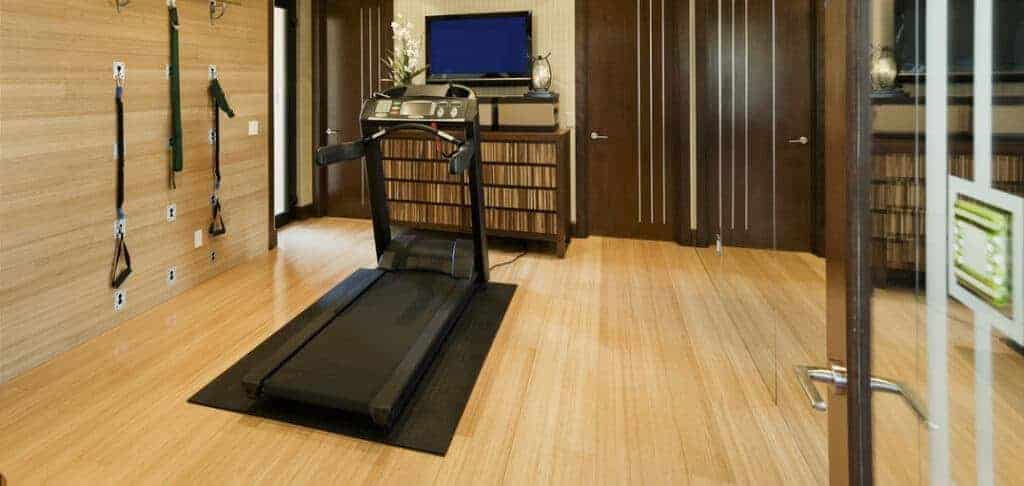 Types of Treadmills
Treadmills are often a pricey purchase. You only want to buy a treadmill once you fully understand the different types of treadmills available on the market. 
Finding the right treadmill for your body weight and the type of exercise you wish to do, whether its: running, walking, interval training, incline, endurance running or any other type of workout is key. 
Manual Treadmill – A manual treadmill uses rollers and a belt, which a user must move with the action of their feet. The treadmill belt only moves if you move it, it doesn't move by itself.
Users expend more effort using a manual treadmill, on the other hand, you get to set your own pace.
A manual treadmill may not be the best option for you if you are lacking motivation, as you may feel like you are lugging weight. Manual treadmills are often the cheaper models on the market. 
Manual treadmills are great if you are on a limited budget and focused solely on getting into shape, as you'll be doing all the work.
Motorized Treadmill – A motorized treadmill allows you to maintain speed as the treadmill motor moves the belt at a pace you set electronically. 
The lion's share of motorized treadmills enables you to increase or decrease the incline of the treadmill belt. 
Motorized treadmills require electricity, are sturdier and larger in size than the average manual treadmill. They require a permanent place in your home. 
A motorized treadmill is not for people seeking portable treadmills that can be folded away after use. 
Folding Treadmills – As the name suggests folding treadmills offer the option to fold the console and running deck with a locking system for safety. 
The majority of folding treadmills can be raised, but don't fully fold flat. This ensures that despite being portable and compact use when being used the treadmill frame is sturdy.
A foldable treadmill is ideal if you are on a modest budget and space is an issue in your home. 
Commercial Treadmills – Semi-commercial and commercial treadmills provide a variety of high-quality features. 
From a motorized incline, horsepower, cushioned running deck, to interactive screens and features enabling heart training. 
The primary difference between semi-commercial and commercial treadmills is how much time you can use the treadmill in a day. 
Commercial treadmills can be used constantly for around 12 hours a day. Semi-commercial treadmills are perfect for keen runners. 
Semi-commercial treadmills are a great option to have at home if your budget and home space allows. They are sturdy, have a longer running belt, come equipped with a range of hi-tech features, and are durable. 
Other Treadmills – Such as the under the desk treadmill and medical treadmills.
Under the Desk Treadmill –

An under the desk treadmill allows you to use a treadmill for walking and a desk for working while you walk. 

A great option for workaholics, who may struggle to find the time to workout. An under the desk treadmill is not the right option for you if you are a keen runner and your primary fitness goal is to run. 
Medical Treadmills –

Medical treadmills are also known as anti-gravity treadmill or zero gravity treadmill. 

This is highly beneficial as preventive rehab therapy, allowing you to workout whilst recovering. A medical treadmill allows you to walk or run at a lower percentage of the bodyweight. 
Key Features 
Maximum User Weight – Pay attention to the treadmill belt, frame, and motor which all provide an indication of the quality of the treadmill and what the maximum user weight the treadmill supports. 
A good treadmill for the home will support a maximum user weight of over 160kg / 352 pounds.
Commercial treadmills often support a maximum user weight of over 180kg / 396 pounds. 
Adjustability – Many treadmills have top speeds between 10 and 12 mph, some go even faster than this. 
The typical incline gradient for an average treadmill ranges from 10 to 15 percent, however, some treadmills offer a steeper incline. 
If you want to vary your workouts with uphill climbs, then you may want to seek a treadmill that offers a higher percentage of incline. 
Ergonomics – As a runner, you want to select a treadmill that has a long deck length, where you can run or walk confidently and both your walking and running strides are accommodated comfortably.
If you are tall, it is important that you are not having to shorten your strides to fit the length of a shorter belt.
Horsepower – Horsepower is a unit of measurement for motor size. A treadmill with a large horsepower of 3hp or more indicates a top-quality motor that is durable.
Frame – Treadmill frames are made from steel or aluminum. Steel frames are sturdy and are quieter sounding. 
Aluminum frames are equally strong but are not as springy as steel frames.
Which frame you opt for comes down to personal taste. 
Shock Absorption – Treadmills that have a built-in shock absorption system can enable you to run for longer and reduce the chance of developing injuries related to running. 
Avoid running decks that provide spring shock absorption systems, as they return the force of a stride back into the body. 
Variable Durometer Elastomer Cushions absorb some of the impacts and are often found in commercial treadmills. 
Size – The average size of a treadmill is 77 inches long and 35 inches wide. 
A folding treadmill will be half its length when stowed away. The floor space needed for a treadmill is more, as you need room on either side, the front, and the rear of the treadmill. 
The size is important when considering where you may want to place the treadmill permanently, or whether it's more optimal to go for a treadmill that folds after being used.
Weight and Assembly – Whilst a manual treadmill is much lighter, an average motorized treadmill can weigh between 200 to 220 pounds. 
Give some thought to whether you can assemble the treadmill or whether the model/brand you buy offers assembly assistance. Most treadmills are not a one-person assembly job. 
Heart Rate Monitoring and Programs – There are two types of heart rate monitors. Wearable monitors and hand sensor monitors. 
Wearable monitors can be watches or chest straps, which you wear whilst working out. Hand sensors take your pulse via hand grips on the treadmill. 
Some people don't like using hand grips, they find it restricts their workout and prefers wearable monitors. What you select comes down to personal taste. 
Safety Features – Do you want side handrails? Some runners like handrails to help them balance when they first get on a treadmill and ease into a run.
Alternatively, after you've been running and you want to slow down, the handrails can be an anchor, preventing you from stumbling before a final stop.
Does the treadmill offer a slow start/stop? Most people like starting off slowly and increasing the speed of their workout. This is a feature most good quality treadmills will offer. 
Hi-tech Features – In the digital age we live in, we've been spoilt with our fitness machines coming equipped with smart technology. 
Do you want a treadmill to have docks for smartphones, iPods, USB ports, Bluetooth, and wireless internet connectivity? Do you want interactive workout programs for a more immersive experience?
Be cognizant that any on-demand workouts or live streams will most likely come with additional monthly/yearly subscription costs in addition to the purchase cost of a treadmill. 
Other Considerations 
Budget – The average price of a new motorized treadmill is around the $1,000 mark. The more sophisticated features a treadmill has, the higher the price is, venturing into $3,000 upwards.  
There's no question treadmills are pricey and will cause a dent in your finances. If your budget allows, splash out on a good quality semi-commercial treadmill, which comes equipped with high-end features, and is durable.
Returns – Is there a trial period? Does the model come with money-back guarantees? 
Many brands will offer a 28-day money-back guarantee providing you return the treadmill in its original packing and you pick up the tab for return costs.
Warranties – Read the fine print and be clear who the warranty is with. Typically the warranty is with the original manufacturer. What duration is the warranty for? 
Warranty duration differs for motors, electrical parts, and labor. Does the warranty cover in-home repairs during your warranty period? Does this include both labor and parts for the repair?
Is there an opportunity to extend the warranty? Do your homework.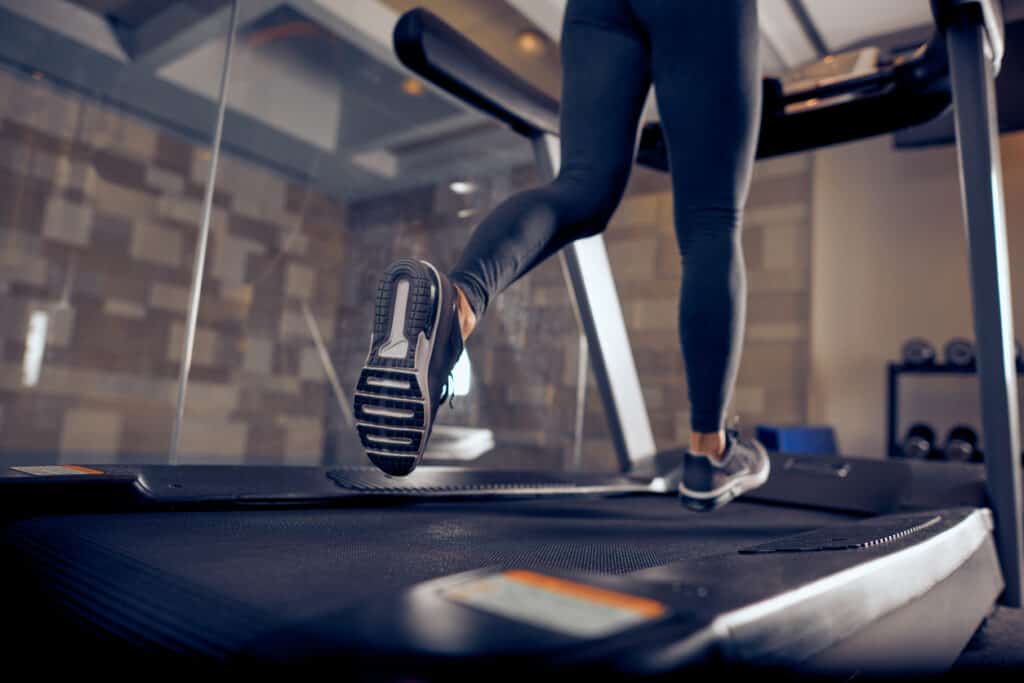 What are the benefits of a treadmill?
Treadmills are great for cardiovascular benefits and help you to get into shape regardless of what your fitness level is.

Whether you want to have a brisk walk, a constant jog, training for a marathon, or want to kick it up several notches with HIIT, a treadmill offers versatile workouts for everyone.

Having a treadmill indoors means you can work out whenever you want, all year round without giving too much thought to the weather outside.

For fitness enthusiasts who enjoy running and getting a runner's high, running on a treadmill can be easier on the knees, as it can be a lower impact alternative to pounding concrete sidewalks.

Finally, when you have a treadmill at your fingertips at home, you've run out of all possible excuses from, no time to travel to a gym or you can't seem to fit it into your schedule.

Ultimately it's a long-term investment in you staying healthy and staying in shape.
Are treadmills noisy?
Whilst treadmills may make a slight sound, ideally, you want a treadmill that has a relatively silent motor.

After all, you don't want to be disturbing the rest of your household or your neighbors.

Depending on the construction of your building, if noise carries easily and you want to work out at midnight or on Sundays, your neighbors will not be impressed.

Also, look into buying protection mats to protect your floor. You could also consider using an old carpet under the treadmill, which can cushion the treadmill noise vibration.
Where should you keep your treadmill?
You should avoid keeping electronic fitness equipment in cold rooms, such as garages. Especially when these rooms can get super cold during the winter months.

The last thing you want is condensation building inside the electrical circuit boards.

You also don't want to put a treadmill in a room that gets super hot. You don't want to be roasting whilst you workout.

Put your treadmill where you are likely to use it, with access to music or home equipment and if possible a window, so that you can open a window should you need it.
How much space do I need for a treadmill?
You should ensure that you have sufficient room to walk around your treadmill. Avoid obstructions on the rear and to the front.
What maintenance will need to be done for a treadmill?
To ensure your treadmill stays in good condition every three months lubricate and tighten the belt.

Dust the treadmill and make sure the area under the treadmill is kept clean and dirt free.
What is the life expectancy of a treadmill?
How long a treadmill will last, depends on the make, the model you buy and how often you use it, and how well you maintain the treadmill.

The higher your budget, the better quality treadmill you'll get which will last longer.

The general rule of thumb is, the average life expectancy of a treadmill is from 7 to 12 years.
What treadmill is best for marathon training?
A commercial or semi-commercial treadmill will be the most optimal treadmill to train for a marathon.
8 Best Yoga Chairs (Buying Guide) in 2021
Practicing yoga comes with many therapeutic benefits from reducing stress, relieving anxiety, and managing depression to decreasing lower back pain to stimulating brain function. Whether you are a regular yoga practitioner or a newbie starting out, it's essential to practice yoga safely, with the correct form and instructions. For some yogi's you may need the assistance of a yoga chair if you suffer from mobility issues or to provide you with extra support and enable you to do the modified versions of those challenging poses. Whether you want to work on your spinal twist, cat-cow stretches, or a headstand, there is a wide range of yoga chairs that will enable you to do that. We trawled through countless yoga chairs to bring you a round-up of the best yoga chairs available, allowing you to clear your mind and perfect your best asana move!
8 Best Slam Balls (Buying Guide) in 2021
Slam balls are an exceptional way of incorporating weighted plyometric moves, such as jumps and other explosive moves into your exercise regime. Explosive moves help increase your muscle strength from your shoulders, your core, right to your toes, giving you a full-body workout. The beauty about slam balls is they are a relatively inexpensive piece of equipment to add to your home gym or your commercial gym. They come in several different weights, ranging from as small as 8 pounds to 30 pounds in weight. There are so many versatile moves you can do with a slam ball from squat throw to sprint, scoop overhead throws, overhead slams, reverse lunge to chest pass, Russian twist, to slam ball sit-ups. We've rounded up the best slam balls available so that you know how to distinguish between a classic slam ball and other types of balls on the market. It's time you got strength and plyometrics into your workout, improving your coordination. What are you waiting for, slam that ball hard!
6 Best Roman Chairs (Buying Guide) in 2021
There is no better equipment than a Roman chair to bolster the back, core, and leg muscles. A Roman chair is a multifaceted piece of equipment that can help enhance flexibility, improve posture and build strength, and relieve lower back pain. No matter what your fitness level is, incorporating the use of a Roman chair in your gym routine will pay immense dividends with a stronger and more defined lower back, spine, and glutes. We've brought you the shortlist of the best Roman chairs available on the market, enabling you to perform hypertension, core, and other lower body exercises!