Leaky Gut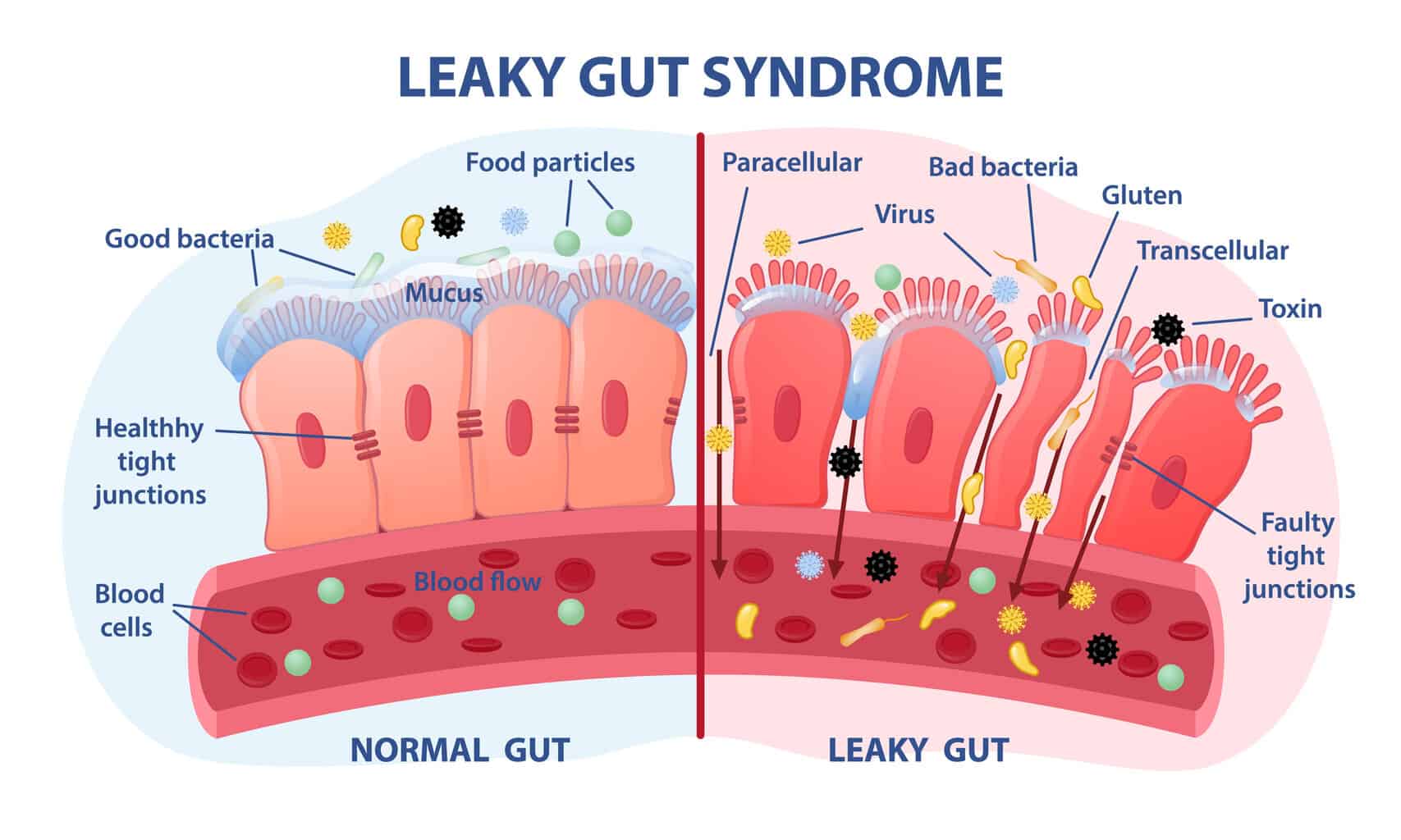 Leaky Gut Syndrome is a condition in which the intestines are unable to properly absorb nutrients from food. This can lead to nutrient deficiencies, as well as other health problems, such as fatigue, digestive problems, food sensitivities, and skin rashes.
Leaky Gut Syndrome is believed to be caused by a number of factors, including poor diet, stress, and certain medical conditions.
Treatment for Leaky Gut Syndrome typically focuses on addressing the underlying causes, as well as supporting the intestines with nutrient-rich foods and supplements.
Probiotics are also often recommended for people with Leaky Gut Syndrome, as they can help to restore balance in the gut flora.
If you think you may have Leaky Gut Syndrome, it is important to see a healthcare professional for proper diagnosis and treatment. Left untreated,
Leaky Gut Syndrome can lead to serious health problems. With proper treatment, however, most people with Leaky Gut Syndrome can improve their symptoms and live healthy lives.
Books discussing Leaky Gut
Eat Dirt

Why Leaky Gut May Be the Root Cause of Your Health Problems and 5 Surprising Steps to Cure It

Dr. Josh Axe, a renowned authority in the field of natural medicine and wellness, has written a comprehensive guide on diagnosing and treating leaky gut syndrome- a condition that is often discussed but seldom understood. Leaky gut syndrome is linked to a range of problems, including chronic inflammation, allergies, autoimmune diseases,...

Learn more about Eat Dirt

The Energy Paradox

What to Do When Your Get-Up-and-Go Has Got Up and Gone (The Plant Paradox, 6)

In his two best-selling books, The Plant Paradox and The Longevity Paradox, Dr. Steven R. Gundry shines a spotlight on how we can achieve optimal health and wellness. In The Energy Paradox, Dr. Gundry explores how a malfunctioning immune system can lead to mental and physical fatigue—such as exhaustion, brain fog, depression, anxiety, and low...

Learn more about The Energy Paradox
Experts discussing Leaky Gut
Dr. Josh Axe

Doctor of natural medicine, clinical nutritionist, and passionate advocate for using food as medicine.

Dr. Josh Axe is a doctor of natural medicine and a clinical nutritionist with a goal of assisting individuals in becoming healthy through the use of food as medicine. He established one of the United States' largest functional medicine practices and runs the popular health website draxe.com, where recipes, natural...

Learn more about Dr. Josh Axe

Dr. Steven Gundry, M.D.

World-renowned cardiologist, heart surgeon, medical researcher, and author whose unique vision of human nutrition helps people improve their health and longevity.

Dr. Steven Gundry is a renowned cardiologist, New York Times best-selling author, and medical researcher who has published more than 80 papers during his career as a research scientist. In his 40-year-long career in medicine, Dr. Gundry has performed over 10,000 heart surgeries and developed life-saving medical...

Learn more about Dr. Steven Gundry, M.D.