Tennis elbow is also known as lateral epicondylitis, it is a condition in which the outer part of the elbow becomes painful and tender.
Often the pain can extend into the back of the forearm and can weaken grip strength.
Tennis elbow can occur as a result of overuse during work or a range of sports. Many people use orthotic devices on the arm to improve their function or reduce pain.
Sufferers of a tennis elbow can turn to prescribed medication, physiotherapy, and wearing a good quality tennis elbow brace.
Choosing the right tennis elbow brace will enable you to pursue your daily activities whilst providing the right support and minimizing pain.
We've compiled the top tennis elbow braces on the market, to help athletes and non-athletes with hand and elbow conditions.
The Best
Tennis Elbow Brace
Get some relief for your tennis elbow pain with an impressive brace/forearm band with the Simien Tennis Elbow Brace. 
It contains two elbow braces, a wristband, and an E-book, offering amazing value at this modest price point.
The E-book provides invaluable guidance on how to address tennis elbow pain, including online resources and exercises available.
Ideal for people suffering from tennis elbow, golfer's elbow, computer or mouse elbow, rower's elbow, fishing elbow, or pool/billiard elbow. 
The brace has a compression gel-like pad that works more effectively than air pads. One size fits most and it can be used interchangeably on the right or left forearm.
Made with neoprene and nylon, it's suitable for men and women thanks to the adjustable strap with a hook and loop closure. 
Let the Simien Tennis Elbow Brace provide support and relief to repetitive stress motion injuries like lateral epicondylitis, elbow tendonitis, carpal tunnel syndrome, or arthritis. 
One size
A mix of nylon & neoprene
Elbow brace & bonus wristband & E-book
Compression gel-like pad
Can be used on the right or left forearm
Adjustable strap
Hook & loop strap
Brand: Simien
Model: Simien Tennis Elbow Brace
Specifications: 7.87 x 3.94 x 0.98 inches
You get 2 braces. 1 elbow brace, a bonus wristband & E-book
Adjustable size
Great for any repetitive motions that cause lateral epicondylitis, elbow tendonitis, carpal tunnel syndrome, or arthritis pain
Ideal for sufferers of tennis elbow, golfer's elbow, computer or mouse elbow, rowers elbow or pool/billiard elbow
It can also be used for activities that could result in hyperextension
Suitable for use on the right or left forearm
Latex-free
Some people find the brace stretches, so over time it might not fit as snugly as it once did
Tennis Elbow BracesBuying Guide
Tennis elbow can occur as a result of overuse during work or a range of sports. Many people use orthotic devices to use on the arm to improve their function or reduce pain.
Devices that reduce pain are available in a variety of forms. Some focus more on reducing pain, while others focus more on keeping your elbows range of motion intact.
We've compiled a helpful buying guide, outlining the key features you may need to screen for when buying a tennis elbow brace.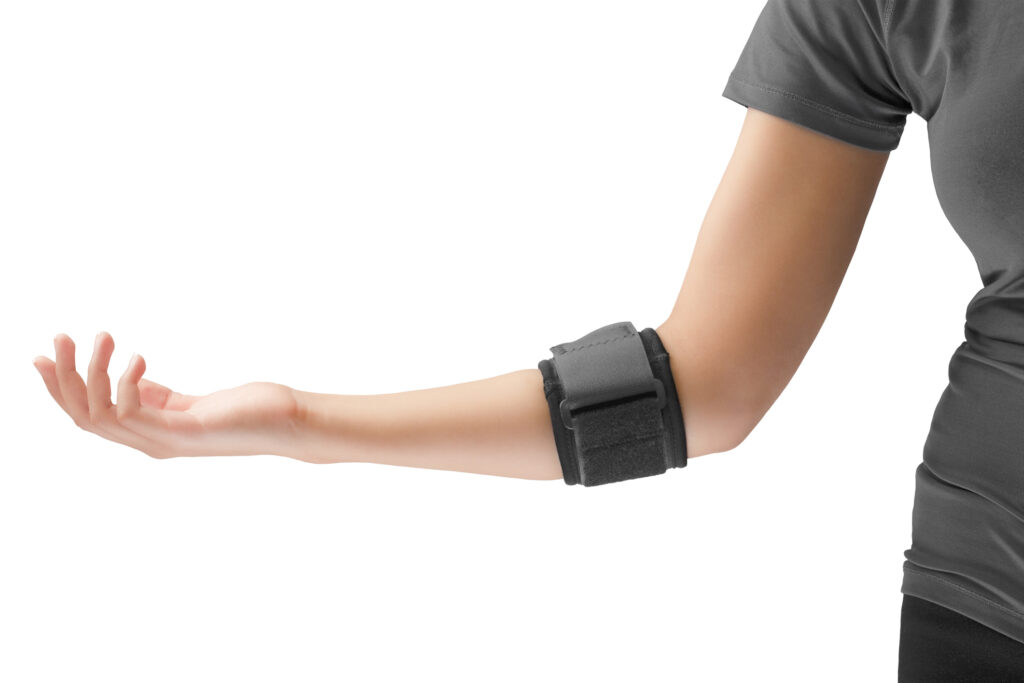 Brace Type – The brace type you select will be determined by what kind of chronic pain you have, how expensive it is, and the kind of support and pain relief it provides.
Below are the types of elbow braces and how they help to provide support and alleviate pain.
Tennis Elbow Strap –

The primary function is to exert pressure on the tendon or muscle that attaches to the lateral epicondyle.

 
It is smaller than other types of elbow braces, providing coverage for a smaller area of the arm.
It's light, provides flexibility, and enables a healthy range of motion. The tennis elbow strap is ideal for use if you have mild discomfort from the tennis elbow. 
Typically it should be positioned below the painful region of the elbow, not directly on the painful spot. 
Tennis Elbow Protection Pad –

Designed to assuage pains from different kinds of inflammation or tendonitis.
Generally, it has foam padding making them bulkier, and it helps to protect against injury whilst playing sports. 
A tennis elbow protection pad is an ideal device to prevent injury or to protect a sensitive area.
Compression Sleeve –

The sleeve is designed with compression fabric to help enhance blood and oxygen circulation in the forearm, bicep, and elbow by putting pressure on the painful area and giving warmth to sore joints.
A compression sleeve dual functions to prevent tennis elbow and treat chronic pain emanating from inflammation or tendonitis. The sleeve covers the forearm and elbows joint.
It offers a full range of motion while reducing tennis elbow pain and soreness, making it an ideal device to wear if you are doing high octane sports such as basketball, tennis, golf, etc. 
A compression sleeve is typically pricier than other types of tennis elbow pads or straps.
Materials – Opt for a tennis elbow brace that is made from breathable fabric, to avoid sweat and itchiness. 
You want something that is skin-friendly and yet stays put and does not slide down when you are engaging in work or playing sports.
Tennis elbow braces can be made from a few different types of materials. 
Neoprene –

Neoprene offers breathability and absorbs moisture, along with providing stretching. This makes it ideal to provide durability.

Nylon and Spandex –

Many tennis elbow braces comprise a nylon and spandex blend. This combination of materials offers a lightweight brace that regulates temperature.
Both nylon and spandex have moisture-wicking fibers, so you stay dry in heat or when you are sweating.
Nylon Mesh –

Nylon mesh is excellent for regulating temperature while staying flexible around the elbow joint, ensuring continuous airflow.

Silicone –

Some tennis elbow braces have a silicone lining that prevents slippage when playing sports.
Silicone lining gently clenches to the skin, ensuring the elbow brace stays snugly in place.
Size – Ideally opt for a tennis elbow brace that offers a few different sizes so that you can select the correct fit using a sizing chart where possible.
There is nothing worse than having an elbow brace that is either too loose and does not provide any support or compression and slips or too tight and is uncomfortable to wear. 
Price – At the lower end of the spectrum a tennis elbow costs around $15 and at the premium end it can be north of $50.
If you are looking for an elbow brace that allows the pressure to be adjusted, expect to pay closer to $50 and above. 
If your budget permits, select a tennis elbow brace that offers four-way stretch nylon and has stabilization technology.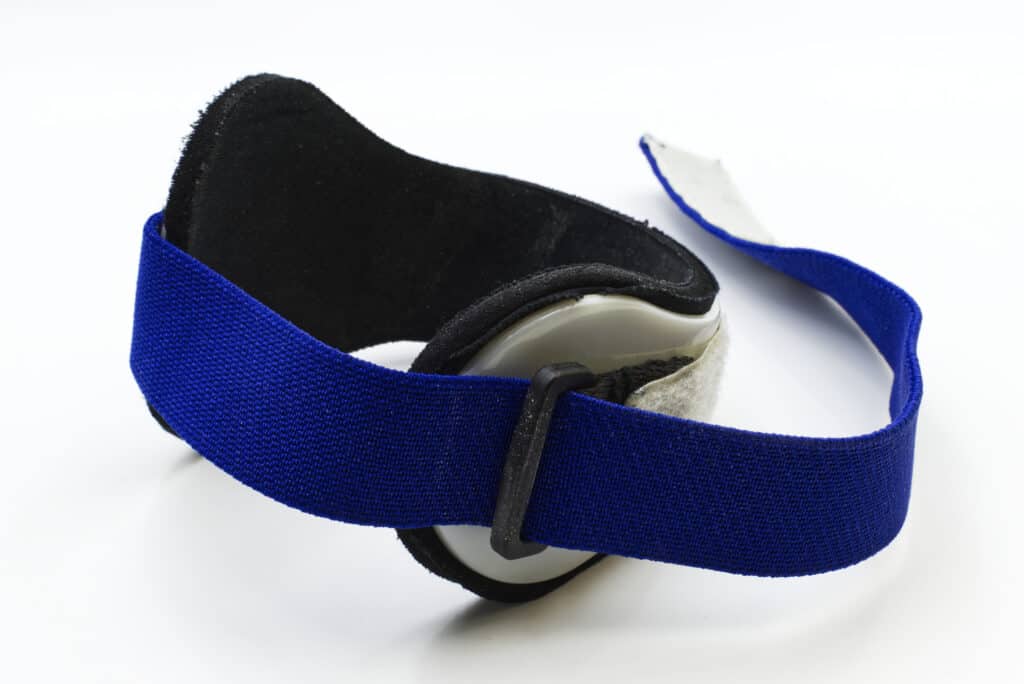 How do I use a tennis elbow brace?
It's important to choose the correct size tennis elbow brace, that's not too tight and uncomfortable to wear and not too loose so that you get the right support and compression if the tennis elbow brace you've selected is a compression sleeve.

Some braces allow the straps to be adjusted while other elbow braces should be worn more like a sleeve and are made from stretchy materials.

If you have a tennis elbow brace with adjustable straps, wrap the strap around your forearm.

Pay attention that the strap is secured just below your elbow and that the cushioned part of the elbow brace is placed above the painful area.

Loop the strap through the brace around to the velcro and secure it in place. You can then adjust the straps until it feels comfortable.
How long should you wear a tennis elbow brace?
It is advisable to wear an elbow brace for the duration of activities that create discomfort or require repetitive actions to the wrist, hand, and forearm.

You should aim to take periodic breaks from using the elbow brace, to ensure healthy blood flow is being reached to the inflamed area to promote healing.

Signs that you are wearing your elbow brace too much include redness or irritation in the area where you are wearing the brace or discoloration or puffiness in your hand or wrist.

It is always advisable that you are consulting your physical therapist, to ensure you are wearing your tennis elbow brace correctly.
Can you wear a tennis elbow brace at night?
As a general rule of thumb, tennis elbow braces should not be worn to sleep or when resting at home.
Tennis Elbow BracesSOURCES
9 Best Acupressure Mats (Buying Guide) in 2021
Acupressure is an alternative massage therapy that involves applying pressure to targeted points on your body, which help to relieve pain, reduce stress and provide a multitude of other benefits. In ancient times yogis would lay on a bed of nails, in line with the practices of acupressure. In modern times, the bed of nails has evolved into acupressure mats. Acupressure mats are a great way to get pressure point therapy in an inexpensive way in your home. With so many acupressure mats out there it can be a maze to know which one to select. We've scoured through countless mats to bring you the top picks for acupressure mats. Leaving you to lay back and target those pressure points!
7 Best Cold Therapy Machines (Buying Guide) in 2021
A cold therapy machine, also known as an ice therapy machine is a device that provides cold compression therapy whilst providing a cold effect in the comfort of your humble abode. Cold therapy is an excellent treatment for sprains, muscle soreness, inflammation, and people suffering from sports-related injuries and post-operative surgery recovery. The classic cold therapy machine is designed with an ice bucket, a tube that is connected to the ice bucket, and a cold therapy pad. The pads can come in different sizes. A cold therapy machine is a must-have home recovery tool for anyone suffering from muscle soreness, recovering from post-surgery, fitness enthusiasts, or athletes. We've rounded up the best cold therapy machines that will emit ice therapy and kick-start your recovery journey!
6 Best Portable Infrared Saunas (Buying Guide) in 2021
The best portable infrared saunas provide an outstanding home spa experience, like no other. Infrared saunas offer the same benefits as traditional saunas, while at the same time offering a multitude of additional healing benefits, as infrared saunas penetrate more deeply into the skin, hence offering more in-depth cleansing and rejuvenation. We've scoured through the portable infrared sauna best sellers on the market, to bring you our shortlist of the best portable sauna experience.