With high-impact workouts such as HIIT being all the rage, people looking for a way to get low-impact cardio at home might get lost in the noise.
Indoor rowing machines are an excellent way to not only get low-impact cardio in, but they also provide a total body workout.
Rowing works more muscle groups in a singular motion than any other piece of fitness equipment.
Which muscles does rowing work is often asked? A rower works your legs, arms, shoulders and at the same time focuses on your abs which are essential in every row.
Rowing machines are great as they combine strength training with cardio and enhance muscle mass, so it's not difficult to understand the explosion of indoor rowing machines on offer.
Outlined below is our shortlist of best rowing machines to add to your at-home gym. So be a real athlete and row, everyone else just plays games!
It's no surprise that the NordicTrack RW900 Rower has made it into our top list when it brings a personal rowing coach into your home through the NordicTrack iFit experience.
The 1-year iFit family membership is included in the price.
Sporting an impressive rotating Smart HD Touchscreen means you've never been part of a more immersive experience, bringing studio workouts home to you.
The ace up the RW900 Rower sleeve is the two forms of resistance it has.
Every iFit workout features Automatic Trainer Control where world-class trainers adjust your rower's digital resistance, offering a constantly challenging workout.
Alternatively, if you like to be in the driver's seat, you can adjust your workout intensity level with manual air resistance with 26 digital resistance levels.
Rowing with confidence has never been easier, with the oversized, pivoting pedals with quick release, adjustable foot straps that keep you secure whilst you row around the world.
The ergonomic molded seat keeps your tush comfortable, so the only thing that should be testing your patience is your workout resistance level.
The RW900 Rower comes fully equipped with Bluetooth Headphone Connectivity, allowing you to drown out all the noise and focus on your iFit trainer or your music and enjoy the hum of the silent magnetic resistance.
Designed with innovative SpaceSaver technology, allows the RW900 Rower to vertically fold for easy storage.
That's not all, you get access to in-depth workout stats telling you how effective your workouts are, allowing you to constantly improve.
The icing on the cake is, the NordicTrack rowing machine supports up to four adult profiles, allowing you to share the sweat and elation with the whole family. The family race starts here!
2 forms of resistance: Automatic Trainer Controls or Manual air resistance
22-inch rotating smart HD touchscreen
1-year iFit membership included
Bluetooth headphone connectivity
Adjustable console
Auxiliary music port
Two 2-inch digitally amplified speakers
Oversized steel seat rail
Ergonomic molded seat
Oversized, pivoting foot pedals
Adjustable nylon foot straps
SoftTouch ergonomic handle
Inertia-enhanced flywheel
Silent Magnetic Resistance
26 digital resistance levels
250-pound maximum user capacity
Front-mounted transport wheels
SpaceSaver design
30 on-board workouts
Brand: NordicTrack
Model: NordicTrack RW900 Rower
Size: 86.5 L x 22.0 W x 50.4 H - inches
10-year frame warranty
2-year parts & 1-year labor warranty
Via iFit you have access to a huge library of beginner, intermediate & advanced level workouts
Automatically adjusts resistance level to match wind & water conditions for outdoor workouts
Great for people looking for a foldable rowing machine to save space
Ideal for people seeking a quiet machine
Supports 4 user profiles
Has dual resistance
Expensive
iFit membership costs extra after the first year
Maximum user weight capacity is on the lower side, only 250 pounds
Rowing MachinesBuying Guide
Before you select the perfect indoor rowing machine to recharge your home exercise routine, let us help you with identifying your needs and the key features you may want to screen for.
Leaving you to simply set up your cool rower and start rowing asap!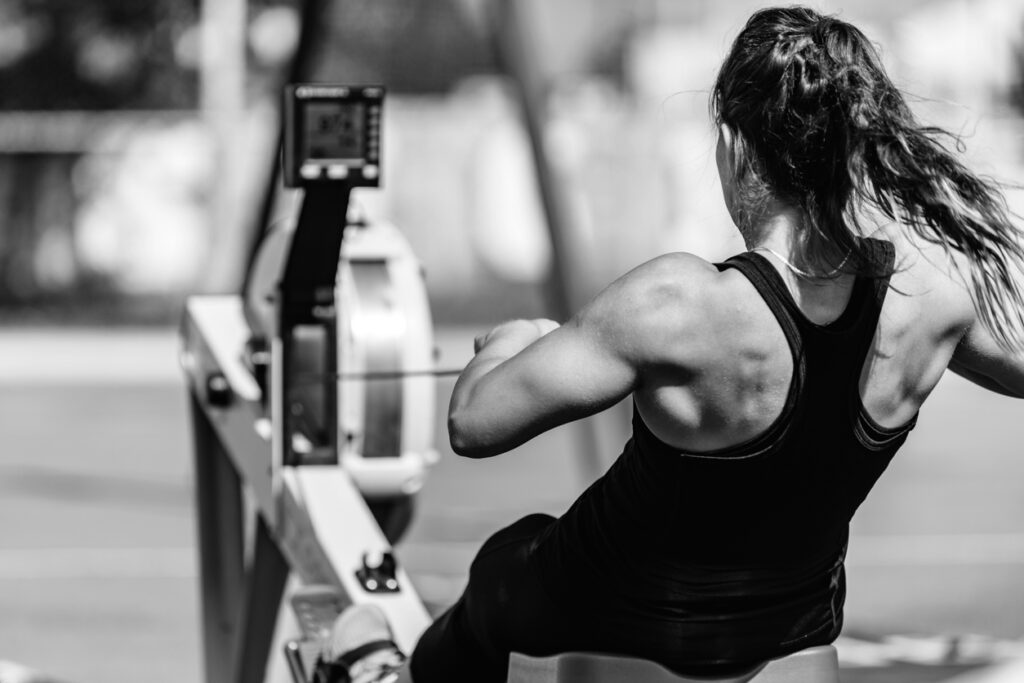 Resistance Type
One of the most important facts that you should focus on when buying a rowing machine is the type of resistance the machine has. There are four main resistance types:
Air Resistance – Air is the most common resistance type. It uses a fan to create resistance. The resistance level is regulated by a user's rowing intensity. 
The faster you row, the more the resistance increases. The slower you row, the less resistance there will be. 
Air resistance is ideal if you want to be in control of your workout as you are determining the level of intensity through your rowing. 
On the other hand, air resistance rowing machines can be quite noisy and they can be bulkier and more difficult to store.
Piston / Hydraulic Resistance – Hydraulic cylinders are connected to the arms of the rowing machine creating resistance. 
It is possible to adjust resistance and the hydraulic pistons that are used to create the resistance are super quiet. 
As a model, these rowing machines are more compact and less expensive. So if you are on a budget and want something quiet for your home a piston/hydraulic type would be a good option. 
If however, you're seeking accurate rowing motion and a smooth rowing experience, then the piston/hydraulic rowing machine may not be your top choice.
Water Resistance – These rowing machines are probably the closest thing to a true to life rowing experience outdoors. 
Resistance comes from a water tank and the resistance increases as your pace of rowing increases. You can adjust resistance and pressure by adding or removing water from the tank. 
Water-resistance models are the second noisiest rowing machines after air resistance models. However, some find the noise of water quite soothing and tranquil.
From a price point perspective, they are the highest priced rowing machine on the market.
Rowers with water resistance are a good option if you are seeking to have greater control over your workout, want the flexibility to modify resistance and pressure and the rowing experience is smooth without any jerkiness. 
If however, you are looking for a rower that is portable and compact and the gushing sound of water is a nuisance to you, then a water resistance model is probably not for you. 
Magnetic Resistance – The magnetic braking system used to provide resistance creates little to no noise. Resulting in a quiet and smooth rowing experience. 
Magnetic rowing machines are very durable, with very little maintenance required. 
Features
Preset Workouts – If you're a beginner-level rower or lead a busy lifestyle you may not have the time to create your own workouts. 
If you prefer preset workouts, which allow you to plug and play, then look for higher-end models that have a good range of preset workouts to choose from. 
Console – Are you training with a specific goal in mind or just trying to get low-impact cardio under your belt? 
What metrics do you want to see displayed? Time, distance, speed/intensity, heart rate, and finally the rate of your stroke. 
Cheaper rowing machines may show only the bare basics. If you want more detailed metrics, you'll have to opt for an upper-end rowing machine. 
Phone/Tablet Holder – If you want to stream something on a smart device during your workout, you want it to be in a safe and secure position, preferably at eye level, so that you are not straining your neck and head. 
Foldable – Will you have a fixed location for the rowing machine, or are you looking for something to fold and store after usage? 
A foldable rowing machine enables you to fold up the lengthy side rail of the rower, saving you storage space.
Wheels – If you do opt for a foldable rowing machine, you want a model that you can move with ease to fold and store and unfold and use. 
Models that have wheels make it much easier to move around and store. 
Comfortable Seat – You want to make sure that you have a comfortable seat that you are not fidgeting in, allowing you to work out for extended periods of time. 
A comfortable seat will also help you maintain proper form and technique and allow you to focus solely on executing your workout. 
Adjustable Foot Straps – You want to ensure that the rowing machine you select offers the flexibility to adjust the snugness or looseness of the footpads so that your feet are strapped in with the right comfort. 
Especially if more than one user is using the machine and will constantly be adjusting straps. 
Smart Features – For some people, working out is a chore and they welcome the distraction via smart features. 
Do you want to have streaming capabilities? Bluetooth connectivity? WiFi? The capability to connect with third-party apps allowing your workout to fly by?
Other Considerations
Drive Mechanism – Every rowing machine comprises the handlebars you pull and the thing that creates resistance. The two most common mechanism that connects these two different components are:
Belt –

A belt is quiet and cheap, and overtime experiences wear and tear. Well-engineered belts offer a smoother experience.
Chain –

A chain is more expensive than a belt and durable, however, it is noisy. 
Noise – If you live in an apartment or house with other people, you want to be mindful of how noisy the rowing machine you're using is.
If you live in a building where noise carries easily, you may be disturbing your neighbors. 
On the other hand, if you live on a sprawling estate with no one to annoy, go forth and buy any rower. 
Size – The average rower comes in the same size, and they take up quite a bit of space when being used. 
Unless you have a dedicated gym in your home or a fixed spot for the rowing machine, you may want to opt for a compact rowing machine that gives you the option to fold up the slide rail and offers compact storage. 
Quality – You want to get something that is sturdy in build and will last and offers a smooth rowing experience. 
The type of resistance the rower has as well as the features it has will all contribute to the overall quality. 
Strive for the highest quality rower you can buy for the budget you have.
Price – How much you are willing to spend is key to the final rower you'll end up with.
An average indoor rowing machine can cost as little as $200 and go as high as $2,600. If you are on a mid-range budget opt to pick up a rower around the $1,000 – $1,200 mark.
If money is no object, then opt for a water rower. Alternatively, if you are on a shoestring budget, then go for a magnetic resistance rower which is cheaper. We have also identified the best budget rowing machine for those of you who are price-conscious.
Trials & Returns –  Is there a trial period? Does the model come with money-back guarantees? 
Many brands will offer a 28-day money-back guarantee providing you return the rower in its original packing and you pick up the tab for return costs.
Warranties – Read the fine print and be clear who the warranty is with. Typically the warranty is with the original manufacturer. What duration is the warranty for? 
Does the warranty cover in-home repairs during your warranty period? Does this include both labor and parts for the repair?
Is there an opportunity to extend the warranty? Do your homework.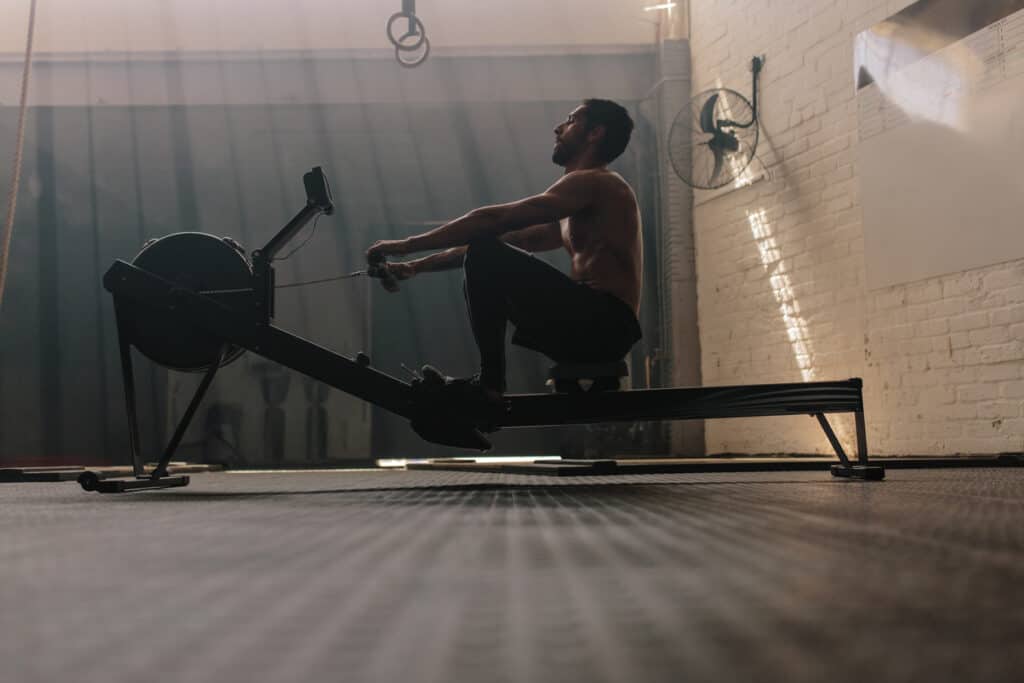 What is an indoor rowing machine?
A rowing machine also referred to as an indoor rower, is a machine designed to simulate the motion of rowing in the water enabling low-impact cardio exercise.

If you plan to use a rowing machine at least three times a week, it will most likely cost much less than a monthly gym membership, plus you get to work out in the privacy of your own home.
What are the benefits of working out on a rowing machine?
A rowing machine has multiple benefits. First and foremost rowing is a low-impact cardio exercise involving smooth flowing action, which involves very little stress on the joints.

Rowing comes with a real meditative and harmonious quality, often triggered by the rhythm of motion which allows your mind to be focused on the task at hand and helps to reduce stress levels.

Whatever your fitness goals are, whether it's weight loss, or to improve your cardio or endurance, or to promote muscle growth, or simply improve your rowing technique, rowing entails a total body workout.

One full rowing stroke uses your legs, arms, your abs, and your back all at the same time. A rower can burn up to 1,000 calories an hour, as rowing consumes more calories over a wide range of muscles.
How long should I work out on a rowing machine?
This depends on your weekly schedule, your fitness goals, and what other workouts you plan to do in conjunction with your rowing.

As a general rule of thumb, you should aim to work out at a moderate intensity for a duration of 30-minutes at least 5 days a week, or for a duration of 15 minutes at high intensity 5 days a week.

Many rowing machines have numerous preset workouts built-in which makes it easier for you to work out for the appropriate duration at the right intensity level, without you having to figure this out.
What is the proper rowing machine form?
It is key that you work out safely and with the correct rowing machine technique to yield all the physical benefits a rower has to offer, to avoid injuries.

There is a multitude of good videos on YouTube, which demonstrate step-by-step the correct rowing technique.
What is the best rowing machine for your home?
If you live in a building where noise carries easily or you need to be mindful of neighbors adjacent to you or living below, then you should avoid getting rowing machines that make a loud noise and vibrate a lot, such as air rowing machines.
Should I wear rowing gloves with a rowing machine?
This depends on your personal preference. Many rowers dislike wearing full mittens when using an indoor rowing machine and over time they get used to the blisters and calluses.

On the other hand, for some users having half mittens that protect your hands from blisters, allowing your grip to remain firm is a huge help in staying comfortable and being able to row for longer durations.

Rowing gloves are not a must. If you prefer them, opt for the half mitten workout glove style.
10 Best Waist Trimmers (Buying Guide) in 2021
Using waist trimmers alone will not help you lose weight or achieve your fitness goals. If you incorporate waist trimmers into your lifestyle alongside exercise and a healthy diet, you will experience a multitude of benefits. Many waist trimmers have thermionic characteristics, which stimulate sweating, enabling the detoxification of the fat in your stomach. Waist trimmers are also ideal in providing back support, enabling you to conduct delicate poses with the correct form and posture. Waist trimmers are a great tool to help you lose unwanted inches in the midsection and get a trimmer waist. We rounded up the best waist trimmers on the market, leaving you free to focus on working off those inches!
8 Best Slam Balls (Buying Guide) in 2021
Slam balls are an exceptional way of incorporating weighted plyometric moves, such as jumps and other explosive moves into your exercise regime. Explosive moves help increase your muscle strength from your shoulders, your core, right to your toes, giving you a full-body workout. The beauty about slam balls is they are a relatively inexpensive piece of equipment to add to your home gym or your commercial gym. They come in several different weights, ranging from as small as 8 pounds to 30 pounds in weight. There are so many versatile moves you can do with a slam ball from squat throw to sprint, scoop overhead throws, overhead slams, reverse lunge to chest pass, Russian twist, to slam ball sit-ups. We've rounded up the best slam balls available so that you know how to distinguish between a classic slam ball and other types of balls on the market. It's time you got strength and plyometrics into your workout, improving your coordination. What are you waiting for, slam that ball hard!
7 Best Chest Expanders (Buying Guide) in 2021
These days it's quite common to look for inexpensive and compact fitness devices that offer wide-ranging resistance training. Chest expanders are excellent for providing resistance training in your home or when on the go. You get resistance with tubes made from rubber or other elastic material to help build muscles in the upper body. Many chest expanders enable the resistance to be adjusted, so the stronger and fitter you become you can adjust the resistance progressively. Chest expanders are ideal for sculpting and building upper body strength and improving flexibility, and are great for men and women. We trawled through countless chest expanders to bring you our top picks. Leaving you to stand tall and expand your sculpted chest with pride!