Wedge pillows have a triangular shape, with a gradual incline. The slope of a wedge pillow enables the upper body to be inclined, supporting the head, neck, shoulders, by propping it on a mattress.
A wedge pillow can also be used to elevate the lower part of the body, increase poor circulation, and help ease heartburn symptoms.
We've reviewed the brand of top wedge pillows, so you can get a good night's rest and improve your health!
Quell snoring, gastroesophageal reflux, and heartburn through improved breathing and circulation that may be impaired in the supine position, with a top-of-the-range Helix Wedge Pillow. 
Ideal for reducing neck pain, while elevating your legs with Helix can provide back support and help reduce pressure on your lower back.
Featuring gel memory foam and polyurethane foam, ensures you get good density and support, and temperature regulation for all your hot sleepers.
Made in the USA, backed with a solid 1-year warranty and a 100-night sleep trial, means you can take the Helix Wedge Pillow for a trial spin, without losing any sleep.
The Helix Wedge Pillow is designed to make you comfortable and address medical problems that may be hindering your sleep.
Gel memory foam & polyurethane foam
Made in the USA
Standard size
The cover is machine washable
Cover is a blend of rayon & polyester
Hypoallergenic
Height 10-inches
Brand: Helix
Model: Helix Wedge Pillow
Specifications: 24 x 24 x 10 inches
1-year limited warranty
100-night sleep trial
Free delivery in the US
Features breathable cover
Versatile for feet, back & upper body
Cooling gel memory foam, great for hot sleepers
Ideal for side sleepers to support neck & shoulders
Perfect for reading, working, or watching TV in bed
On the pricey end
Available in 1 standard size
Wedge PillowsBuying Guide
Wedge pillows offer wide-ranging benefits from helping you to sleep in a comfortable position, alleviating chronic pain in the neck and shoulder, to controlling acid reflux at night, to name just a handful of benefits.
It can get quite overwhelming to know which wedge pillow is right for you. We've outlined the selection criteria you may want to consider, making your wedge pillow shopping expedition easier.
Allowing you to sleep like a baby!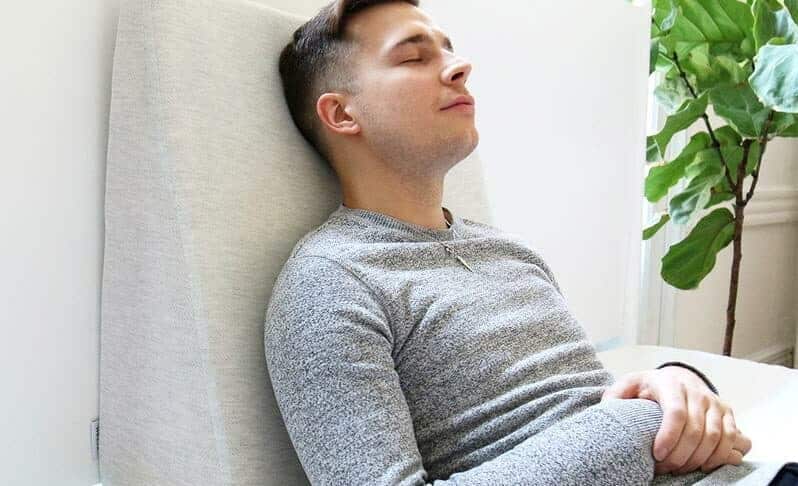 Material – Wedge pillows are predominantly made of high or medium-density memory foam. Some wedge pillows consist of multiple layers of foam or a single layer.
There are a few other materials that wedge pillows can be constructed from. 
Memory Foam –

Memory foam is a viscoelastic polyfoam that becomes soft and when it comes into contact with body heat it conforms close to the body and has high density. 
This gives sleepers pressure relief for the neck, head, and shoulders.
Memory foam can have heat retention properties, so look for pillows that infuse memory foam with gel or look for shredded foam that allows significant ventilation. 
Feather –

Down and feathers are two different types of materials. Down pillows are made from the soft wing, chest, and back feathers of geese or ducks.

If more fill consists of clusters the pillow is warmer, soft, feather-light, and fluffy, and expensive. 
Other feathers from ducks and geese can be used that are not down.
Down and other feathers are not commonly used in wedge pillows as they do not offer the firmness or support a wedge pillow design requires.  
Polyester –

Made of polyester fibers, pillows made from this material have reasonable cooling properties and are an attractive option for budget shoppers.
Pillows made from polyester can be machine washed which is an advantage.
On the flip side, polyester does not have the best airflow circulation and hence, does not breathe well.
Latex –

There are two types of latex. The first type is natural latex, which is made from the sap of rubber trees and the other is synthetic latex, which is a man-made chemical product.
If a pillow is made of latex, it is usually constructed from both natural and synthetic latex.
Covers – The lion's share of wedge pillows have covers that are made from synthetic fabrics, such as bamboo, polyester, or rayon. 
Size – What size pillow are you looking for? A typical wedge pillow measures 20 to 24 inches in both length and width. The height of wedge pillows can vary.
This size is sufficient to provide cushioning to the head, neck, and shoulders, and to support the lower body if you want to elevate your legs, or feet.
How big is your bed? If you have a smaller bed, opt for a smaller pillow. Larger wedge pillows are a good option for a Queen or King size bed.
Shape – Wedge pillows have a triangular shape, with a gradual slope from the lowest point to the highest part of the pillow. 
Some models have a flat pillow surface and other models have a contoured surface. 
Incline – You can determine the incline of a wedge pillow in degrees or inches. An average wedge pillow height will be anything from 6 to 12 inches or 30 to 45 degrees. 
Which height is best for you depends on the purpose you want to use the wedge pillow. If you want it for sleeping, you should opt for a lower height.
If you have acid reflux or suffer from sleep disorders such as sleep apnea, you may find a higher height more beneficial for you. 
Weight – The weight of a wedge pillow very much depends on the type of material fill and density it is constructed of.  
A wedge pillow needs to be denser to provide the right support at an inclined position. If a pillow is too light, it may move during the night if you toss and turn. 
Pick a wedge pillow that is heavier than a regular pillow with high density. Latex and memory foam pillows are on the heavier end of the spectrum, weighing about 10 to 12 pounds.
Firmness Level – Wedge pillows are commonly crafted with a solid block of foam, resulting in them being medium-firm to medium firmness. 
Wedge pillows need to be firmer than a regular pillow, to allow them to retain their shape and provide sufficient support to a sleeper while keeping them elevated.
Some wedge pillow models allow sleepers to rotate the pillow, allowing greater flexibility to adjust the firmness feel.
How firm your pillow should be is also impacted by the kind of sleeper you are. A medium-firm wedge pillow may be suitable for side sleepers, while back sleepers may prefer a more firm pillow. 
Pressure Relief – You want a pillow that provides support, spinal alignment, and offers pressure relief for your neck and shoulders and other areas of your body. Latex and memory foam are ideal picks to provide pressure and pain relief. 
Temperature Regulation – If you are a hot sleeper, you may also want a wedge pillow that helps to regulate temperature. 
Foam naturally tends to retain heat, so you may want to look for a wedge pillow that has gel-infused foam, which wicks away heat from the body. 
Or look for wedge pillow covers that are made from breathable material which promotes good airflow circulation. 
Sleeping Position – Give some thought to what position you typically sleep in. This impacts how much support you need and the firmness level of the pillow.
If you're a back sleeper you may want a wedge pillow that keeps your head and neck supported so that your head doesn't tilt too forward or back. 
If you're a side sleeper you want to look for a pillow that provides medium support and pressure relief to your neck and shoulders. 
Maintenance – You'll probably be using your wedge pillow every night, if not regularly, so it's important to know how you can clean it. Always follow the care instructions. 
Most wedge pillow covers can be removed and washed. Look at whether they are machine washable or are they hand-wash only? 
When the pillow is not in use, how easy is it to store? How convenient is it to travel with the wedge pillow? 
Lifespan –  Ideally you're buying a wedge pillow made from quality materials, that is durable over time, however for peace of mind you want to check if it comes with a warranty.
On average wedge, pillows should have a warranty ranging from 1 to 3 years. 
Price – Expect to pay between $50 and $100 for a quality wedge pillow. If your budget allows, you'll get your money's worth. 
You can find wedge pillows below $50, but they are not likely to last long, and the likelihood of them sagging with consistent usage is high.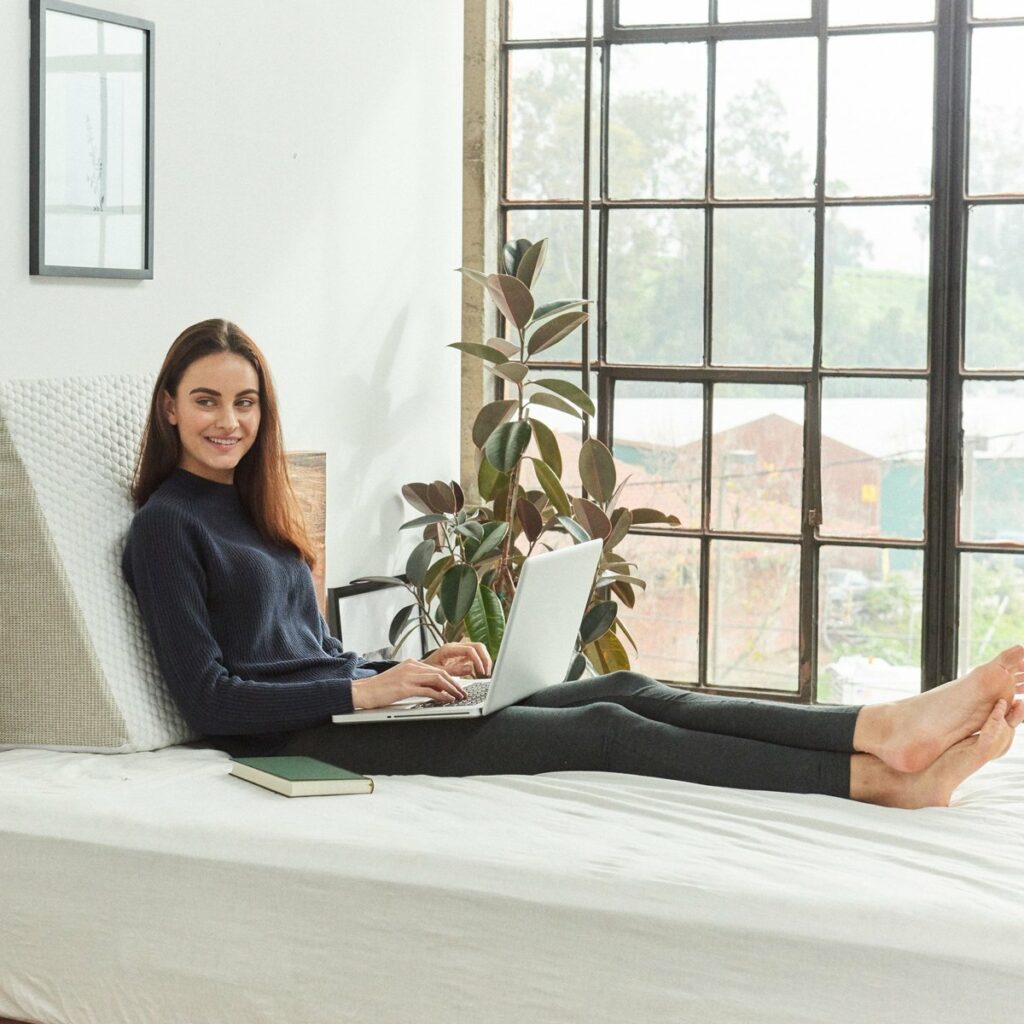 What is a wedge pillow?
A wedge pillow is an orthopedic pillow that can help sleepers suffering from a range of ailments. Wedge pillows have a triangular shape, with a gradual incline.

The slope of a wedge pillow enables the upper body to be inclined, supporting the head, neck, shoulders, and upper back during sleep.

A wedge pillow can also be used to elevate the lower part of the body, increase poor circulation, and reduce inflammation.

A wedge pillow can also be used for other activities where you want to maintain an upright position, such as reading, watching TV, and a range of other activities while you are awake.

Whilst wedge pillows can be made of a few different types of material, they are predominantly made of foam. This helps the pillow retain its shape, and support elevation without sagging over time.
Who should use a wedge pillow?
Wedge pillows are often used by sleepers suffering from snoring, sleep apnea, acid reflux, poor circulation, pregnant women, and sleepers with back, neck, or shoulder pain, to name a few.

Wedge pillows can also be used for people who like to sit up in bed and want to use the pillow as a head or backrest.
Are wedge pillows adjustable?
Some wedge pillow models come in different heights. If you want a wedge pillow for sleeping, opt for a height around 6 or 7 inches.

If you want a wedge pillow to sit upright in bed, you may prefer a higher height. Some wedge pillow models are adjustable.

Adjustable wedge pillows may have a design that allows them to be folded or they comprise different layers, allowing you to remove some of the layers to suit your incline preference.
11 Best CBD Oils (Buying Guide) in 2021
Countless people suffer from pain, exercise-induced inflammation, blood pressure, and sleep ailments around the world. So it's not really a surprise that an increasing number of people are taking CBD oil products (Cannabidiol) to aid their sleep problems. With so many CBD oils available in an unregulated market, and the CBD legal status in flux, how do you know which CBD products to choose from? Not all CBD oil products are made equal, and fewer still stand up to the scrutiny of high-quality CBD oil production, rigorous testing, strict sourcing guidelines, sharing their Certificate of Analysis and extraction process with consumers. We scoured through the complex maze of Cannabidiol extracts sold online to bring you the informative guide to buying the best CBD oils. So whether you're seeking solace from neuropathic pain, or treat epilepsy, or seeking some calm from anxiety, or simply look to have a better night's sleep, relief is here for you via nonprescription CBD products.
13 Best Alarm Clocks (Buying Guide) in 2021
It would be nice if your body clock woke you up naturally at the precise time you desire wouldn't it? The reality is we all start our day with a wake-up call or an alarm clock. Most people have a mobile phone and may just use the alarm features on their phone. So why create all this fuss and attention around a simple device such as an alarm clock when you have a mobile phone? Truth be told, an alarm clock is one of the most used devices by people, and whilst its true phones come with a basic alarm functionality that may suffice for many folks. There are many sleepers who need a smart alarm clock with a variety of functions to suit them, characteristics they don't get with their phone alarm clock. With a variety of choices on the market for smart alarm clocks, many alarm clocks do so much more than just tell the time and an alarm timer. We've put together a list of the best alarm clocks to suit your lifestyle, your morning routine, and sleep habits.
5 Best Blue Light Blocking Glasses (Buying Guide) in 2021
Our houses are bathed with devices emitting blue light, such as a computer, television, iPad, and other electronic devices. All transmitting artificial blue light to us in the evening. It's no surprise that at the end of our long day we all want to search and surf on digital screens at home and get our precious screen time. At the same time, we want to ensure we're getting enough sleep and our body clock is in sync with waking up in the morning and feeling invigorated and feeling calm, winding down and ready to sleep in the evening. There is more and more research out there that suggests we should reduce the amount of blue light we are consuming in the evenings so that it does not interrupt our sleep-wake cycle. If we don't want to change our lifestyles drastically by eliminating access to all exposure to blue light in the evenings, we need to consider reducing how much blue light we consume. The best way to reduce blue and green light consumption is to wear blue light blocking glasses for 2 to 3 hours prior to going to bed. This way you get to have your screen time, minimize your eye strain and your sleep rhythm isn't interrupted. Sounds like a plan right? We navigated through the maze of glasses that block blue light, which offer you the digital eye strain protection you need.