Staying Alive is reader supported. When you buy through our links, we may earn a commission.
Learn More >
The Best Arthritis Gloves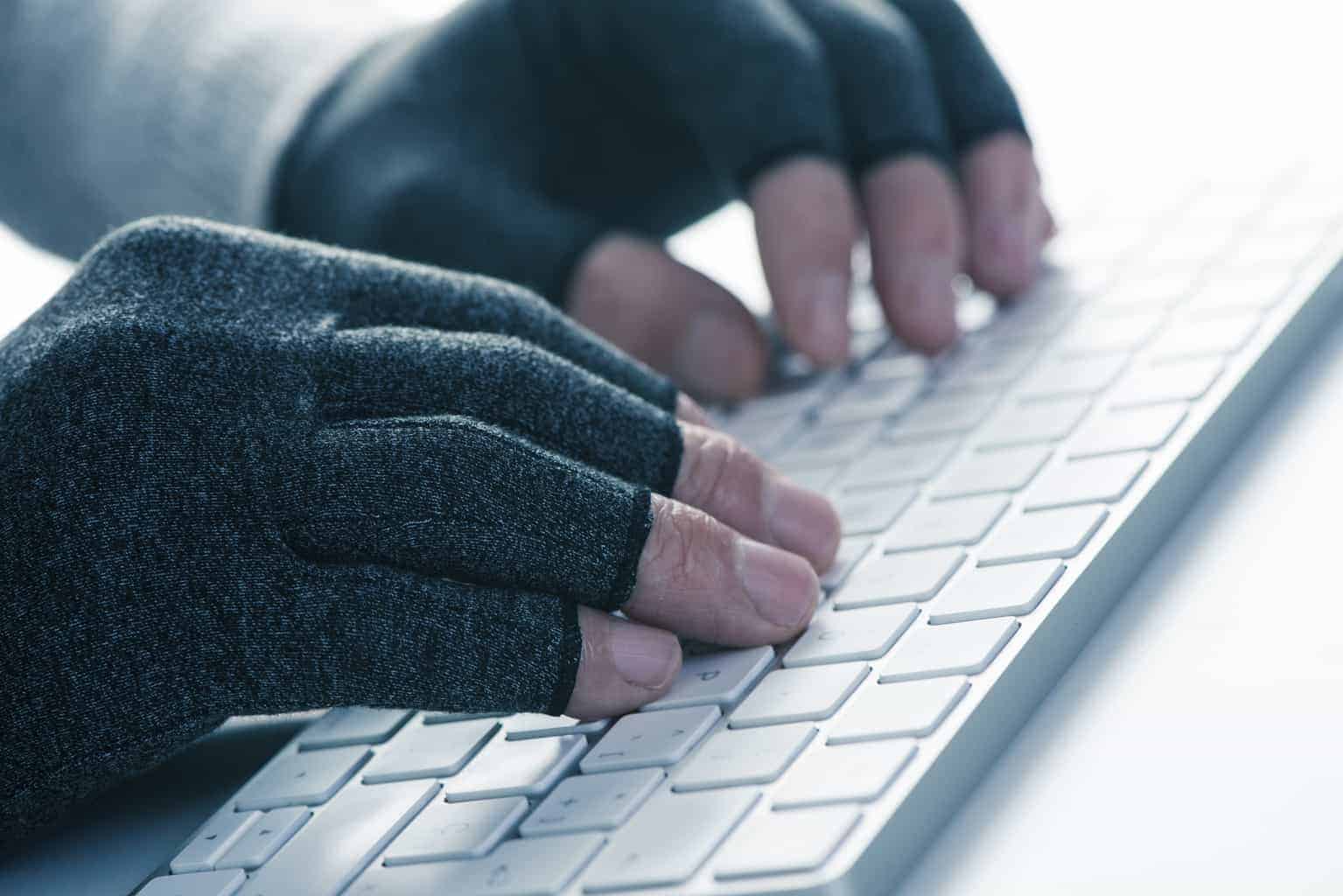 An increasing number of people are being diagnosed with arthritis pain. Some of the symptoms of this inflaming disease include stiffness, pain, swelling, and a restricted range of motion in your hands and fingers.
Many people suffering from arthritis symptoms in their hands experience diminished hand function or increased difficulty in accomplishing daily tasks, such as gripping something.
Arthritis gloves are designed to alleviate muscle pain and soothe joint pain. Some arthritis gloves apply compression and are known as compression gloves, with some offering support and others offering heat.
If you wear arthritis gloves they help to relieve arthritis pain in the hands and fingers, increase blood flow and promote dexterity in your daily tasks.
Whether you opt for classic arthritis gloves that offer support, compression gloves, thermal gloves, or vibrating gloves, arthritis gloves are ideal therapy gloves that are an economical solution providing arthritis relief.
We went through countless arthritis gloves available on the market, to bring you a shortlist of the best picks to tackle arthritis symptoms. Allowing you to get your daily chores done in greater comfort.
Table of Contents
10 Best Arthritis Gloves in 2023
Arthritis Gloves Buying Guide
Many people's daily life is significantly impacted due to the arthritic pain they suffer from in their hands.
Whether you suffer from arthritic pain in your wrists, hands, fingers, or thumbs, doing your daily chores can become difficult if not impossible.
Arthritis gloves can provide welcome relief from pain, swelling, aching joints, and enable you to retain your dexterity and range of motion.
With a range of arthritis gloves out there, it's important to know what gloves provide what type of support, flexibility, and whether that suits your needs.
We've outlined key characteristics to look for when shopping for a pair of much-needed arthritis gloves.
Arthritis Gloves
Arthritis gloves are a great way to keep your hands warm and still do everyday tasks.
There are different types of arthritis gloves that people with all stages of arthritis can use to help with pain from dexterity issues, decreased hand dexterity, and fatigue from cold extremities.
The best arthritis gloves will have good insulation for cold weather but they will not be puffy to make it hard for you to grip items.
Arthritis Gloves should fit properly and not be too tight or too loose. Arthritis gloves are made from both cotton and wool, but mostly polyester because it is water-resistant, easier to grip items with and it dries faster.
There are also arthritis gloves that have a special material on the palm of the glove to help you grip things better.
There are even some arthritis gloves that have magnet technology in them.
Benefits of Arthritis Gloves
Arthritis gloves are designed to alleviate some of the discomfort caused by arthritis and other similar conditions.
Arthritis is a disease that affects the joints, often making them unbearably painful when used or moved.
This can make even simple everyday tasks almost impossible without demanding lashing out in pain - which can be more painful still for sufferers.
The most common type of arthritis gloves is designed to relieve this pain by acting as a barrier between the injury and any movement, protecting both the hands and arthritic joints in one go.
They also commonly feature grips or other features which allow people suffering from arthritis to hold on to objects without dropping them.
The most popular arthritis gloves are easy to slip on, comfortable for the wearer to use, and are also often water-resistant or waterproof, allowing them to be used in any weather conditions without discomfort or irritation.
When choosing arthritis gloves it's important that their design matches your needs as well as is practical. Their appearance can play a big role in this too - many of them are made to look like ordinary gloves.
These gloves work by separating the joints involved in moving the hands and fingers from any activity or pressure so that they can't be jarred or moved.
The primary aim is to stop pain from being added to already inflamed joints which are sensitive because of arthritis, but many sufferers also find they hold warmth in to help ease the pain.
They're designed to be comfortable and flexible enough that they can be worn all day without discomfort, but also durable enough to stand repeated use.
When arthritis gloves are worn, the wearer's hands are protected from injury as well as pain.
Features of Best Arthritis Gloves
Types of Arthritis Gloves
The type of arthritis gloves you opt for will be influenced by the type of pain you have in your hands, how severe the swelling, muscle stiffness, and what type of range of motion you have.
Copper-Infused Gloves - Copper is known for its properties to help inflammation and swelling. They are good for relieving swelling and pain without having to pop pain killers.
Fingerless Gloves - Arthritis gloves that sport an open fingertips design are great for providing mild compression to alleviate pain and swelling. While allowing you to maintain flexibility and range of motion to still do your daily tasks.
Cotton-Spandex Gloves - They are easy to put on and take off and are great in providing relief to arthritic pain and other symptoms, however, they may prohibit your range of motion making it difficult for you to do some tasks.
Thermal Gloves - These gloves are perfect to wear during colder months when your joints may become stiff and swollen due to the cold weather. They provide mild compression, which will help keep warm blood flowing throughout your body's extremities for warmth, comfort, and pain relief.
Material
Most compression gloves are made from a comfortable fabric, especially if you plan to wear the gloves all day long.
A lightweight breathable fabric is preferable if you run hot. If you suffer from cold hands or that aggravates your hand pain, look for thermal fabric options.
Size
Make sure to measure your hands correctly, enabling you to select the correct size for you.
You don't want the arthritis gloves to be too tight that they are restricted action and constrict blood circulation. On the other hand, the gloves cannot be loose, as you need a snug fit for compression.
Grip
If you plan to wear the arthritis gloves during the day, you want to ensure they have a good grip that allows you to pick up, grip, and carry items all day long with relative ease.
Durability/Stitching
To enable arthritis gloves to provide the right level of compression the fit of the glove needs to be snug.
So make sure that you pay attention to what kind of stitching is at the seams. More menial stitching will ensure greater comfort.
Length of Gloves
Do you want gloves with full finger coverage to treat the tips of your fingers or do you prefer an open fingertips design?
Which you prefer will depend on what you suffer from and personal preference.
Period of Use
How often, or how long can the arthritis gloves be worn? Some arthritis gloves are designed to be worn for a few hours only, while other models can be worn the whole day.
Arthritis Gloves FAQ
Do arthritis gloves work?
The short answer is yes. Arthritis gloves are a great device for people suffering from Rheumatoid Arthritis and Inflammatory Arthritis.
Arthritis gloves provide pressure and warmth to relieve stiffness, pain, improve circulation, maintain dexterity and retain a healthy range of motion.
Which gloves are best for arthritis?
There are a few types of arthritis gloves available on the market from copper-infused gloves, fingerless gloves, cotton-spandex gloves, or heated gloves.
Which gloves are the best is determined by the type of pain you suffer from, the glove's ability to improve blood circulation, and how easy they are to use.
Are compression gloves good for arthritis in the hands?
Arthritis gloves that offer compression are renowned for aiding blood circulation and managing pain experienced in the hands.
Compression gloves gently squeeze the veins in your hands, which helps to promote healthy circulation and inhibiting inflammation that causes joint pain and offers welcome relief.
Arthritis Gloves Sources
BUYING GUIDE

10 Best Hand Massagers in 2023

We do everything with our hands from the moment we wake up until we go to sleep. It's ironic then, that we don't think too much about taking care of our hands with much-earned massage...

Read More