An increasing number of people are being diagnosed with arthritis. Some of the symptoms of this inflaming disease include stiffness, pain, swelling, and a restricted range of motion in your hands and fingers.
Many people suffering from arthritis in their hands experience diminished hand function or increased difficulty in accomplishing daily tasks, such as gripping something.
Arthritis gloves are designed to alleviate muscle pain and soothe joint pain. Some arthritis gloves apply compression, support and others even offer heat.
Arthritis gloves help with finger and hand pain, increase blood flow and promote dexterity in your daily tasks.
Whether you opt for arthritis gloves that offer support, compression, or warmth, they are an ideal and economical solution to managing daily arthritis pain.
We went through countless arthritis gloves available on the market, to bring you a shortlist of the best picks.
Allowing you to get your daily chores done in greater comfort.
The Best
Arthritis Gloves
If you are looking for relief from arthritis and carpal tunnel relief the IMAK Compression Arthritis Gloves are for you.
Designed to help relieve aches, pains, and stiffness associated with arthritis of the hands and boasting the Arthritis Foundation's Ease of Use Seal.
IMAK Arthritis Gloves are proven to make life easier for people suffering from arthritis and other physical limitations. 
Constructed with lightweight, breathable cotton-spandex material allows you to wear these gloves comfortably all day long. 
The unique design of the IMAK Compression Arthritis Gloves provides mild compression for warmth and helps increase circulation, which ultimately reduces pain and promotes healing.
The open fingertips design allows you complete freedom to feel, touch and grip, so you can perform your daily tasks without issue. 
Available in 5 sizes, ranging from XS to XL, the IMAK Compression Arthritis Gloves are within reach to provide welcome comfort!
Pair of arthritis gloves
88% cotton, 12% spandex
Mild compression
Open fingertips
Available in 5 sizes: XS-XL
Hand washable
Brand: IMAK
Model: IMAK Compression Arthritis Gloves
Specifications: 5 x 3.5 x 1.5 inches
Ideal for joint pain & arthritis pain relief
Arthritis Foundation Ease of Use Seal
Lightweight, breathable cotton-spandex material
Provides mild compression for warmth & helps increase circulation
Open fingertips allow you complete freedom to feel, touch and grip
Comfortable to use all day & night
Latex-free
Long enough to help your wrists
The gloves don't provide compression for the palm of the hand, only the fingers
Arthritis GlovesBuying Guide
Many people's daily life is significantly impacted due to arthritis in their hands.
Whether you suffer from arthritic pain in your wrists, hands, fingers, or thumbs, doing your daily chores can become difficult if not impossible.
Arthritis gloves can provide welcome relief from pain, swelling, stiffness and enable you to retain your dexterity and range of motion.
With a range of arthritis gloves out there, it's important to know what gloves provide what type of support, flexibility, and whether that suits your needs.
We've outlined key characteristics to look for when shopping for a pair of much-needed arthritis gloves.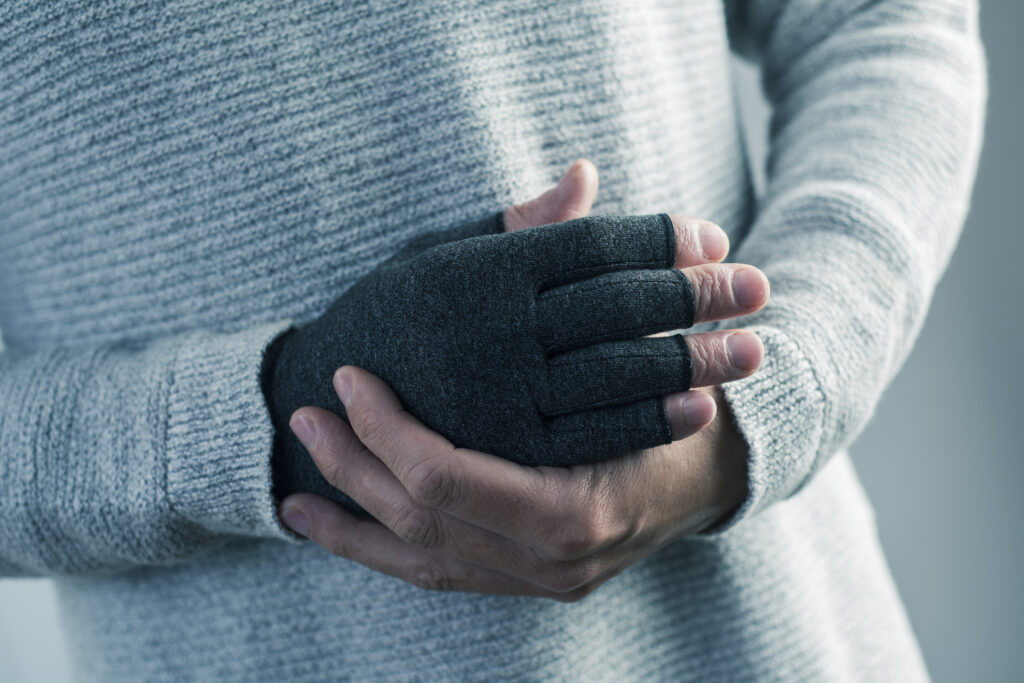 Types of Arthritis Gloves – The type of arthritis gloves you opt for will be influenced by the type of pain you have in your hands, how severe the swelling, muscle stiffness, and what type of range of motion you have. 
Copper-Infused Gloves –

Copper is known for its properties to help inflammation and swelling, without having to pop pain killers. 
Fingerless Gloves –

Arthritis gloves that feature an open fingertips design are great for providing mild compression to alleviate pain and swelling. While allowing you to maintain flexibility and range of motion to still do your daily tasks. 
Cotton-Spandex Gloves –

The blend of cotton-spandex is the usual arthritis glove you'll come across. They are easy to put on and take off. 
They are great in providing relief to arthritic pain and other symptoms, however, they may restrict your range of motion, making it difficult for you to do some tasks.
Heated Gloves –

For people who suffer from chronic conditions, having arthritis gloves that offer mild warmth is a welcome relief. 
Heated gloves are not ideal if you want to wear the gloves for prolonged periods of time and some models are more on the bulky side. They are a good option if you plan to wear them while resting at home. 
Material – You want to buy gloves made from a comfortable fabric, especially if you plan to wear the gloves all day long. 
A lightweight breathable fabric is preferable if you run hot. If you suffer from cold hands or that aggravates your hand pain, look for thermal fabric options. 
Size – Make sure to measure your hands correctly, enabling you to select the correct size for you. 
You don't want arthritis gloves to be too tight so that they restrict movement and constrict blood circulation. On the other hand, the gloves cannot be loose, as you need a snug fit for compression.
Grip – If you plan to wear arthritis gloves during the day, you want to ensure they have a good grip that allows you to pick up, grip, and carry items all day long with relative ease. 
Durability/Stitching – To enable arthritis gloves to provide the right level of compression the fit of the glove needs to be snug. 
So make sure that you pay attention to what kind of stitching is at the seams. More minimal stitching will ensure greater comfort. 
Length of Gloves – Do you want gloves with full finger coverage to treat the tips of your fingers or do you prefer an open fingertips design? 
Which you prefer will depend on what you suffer from and your personal preference. 
Period of Use – How often, or how long can the arthritis gloves be worn? Some arthritis gloves are designed to be worn for a few hours only, while other models can be worn the whole day.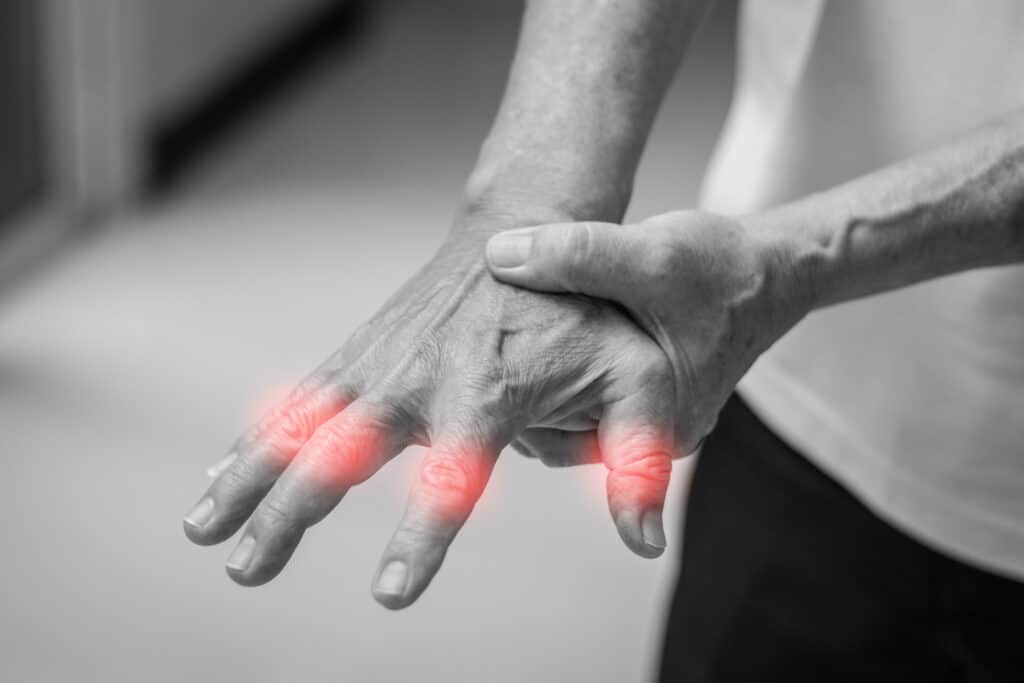 Do arthritis gloves work?
The short answer is yes. Arthritis gloves are a great device for people suffering from Rheumatoid Arthritis and Inflammatory Arthritis.

Arthritis gloves provide pressure and warmth to relieve stiffness, pain, improve circulation, maintain dexterity and retain a healthy range of motion.
Which gloves are best for arthritis?
There are a few types of arthritis gloves available on the market from copper-infused gloves, fingerless gloves, cotton-spandex gloves, or heated gloves.

Which gloves are the best is determined by the type of pain you suffer from, the glove's ability to improve blood circulation, and how easy they are to use.
Are compression gloves good for arthritis in hands?
Arthritis gloves that offer compression are renowned for aiding blood circulation and managing pain experienced in the hands.

Compression gloves gently squeeze the veins in your hands, which helps to promote healthy circulation and inhibiting inflammation that causes joint pain and offers welcome relief.
10 Best Posture Correctors (Buying Guide) in 2021
These days it's quite common to suffer from headaches, back, neck, and shoulder pain, from extended periods, hunched over a computer, having developed poor posture, or experiencing chronic pain. In an exemplary world, it would be ideal to get a personal physical therapist to come to your home to help relieve the pain, however, this is quite costly, so the majority of you need to find a solution to help rehabilitate your poor posture without breaking the bank. A highly successful way to rectify bad posture is through a posture corrector, also known as a posture brace. It's a device that's worn underneath or over your clothes and helps to retract your shoulders and align your spine to correct and retrain good posture. Posture correctors can be worn for short to extended periods of time. The more you wear them the more you'll develop a healthy posture. We trawled through countless posture correctors to bring you our top picks leaving you to stand tall and confident!
8 Best Eye Massagers (Buying Guide) in 2021
Anyone with a hectic lifestyle, who suffers from headaches, tired and fatigued eyes, puffy eyes, or dark circles will welcome a good quality eye massager. With a range of models out there offering different types of eye massages from heat, vibration, air pressure, or cutting-edge infrared technology, is available at your fingertips. Whether you prefer handheld devices or wearable eye massagers, they are ideal for men and women and offer the perfect relaxation for the eyes and surrounding muscles and rejuvenatee the eyes. Eye massagers are the perfect home remedy for your eyes, to banish those dark circles, boost blood flow circulation, giving you that bright-eyed and bushy-tailed look. We've scoured countless eye massagers to bring you our top picks to put a twinkle in your eyes!
11 Best Foam Rollers (Buying Guide) in 2021
Adding a quality foam roller can be a lifesaver for avid fitness bunnies and professional-grade athletes, who may struggle with muscle stiffness and pain. Whether you're constantly suffering from pain and soreness or you simply want something to target all the pressure points to work out tight knots after an intense training session, a foam roller from our shortlist can help alleviate knots and work on those areas of concern. A foam roller is fast becoming a feather in many fitness enthusiasts' recovery armors. Using a foam roller pre-workout can help to loosen muscles and improve flexibility. Post-workout usage of a foam roller can help relieve sore muscles, preventing muscle stiffness, and helping recovery for your next workout. As they say, the faster you recover the more successfully you train. Whilst many rollers may cause discomfort during usage, with regular usage the discomfort dissipates, so stick with it. Short-term pain for long-term gain!