Staying Alive is reader supported. When you buy through our links, we may earn a commission.
Learn More >
The Best Down Comforter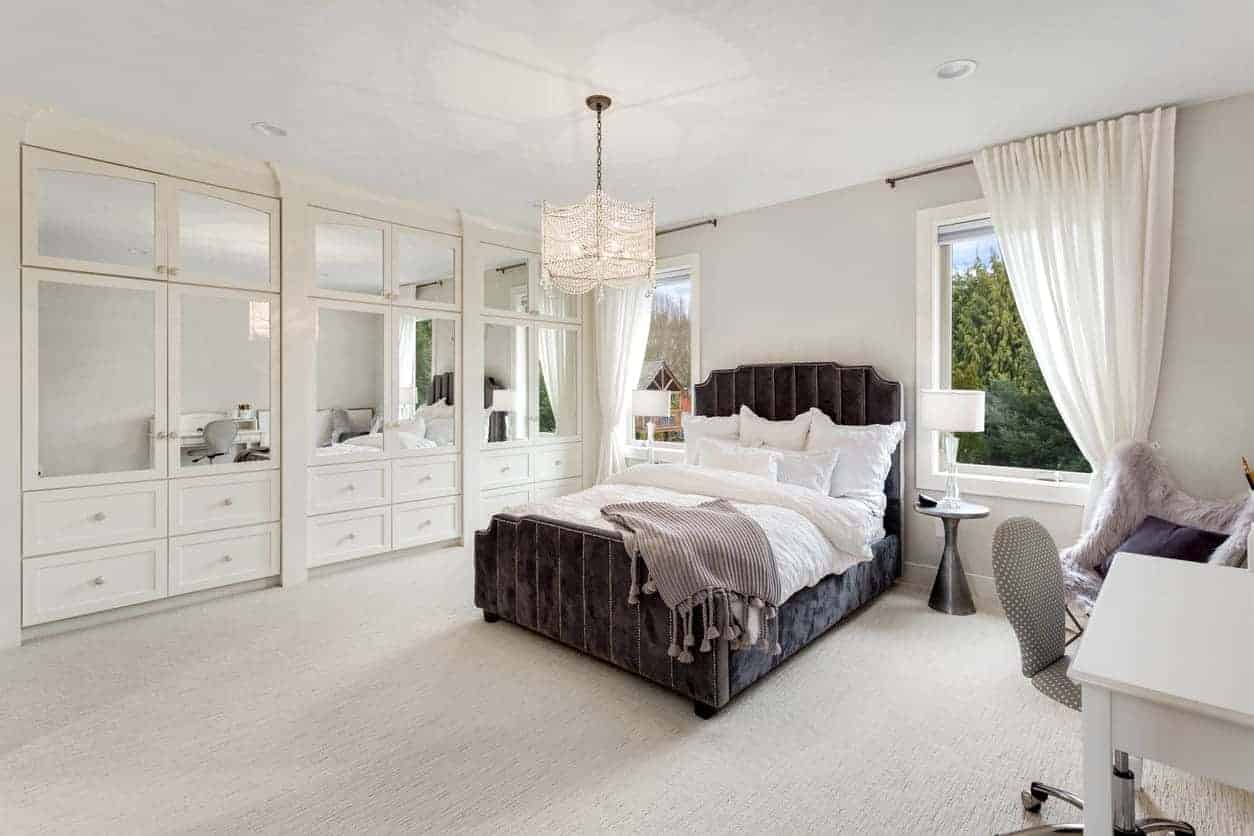 Whether it's the cooler months of spring and fall or the coldest of winter nights, you want to be wrapped up with a comfortable warmth level when the temperature drops.
Yes many of us like dialing up the thermostat, but that's not the only way you can get insulated and toasty.
Having a high-quality season-down comforter is instrumental in having a blissful night's sleep.
You can't do better than splurging on a down comforter with a minimum 650 fill power that could last you years to come.
Whilst down comforters can set you back a serious penny or two, there are huge options on the market from super pricey comforters to more economical options.
Down comforters are renowned for providing insulation, are ultra-soft, come in lightweight to heavier weight options, and are fluffy.
For those of you who want to be wrapped up in a soft ethereal cloud and stay snug, down comforters are most certainly a must-have for you. That being said, not all down comforters are made equal.
How do you know what type of down, fabric, filler weight, and warmth you should get?
Well, we did all the screening to give you peace of mind on the best down comforters out there. Allowing you to get into bed and drift off to sleep in a jiffy.
Table of Contents
12 Best Down Comforters in 2023
Down Comforters Buying Guide
Who knew that purchasing down comforters requires so much research and know-how.
In our reviews, we explain all the technical jargon and features you may need to understand and what you need to screen for before you purchase a down comforter.
Down Comforters
Down is lightweight, feathery clusters from the underpart and breasts of ducks and geese. Down is light and insulating because these clusters trap air into pockets.
Many people may know a down comforter as a down duvet. In short, its bedding fabric, which is filled with down feathers.
Down is the perfect blend of feeling lightweight and yet providing warmth. It offers greater warmth than an average blanket or a comforter that is filled with other types of feathers, or synthetic fibers.
The uniqueness of down comforters is that they trap the air between your body and the cold. Ensuring you stay cozy and warm and yet don't get too toasty either while you sleep.
Benefits of Down Comforters
A down comforter is a comfortable luxury that can make your night's sleep even better.
High-quality down comforters are RDS tested to ensure they meet standards for insulation and weight.
An RDS-tested comforter will help you to sleep soundly and confidently, knowing that your investment is protected.
When shopping for a down comforter, it is important to test the quality and warmth of the product under various temperature conditions.
The lowest temperature at which you will sleep comfortably should be between 5 and 10 degrees Fahrenheit (-15 to -12 Celsius).
If you're comfortable sleeping in cooler temperatures, opt for a higher fill power (fill weight divided by comforter weight).
Higher fill power comforters are lighter-weight and more insulating. If you want a warmer, heavier option, consider purchasing the highest fill power you can afford.
For those seeking hypoallergenic bedding, down alternative products have surged in popularity over the last few years.
When you consider how much time we spend sleeping, anything that gives us a quality night's sleep should be seen as an investment in our health.
Features of Best Down Comforters
Fill Material
Down comforters have 2 types of material that are primarily used as fillers. They are either filled with duck-down or goose-down material.
Both types of down material provide effective insulation and keep you warm whilst still being breathable.
Duck Down
Duck down forms in small clusters, giving you a soft, light featherweight feel. The more mature a duck is, the larger the down clusters form, which in turn yields greater fill power.
Goose Down
Goose down forms in larger clusters, due to the simple fact geese are larger than ducks, resulting in them being ethereal and having a greater loft.
Other Material
Just so that you have the full picture, there are other types of material that can be used as a filler, that may also be used in down comforters.
Below are the other types of material:
Down Cluster - The cluster and feather are both down. If more fill consists of clusters it is generally warmer.
Down Alternative - These are synthetic materials that impersonate features of softness and warmth of down. They are cheaper and don't have any allergy-related issues.
Cotton - Sometimes cotton can be mixed to make the fill. Cotton is soft but won't give you the warmth of down.
Wool - Wool is a heavier material and expensive. It provides warmth and at the same time draws moisture away.
Other Feathers - Ducks and geese feathers can be used that are not down. These feathers are airy but aren't warm like down.
Silk - Silk shares the same weightlessness as down. Where silk differs is, it does not provide warmth and insulation. Traditionally silk material is used in comforters for summer or hot weather.
Fill Power
The fill power, measured in ounces, is the yardstick in determining the size, the weight, the quality, and how warm the comforter will be.
So pay attention. Typical fill powers range from 400 to 800.
Low Fill Power - Comforters with a fill power below 500, are lightweight and will not provide adequate warmth. They are better as summer blankets.
Medium Fill Power - A fill weight of 600 to 700 is the ideal range for hot sleepers, or milder climates, without making a dent in your wallet.
High Fill Power - Comforters with a fill power of 700 plus are great for winter and provide sufficient insulation. The down is commonly sourced from mature birds.
Cover Material
You need to be savvy not only about fillers but the outer shell of a comforter which can be made from a variety of different types of material and it can influence the price and regulation of temperature of a comforter.
Cotton - Cotton tops the charts as the material that is most often used due to its affordability. It's not difficult to see why it leads the pack, with high breathability and the capability to draw away moisture. Look for long-staple cotton bedding.
Silk - Silk is a soft, lightweight, and breathable material making it an attractive choice, but it's pricier than cotton.
Wool - Wool provides good insulation and moisture-wicking properties however, it's heavier in weight and expensive.
Synthetic Blends - Synthetic fibers can be used for an outer shell, however, note these might not be as breathable as other materials.
Thread Count
Thread count is calculated by looking at the thickness of yarns inside a square inch of the fabric.
The higher a thread count is, the more durable and smoother it is. Look for thread counts of 300-600. These will provide you with quality and the right support for your down.
Stitching
Stitching provides a practical purpose in bedding, as well as serving the down comforter from an aesthetic point of view.
Sewn Through - Involves stitching the top and bottom of the comforter together, to form box compartments.
Baffle Box - The top and bottom layers are connected with small pieces of fabric, resulting in a box shape and holding the down fill.
Diamond Quilted - Similar to the sewn-through method, this method uses diamond-shaped stitching to attach the top and bottom layers.
Gusset - A fabric strip is sewn between the top and bottom of the comforter exterior around the edges, giving more structure.
Channels - Up and down the comforter, channels run forming long pockets for the down fill.
Organic Materials (allergen-free)
If you suffer from allergies, then you may want to opt for organic bedding or simply you want eco-friendly manufactured down comforters.
Look for hypoallergenic down comforters, it will not only put your allergies but you into blissful sleep.
Size
Your down comforter should complement the size of your mattress. Having a down comforter that hangs a little off the edges looks nice, so there's no tug-of-war with your partner during the night, but you don't want too much overhang.
There are countless comforters that come in various sizes from Twin XL full Queen or King.
Sizes can vary between manufacturers, what may be a Twin XL full Queen or King in one model, may not be the same measurements in another brand.
So be sure to pay attention that you select the correct dimensions for your bed.
Price
Down comforters are super comfortable, they provide great insulation, but there's no getting away from the fact they are expensive.
Price is determined by demand, prolonged harvesting process, and maintenance requirements. If your budget allows, see the purchase of down comforters as an investment.
Economical shoppers can keep an eye out for sales or keep their eyes peeled for more affordable multi-fill options.
Storage & Maintenance
One key factor to consider when looking to buy a down comforter is storage and how to clean it.
Maintenance
It's important that you follow all the guidelines provided by the manufacturer on how to wash comforters. Some down comforters can be machine washed in cold water using mild detergents.
Other down comforters may require professional cleaning and you cannot wash them by hand.
Exercise caution when dry cleaning a down comforter. Despite some manufactures permitting it, in many instances, this may damage comforters.
Storage
Never squeeze a down comforter into a plastic paper bag or tight box.
To store a down comforter, you can fold it and store it in a cotton bag, allowing air to circulate and keeping the comforter fresh.
Always wash a comforter before you put it away for storage to ensure the outer shell remains fresh.
Down Comforters FAQ
Why do people buy down comforters?
Historically, it stems from being a Northern European luxury that was brought across the pond to the US.
With its ethereal and warming properties, down comforters are the primary choice for people to get through those long winter months.
Over the years the traditional heavy down duvet has been modified to different sizes, whether it's Twin XL Full Queen or King, making it a comforter for all seasons and not just heavy winters.
Due to the high quality of a down comforter, they usually last for a decade or so, providing they are maintained well. That's an investment!
What is a down alternative comforter?
A down alternative comforter is an ideal pick if you are sensitive to allergies. Down alternative comforters are hypoallergenic and are often filled with Primaloft or silk.
Primaloft fibers repel moisture and are antimicrobial. Many down alternative comforters are made of high-quality materials, which puts them on par with genuine down comforters.
Look for similar qualities in a down alternative comforter such as thread count, and insulation level as you would in a down comforter.
Down Comforters Sources